By sanju on 7 April, 2017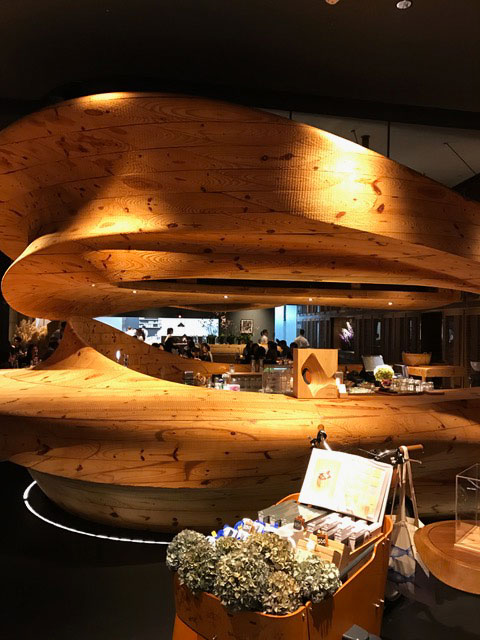 C and I were in Taipei for a business trip a few days ago. This trip was quite special simply because we were able to finally snag a rare, like an on time flight out of manila, reservation at Raw. Chef Andre Chiang's Taipei outpost. It took me two years to finally make a reservation and I was a little apprehensive as I felt that sometimes too much hype might just deflate expectations. However, this time I was wrong, and glad of it.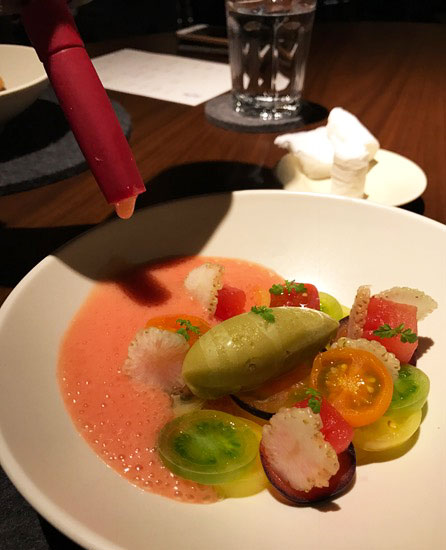 The restaurant is exquisitely designed by Weijenberg Architects in collaboration with Chef Andre. The restaurant espouses a nautical timber theme and is exquisitely done. The vibe is casual and seats fifty. Lunch and dinner menus are exactly the same with organic and biodynamic wines on the wine list. Wine pairings are also available and sommelier Tina Hsieh makes good work of explaining the wine/course complement. Service, just like at Restaurant Andre is attentive without being obtrusive. The staff is well versed and fluent in English. Also, Raw is one of the few restaurants in Asia that uses a Nordaq FRESH water system. An environmentally friendly water system that creates still and sparkling water without harming the earth's carbon footprint.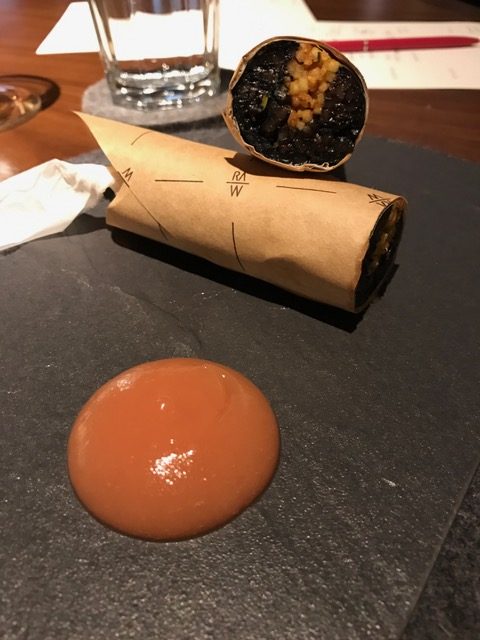 Once we were seated, and menus presented our server in keeping with the relaxed theme, showed us drawer full of utensils that we can take from during the entire meal. My only beef, piddling as it is, was that I wish we had a bread plate. I am all for the casual vibe and all that, but it would have been nice to have a place to put my half eaten piece of bread and my used butter knife. That being said, it in no way kept me from enjoying the rest of the meal. I just made sure I ate the whole piece of bread at one go.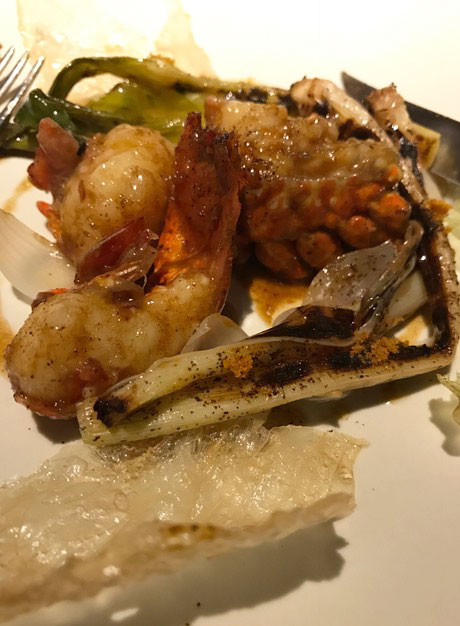 The menu consists of eight courses using mainly fresh Taiwan ingredients and is conceptualized by Chef Alain Huang. Menus change per season and we happened to be there during the Spring Cycle Menu. Standouts for me were the green tomato/ green curry/ green strawberry course: gazpacho, with six different kinds of native Taiwanese tomatoes, served fresh with some green strawberries and a subtle green curry sorbet. The amalgam of flavors from the individuality of the tomatoes, the tartness of the gazpacho to the spice of the curry melded excellently. I had fun mixing and matching and was amazed at the different flavors that came out.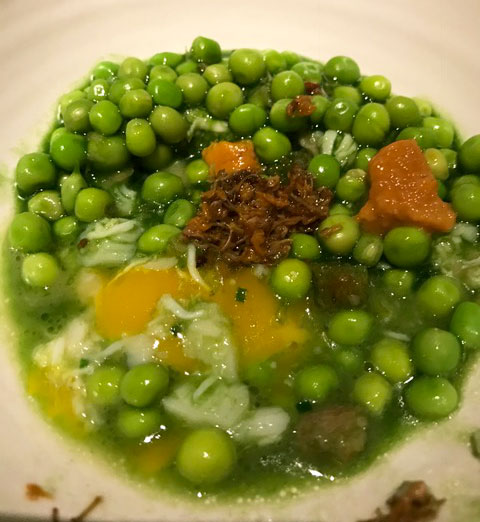 Another one of my favorites was the Boudin Noir/Magao/Apple Kimchi. An adaptation of one of Taiwan's more popular street snacks where blood sausages are stuffed with rice and served on a stick. Chef Alain's version has a more French classical texture seasoned with Magao Mountain Peppercorns and an Apple Kimchi stuffing. On the side was a tart, Japanese Crimson Dream Apple dipping puree. The Crimson Dream Apple is distinct as it one of the few apples that have both red skin and flesh. Again the flavors and textures were on point. Pairing for this course was an excellent craft P9 Pilsner that is brewed exclusively for RAW.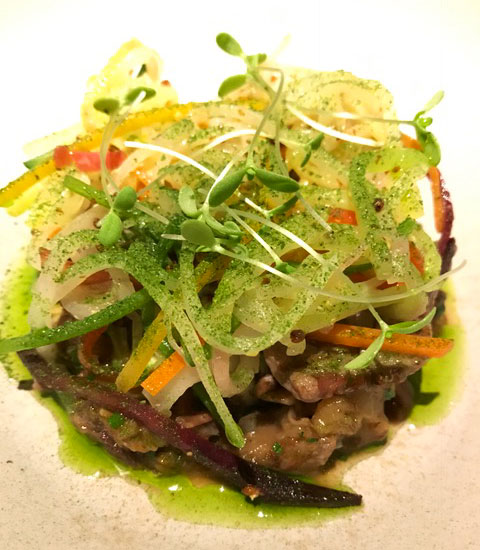 Aside from the above two all other courses were very, very good. This included Lobster/Scallion/Dried Fish course using Lobsters from Keelung and Scallions from Ylan; Osmanthus/Peas/Seafood Rillete: fresh Taiwan peas with Hokkaido uni, king crab and cod from Greenland; and an excellent slow cooked pot a feu with three types of fresh carrots and two cuts of Taiwan beef.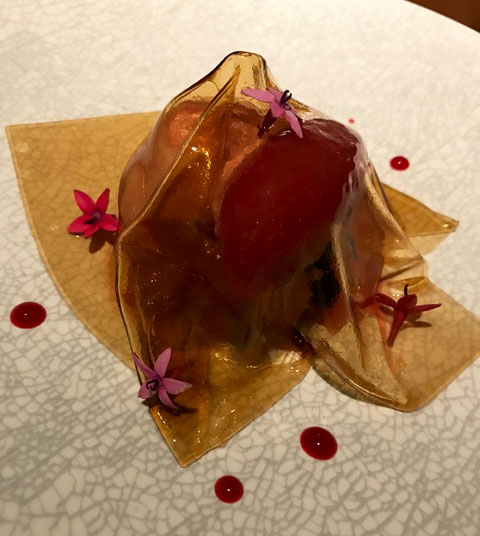 Dessert was a three-pronged affair with a pre-dessert course that consisted of a sangria sorbet/Taiwan tea gelee/pop candy. Next we had a tofu tart with peanuts, barley and a brown sugar ice cream. Lastly a dried fruit financier served with Thai milk tea. This last combination is particularly symbolic for Chef Andre as the financier was the first ever pastry he learned how to make and Thai milk tea is his tribute to his wife, who you guessed it….is from Thailand.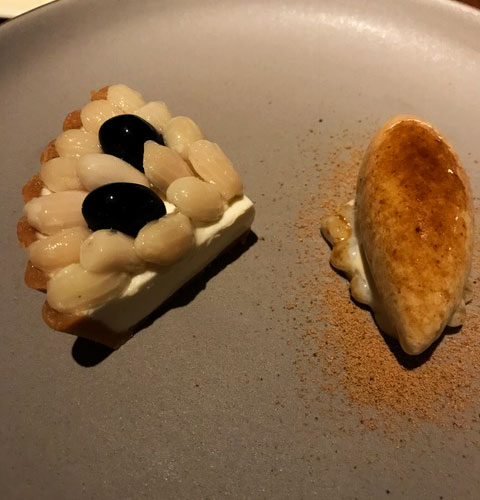 This was one of the best meals that I have had in recent memory. If you get a chance to dine at RAW when you visit Taipei, I guarantee that you will not regret it. Reservations are done on the website and bookings are only accepted two weeks prior.
RAW Restarant
#301 Lequn 3rd Road
Zhongshan District
Taipei, Taiwan
www.raw.com.tw
LABELS: Andre Chiang, RAW, Taipei, taiwan