By Anonymous Paul on 4 July, 2016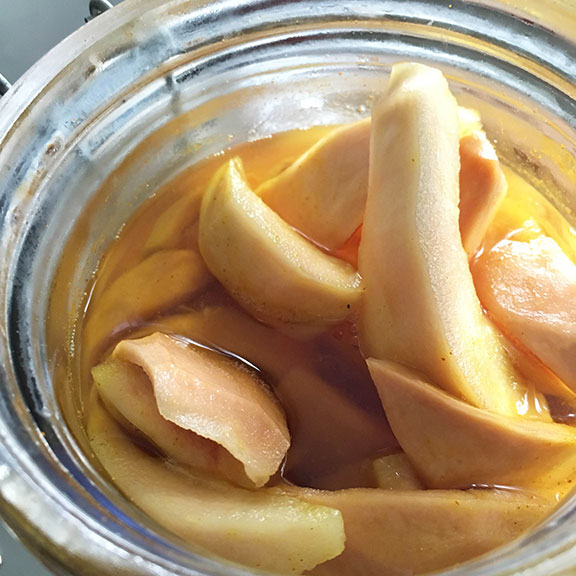 Santol is in season. Over the years I've adapted the buro recipe I've made for green mangoes I posted earlier here for when there's abundance of santol. And I must say I like using this fruit more now than mangoes for preserving. It produces this unique, almost meaty texture and floral flavor. Sweet, sour, a bit tannic. And goes perfectly with fried or grilled food. I ,however, am perfectly fine eating it on its own.
We only use the rind for this recipe and trim out the fleshy pith and seeds as these tend to make the preserve slimy. So additional steps have to be made during prep. First peel a thin layer of the skin off, making sure not to take out too much of the rind. Cut into quarters or eights. I then carefully remove the seeds by hand and use a paring knife to completely slice off the pulpy membrane. I have a big bowl of salted water on standby and quickly put all the prepped rind into so as to prevent them from oxidizing/turning brown. Drain and dry before the following steps.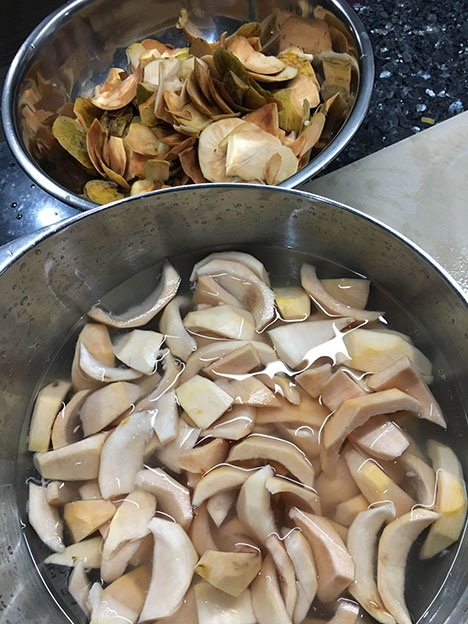 From here its pretty much the same process:
Mix together a slurry consisting of 2.5 cups of white sugar, 1/2 cup white vinegar (cane vinegar is fine), and 3/4 cup non-iodized rock/sea salt and pour over the santol slices. Mix. Leave and let sit for 8 hours or overnight. This process draws out quite a bit of moisture, softens the raw flavor (pakla) of the santol and salt cures them slightly. The santol will shrink a bit and will be swimming in its own sticky syrup the next day.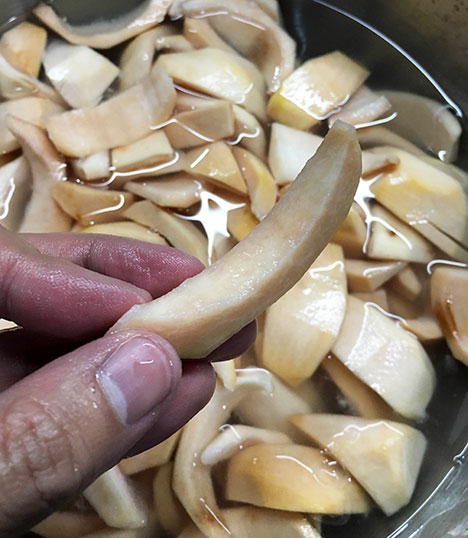 Place santol in a jar (preferably with an airtight lid; add a little bit of the purged liquid from previous stage if desired) then cover with simple syrup. Simple syrup is basically equal parts sugar and water mixed over heat and then allowed to cool. Amount depends on the size of the jar. I think I used about 2 cups. I also add a teaspoon of turmeric at this stage. This gives a warm, earthy flavor similar to ginger and colors the mixture an attractive yellow. (I've made versions of this placing cardamom, cumin, coriander seeds, chilies and black peppercorns in the mix and turned out great as well.)
Top with 3/4 to 1 cup of beer. Use whatever (light-colored) beer you prefer. Mix again, seal the lid and leave in the fridge for at least 5 days. If you can resist eating it. Though it'll taste better maybe after a week or so.
LABELS: Anonymous Paul, Burong Santol, recipes, santol, Table Recipes