By sanju on 27 June, 2016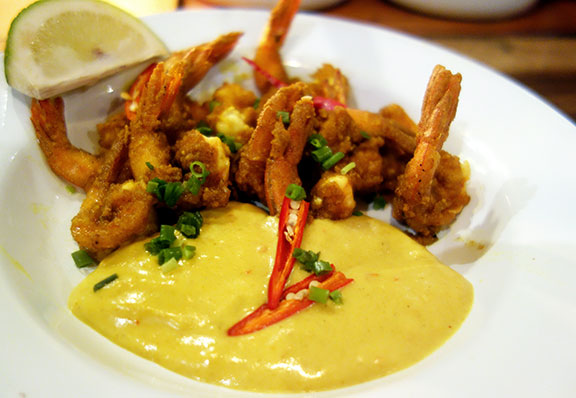 Recently C, Cy and I visited a couple of restaurants in the Poblacion area. Although both were fairly new and still at their birth stages, there is tremendous promise if their trajectory continues to move towards the positive.
Wild Poppy
A rooftop restaurant cum bar that has both indoor and outdoor seating. Vibe is hipster cum industrial, with its "orinola" style flatware and slatted wooden benches and tables. There is a limited two-page Pan Asian food menu most of which are served tapas style. There is also a creative but affordable cocktail menu with cocktails averaging out in the P180 range.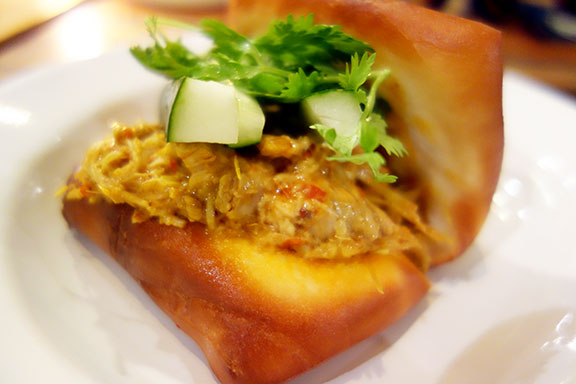 We tried a few of the dishes and standouts were the Chicken Ren Damn (P115), their rendition of Rendang served with in a fried mantou bun and their Poppy Shrimps (P160): Deep fried little shrimp served with a spicy coconut curry dip. We wanted to try a few other interesting dishes like the Go-Papa Salad (papaya and green mango salad) and Pad Tide (Pad Thai) but they were unavailable that evening. There were no desserts listed on the menu at this time. Service is friendly but still needs a little work at this point. However, our pleasant overall experience, would merit another visit in the future.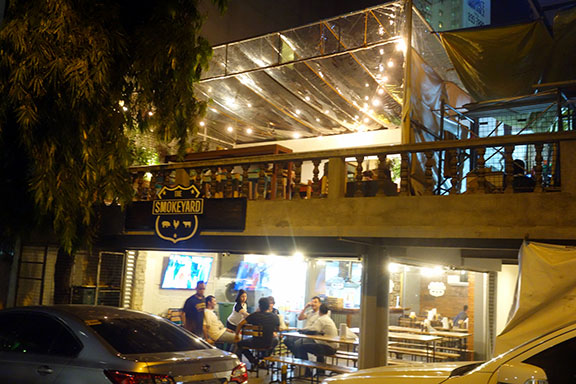 The Smokeyard
Located below Wild Poppy, The Smokeyard is an authentic American barbecue restaurant with a full complement of meats and sides. Pit master Troy Conine uses two in-house smokers to smoke his different meats fresh daily. Available at this time are beef brisket and ribs, pulled pork and ribs plus chicken wings. Meats are complemented with three types of barbecue sauces that were quite good.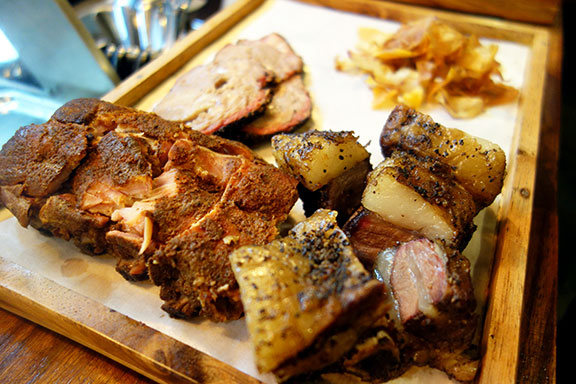 We decided to try a little of everything and our consensus was that the brisket and pulled pork were excellent, while the beef ribs and wings came in a close second. Our only issue was that we would have wanted the temperature of the meat to be a little warmer. When I broached this issue with Troy, he explained that barbecue has to be eaten immediately since it does cool very quickly once it comes into contact with air. He adds that steps will be taken soonest to solve this particular problem.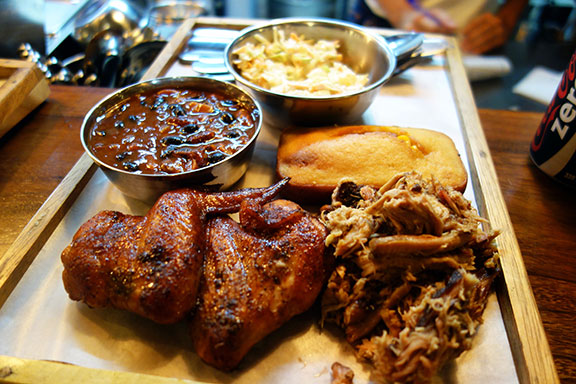 We also liked most of the sides that we tried. We had some coleslaw, baked beans, and corn bread. Unfortunately, unbelievable at it may seem, we had to save trying Smokeyard's dirty rice for next time. We really had no more space left. At least there is impetus to visit again.
LABELS: Poblacion, Sanju, Smoke Yard, Wild Poppy, Williamsburgos