By sanju on 22 April, 2016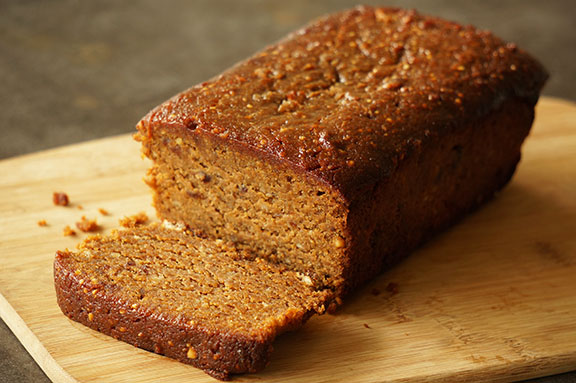 For the past month, I have been on the Paleo Diet as a way to detox and reboot. I decided to try Paleo Manila, a food delivery service that specializes in the above. I am given three meals and two snacks daily. I am quite satisfied with the food so far as I was not expecting very much. But to my surprise there were more hits than misses. Creativity in the creation of the dishes was not lost as well as the team behind Paleo Manila tries their best to come up with recipes that prevents culinary ennui considering the limitations: gluten, grain, and dairy free meals.
The best parts for me are the snacks. There are savory and sweet snacks that I look forward to that keeps me from going crazy, as they are in a way healthy treats. Among my favorites were the salted egg bibingka, banana muffins and one particular standout: the gluten free cranberry bread. I had it lightly toasted and it was moist, flavorful and had a hint of cinnamon. Perfect for a guilt free snack that feels decadent. I loved it so much that I asked Isabelle Chiang of Paleo Manila if I could share the recipe with everyone. She was kind enough to oblige. Here it is:
PALEO MANILA CRANBERRY BREAD
Recipe Yield: 1 loaf or 10 slices Servings Size: 60g
Prep Time: 15 mins
Bake Time: 45-55 mins Equipment: Oven (325 F)
INGREDIENTS
140 g Cashew Flour
105 g Coconut Flour
2 g Baking Powder
3 g Salt
90 ml Coconut Milk
15 ml Orange juice
4 pcs Eggs
40 g Dried Cranberries
PROCEDURE
1. Add the cashews to a high-speed food processor, and blend on medium for 3-5 minutes or until creamy, scraping down the sides with a spatula as necessary. (This is for cashew flour.)
2. Combine wet ingredients (cashew flour, coconut flour, baking powder, salt, coconut sugar) together in a mixing bowl.
3. Combine dry ingredients (coconut oil, orange juice, egg and coconut milk) together in a mixing bowl.
4. Combine wet and dry ingredients together in a mixing bowl.
5. Fold in cranberries together with the ingredients.
6. Bake 325F for 40-55 minutes.
7. Once the loaf is close to being done, pull it out of the oven. Insert a toothpick into the
center of the loaf. Pull it out. When it's fully baked, there won't be any wet batter on it.
8. Serve hot or cold depending on your preference and enjoy! (TIP: The Paleo Manila Team likes to sprinkle it with cinnamon for a zing!
For more details on the Paleo Diet and Paleo Manila please visit www.paleomanila.com
*photo courtesy of Paleo Manila
LABELS: cranberry bread, paleo, recipes, Sanju, Table Recipes