By Anonymous Paul on 6 April, 2016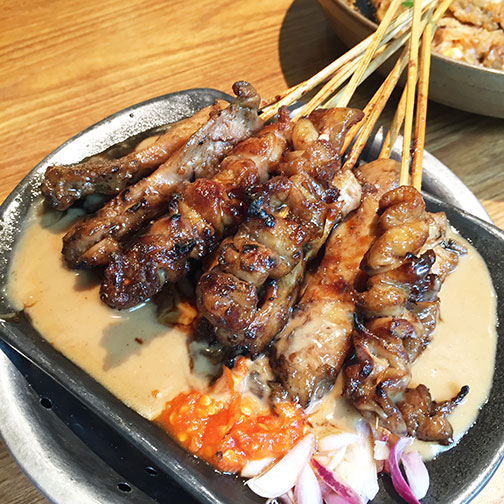 I made a quick weekend trip to Jakarta a few weeks ago to catch the Jakarta International Java Jazz Festival, and boy, was that an eye opening experience. It's one of the largest jazz fests in the world and it's great that it's just a short flight from Manila.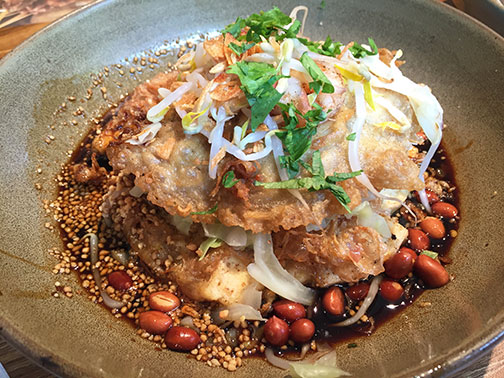 Of course, food was also on the agenda. So I just went along with my hosts as we went jalan-jalan ("walk walk") around the city. I had missed out on the street food for lack of time, but still managed to squeeze in some mostly local flavors.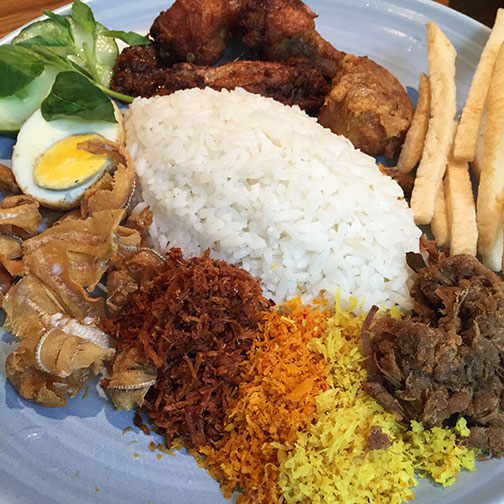 Like a lunch we had at Sate Khas Senayan. A casual dining place known for it's sate. Which we had a sampling of beef and chicken as well as chicken skin. Served atop a pool of peanut sauce and spicy sambal. Unbelievably tender. A standout was the gurame pesmol; a fried whole local freshwater fish (similar to tilapia) topped with a turmeric rich curry and whole chilies. Also the nasi krawu: coconut rice with several sides as beef rendang, fried chicken, dried salted anchovies and potato cakes. It's a complete meal in itself. We had also ordered a couple of salads as gado-gado and rujak cingur, but it was the tahu telur I loved. It's basically a fried egg and tofu salad usually served with a sweet soy dressing.
Sate Khas Senayan
Multiple Branches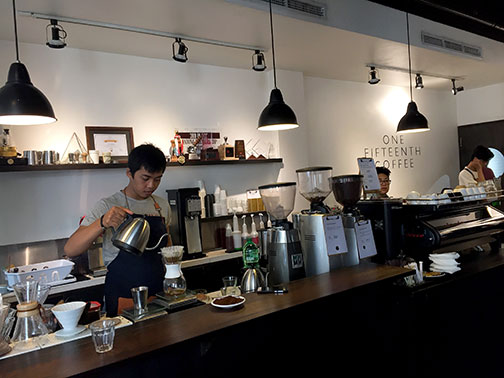 Coffee's pretty big in Jakarta; there seems to be an independent coffee shop at every turn. After that huge, food coma inducing lunch we had at Sate Senayan, we headed off to One Fifteenth Coffee. A young, hip and airy place. (Aren't all coffee shops these days). But a friend chose to go here because of the award winning baristas.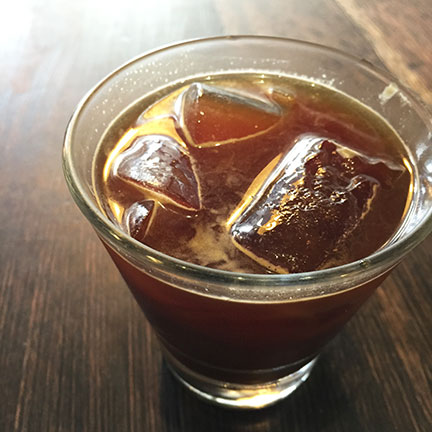 It was a very hot and humid day so I had opted for an iced coffee using their proprietary blend. And it was delicious. Thick and syrupy, with notes of cocoa.
One Fifteenth Coffee
Jalan Gandaria 1/63
Jakarta Selatan 12130 Indonesia
Tel. (+62.21) 722.5678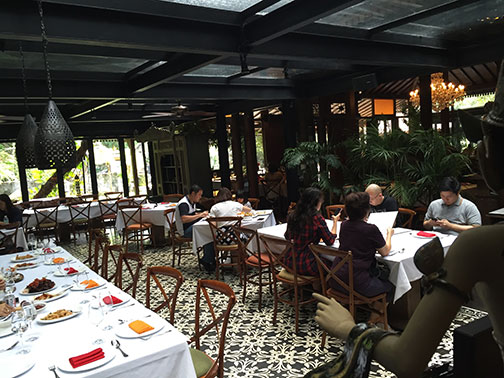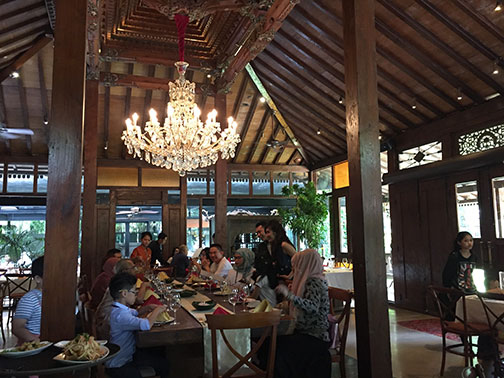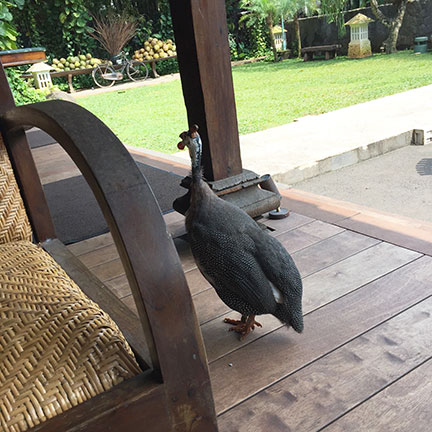 Plataran Dharmawangsa sits on a handsome estate. Lush greens, airy verandas, guinea fowl freely roaming around the property (and occasionally chasing kids). The dining area is filled with intricate carvings from floor to ceiling. And the bright sun room on the side has these lovely floor tiles which remind me of Antonio's.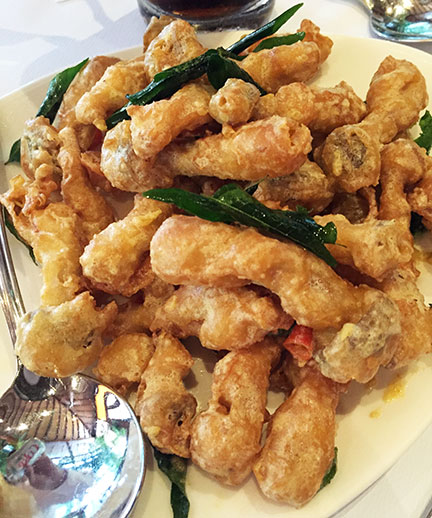 The food is, as expected, more refined. Indonesian with noticeable Sino influences. As with the excellent salted egg crusted shimeji mushroom starter (shimeji telur asin). For the more traditional dishes I sampled, I quite liked the rendang batu sangkar; a chicken based rendang that was cooked till the meat pulled apart in shreds.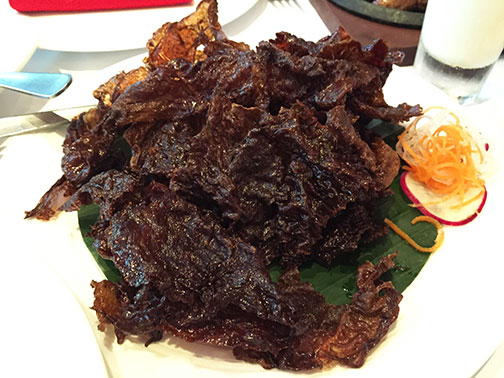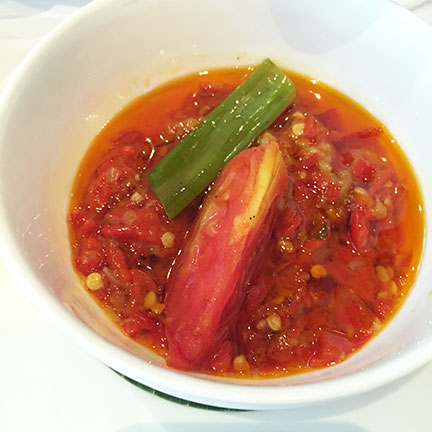 Interesting as well was the dendeng batotok; paper thin air dried beef fried till crisp and served with a super fresh Sumatran style sambal. A very balanced relish; it had some heat but doesn't really intend to blow one's head off.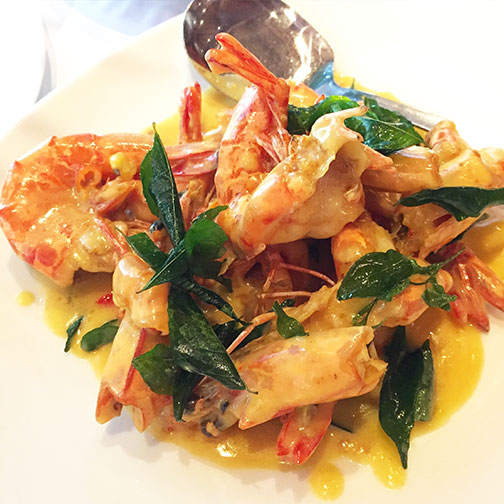 The udang pumpkin, or poached shrimp with pumpkin sauce, drew mixed reactions from the table. But I quite liked how velvety the sauce was and how the fried curry leaves add textural and aromatic complexity. Lovely dish.
Plataran Dharmawangsa
Jl. Dharmawangsa Raya No. 6, Kebayoran Baru
Jakarta Selatan 12160
Tel. (+62.21) 290.441.67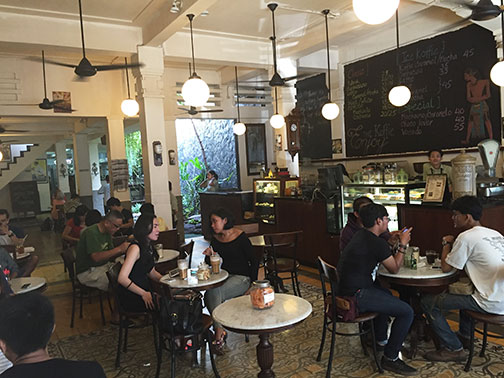 After over-eating again, we headed out for coffee. Again. This time going to Bakoel Koffie. A business more than a century old and is now run by the fourth generation of the founding family. The shophouse has an old school feel that can't possibly be created. They carry the usual capucchinos, lattes and americanos but I had opted to try the kopi kampung or "village style" brew.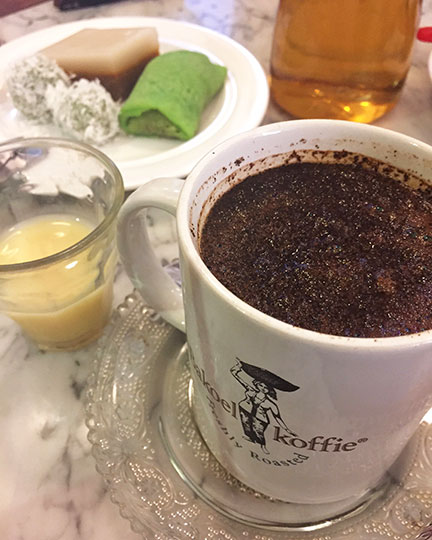 Which was essentially coarse ground beans and hot water. I would imagine it's what you'd get while cupping. A little too robust for my taste. And the more robust it gets the longer you take to drink it. We had ordered some rice cakes as well and they were quite similar to Filipino style sweets. I think the main difference is that they mostly use palm sugar, which has that distinct round and smoky profile.
Bakoel Koffie
Jl. Cikini Raya No.25, RT.16/RW.1, Cikini, Menteng,
Kota Jakarta Pusat, Daerah Khusus Ibukota
Jakarta, Indonesia
Tel (+62.21) 319.366.08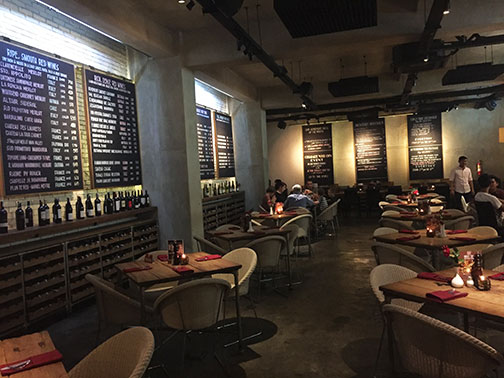 A last meal out was at KOI Kemang where we had some pizzas and prosecco. A not too Indonesian ending. But what's interesting is that it's a four storey establishment with teak furniture showrooms on the upper floors. Nice stuff.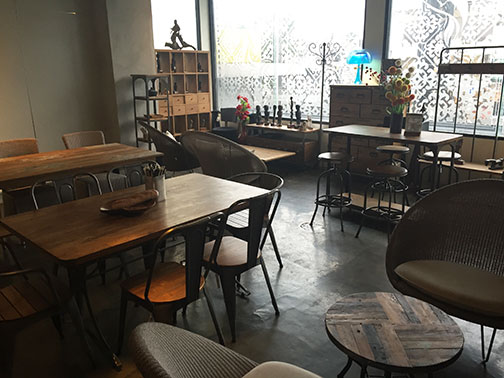 KOI Kemang
Jl. Kemang Raya No. 72 Jakarta
12730 – 021 719 5668
A weekend is hardly enough time to make a dent in Jakarta. It is massive. Hopefully I can return and try the interesting stuff in the warungs and gorengans. Or maybe a proper Rijsttafel.