By Anonymous Paul on 10 February, 2016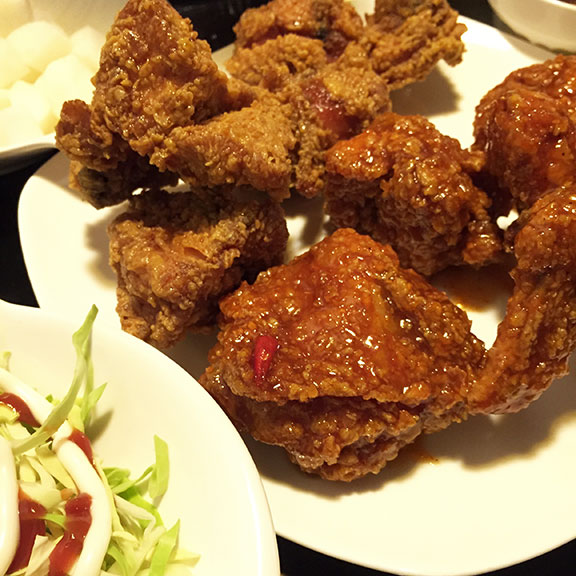 I visited a friend in the Commonwealth area last weekend and we found ourselves along the stretch of Holy Spirit Drive trolling for food. I haven't been there in ages and was surprised to notice a lot of Korean establishments along the road. And so Korean it would be for dinner. By default.
We stumbled upon a literal hole-in-the-wall that served nothing but Korean style fried chicken. A half serving (8 pieces, P270), a whole serving (16 pieces, P500) or wings and thighs with a choice of four sauces. A garlicky soy based dressing and a honey-like glaze with spicy variations thereof.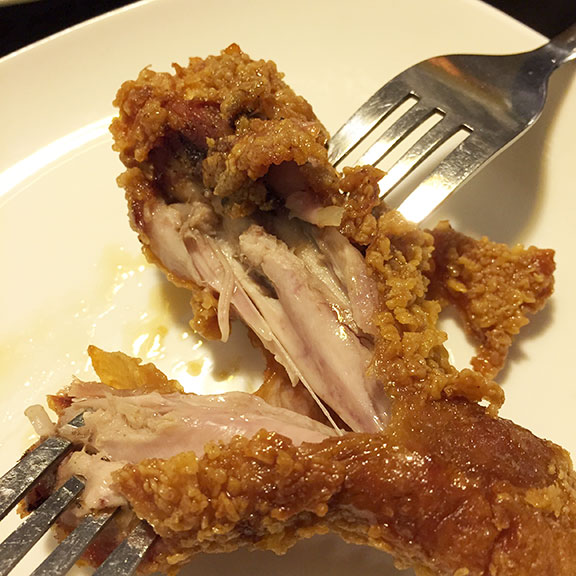 I love the consistency of the breading; crunchy and crumbly. Not too thick and didn't taste greasy. A sign of deft frying skills. The meat is succulent and juicy. And while there is sauce covering the outsides, one notices how the marinade, akin to karaage, permeates through every fiber. One can distinctly pickup the ginger, garlic and soy.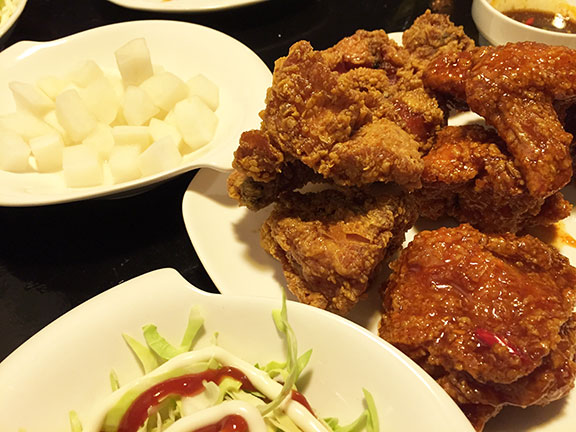 Every order comes with a simple salad made of shredded cabbage and thousand island dressing. Well, essentially mayo and ketchup that you mix together. And some refreshing cubes of pickled radish that just cleanses the palate. Both refillable. Though you can order rice or fries on the side; and that literally is the whole food menu.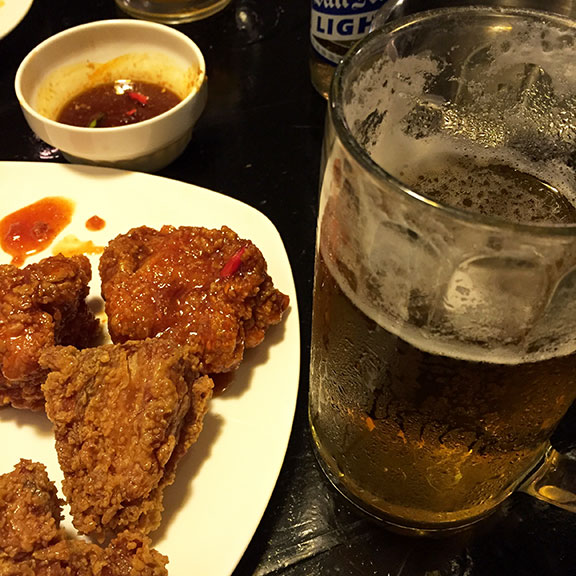 I saw a beer tap behind the counter but they seemed to have run out of San Miguel Pale Pilsen draft. I settled for a Light; poured in a proper frosted mug.
I like this place. Simple. Reasonably priced. Into the details. Serves one product and does it right.
Winner, winner, chicken dinner.
Yogiyo Chicken
Holy Spirit Drive cor Don Renato St,
Don Antonio Heights, Batasan Hills,
Quezon City
Tel. (0905) 215.4000
LABELS: Anonymous Paul, fried chicken, Korean Food, Spicy Fried Chicken, Yogiyo