By sanju on 18 February, 2016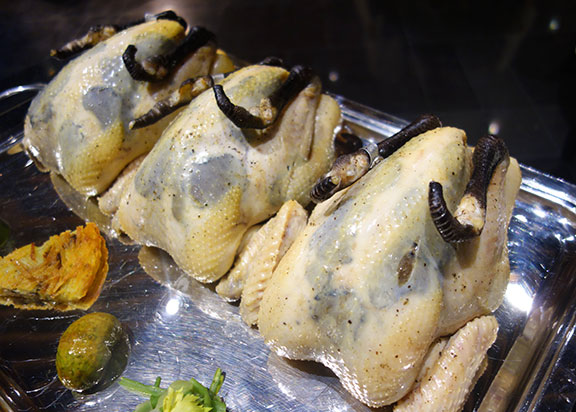 Recently a group of us were treated to one of France's iconic dishes: Poulet Bresse Demi Deuil (Bresse Chicken in Half-Mourning) prepared masterfully by Chef Cyrille Soenen. The reason why the term "Half-Mourning", or a combination of black and white, is used is because black truffles are inserted between the skin and and the meat before it is poached and then served with a Sauce Supreme (white) made with drippings and innards.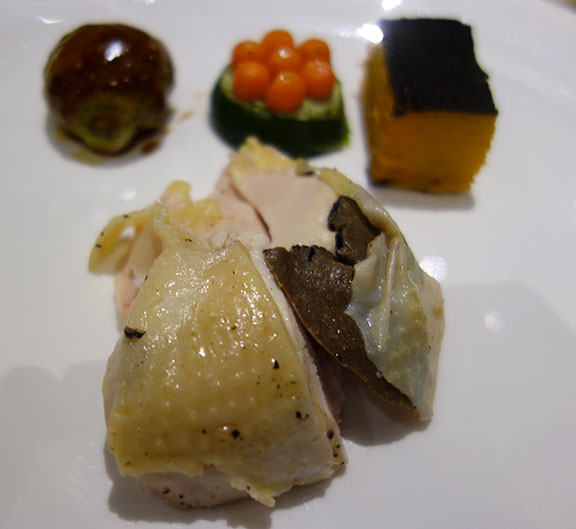 Eugenie "La Mere" Brazier made this dish popular in the early part of the 20th century in Lyon, France. Chef Brazier, the first female chef to garner three Michelin stars, used Poulet de Bresse, or as the name implies, chicken from the town of Bresse in Eastern France. What makes this chicken distinct from others is that it has lush white feathers, bluish tinged feet and most importantly, it is meatier because it has a slight frame. Moreover, these chickens are fed a special natural diet that is free from chemicals and hormones. This results in flavors that are cleaner and more refined. Because of all these factors, Poulet de Bresse Chickens have earned the prestigious AOC (Appellation d' Origine Controlee). A label normally reserved for only the best wines and cheeses.
At our dinner, Chef Cyrille served the chicken two ways, taking a more modern approach to the dish. First, the breast poached with Sauce Supreme in keeping with the tradition. Then, the dark meat cooked crisp with a sauce made with truffles and Veal Jus. Notable sides were a Glazed Cabbage Roll stuffed with innards and an excellent Pommes Paillasson stuffed with Mushrooms and  Truffles. It had a similar textural profile to Roesti Potatoes.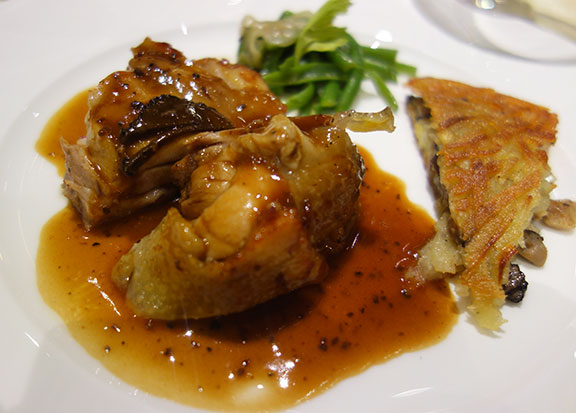 Verdict, I think that like with anything else, great ingredients must have skilled handlers. And Chef Cyrille did not disappoint. Meat cooked moist, plus the most wonderful sauces that did not distract but complement, coupled with fine wine and company made this an evening that one would not easily forget.
If you would like to have a dinner featuring Poulet de Bresse, contact Chef Cyrille at Impressions and he will be more that happy to create a menu for your group.
Impressions
3/F Maxims Hotel
Resorts World Manila
Tel (+632)908.8883
LABELS: Cyrille Soenen, Impressions, Sanju