By Guest on 17 December, 2015
A few weeks ago, I was having a conversation with one of my favorite cousins, Angeli Balchand about an Indian restaurant that she visited in Dubai where she lives. Angeli is an event planner by trade. She was originally from the Philippines but migrated a few years ago. I asked if she was interested in writing about the dinner since its sounded so different from the Indian food that we get here. She agreed as long as I did not pressure her time wise. I did pressure her a little, but she still delivered. -Sanju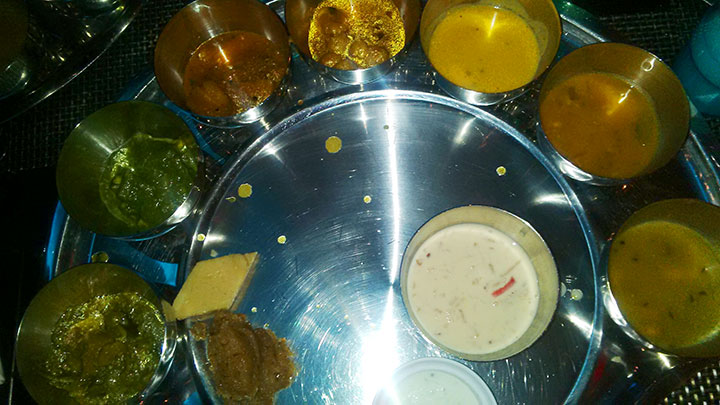 It was the 11th of November, Diwali Day, and my family here in Dubai wanted to celebrate this auspicious day by enjoying a good Thali for dinner. We were deciding on a few options in the city center, and finally settled on Rasoi Ghar, which is located in Bur Dubai, right opposite the Burjuman Center. The restaurant is quite spacious, with options of sitting the traditional Indian way (which is on cushioned floor), or on normal tables and chairs.
We opted for the regular seating. There was a 20-minute wait when we got there, as they were not taking phone bookings. Ten minutes after we were seated, we were welcomed with an appetizer thali which consisted of Rasiya dhokla (fermented batter derived from rice and chickpeas), Dal bati churma (lentils and hard wheat rolls), and the Barsa dola, as well as a spicy green chutney and a sweet dates chutney as a dip. What was quite funny was that the waiters kept making trips around our table, took a glance at our plates, and every time they were empty they would quickly drop another piece of the snack, which none of us minded at all, because it was simply delicious. To accompany all the mouthwatering food was a perfectly sweet Mango lassi (mango-flavored yoghurt drink).
Shortly after, we were served the dinner thali, which was a round silver-plated dish, with small round katoris (bowls) filled with several Indian bhajis (veg dishes). The thali consisted of the Undhiyu ( a popular mixed vegetable Gujarati dish), Corn and Paneer palak (corn and cottage cheese cooked in spinach), Kabuli Chana Masala (chickpeas), Aloo Patal bhaji (potato dish), three tasteful Dals (yellow lentils) – Marwad Dal, Gujarati Dal, and Marwadi Dal, all three with very distinct flavors on their own. One sweet, one spicy and one sour. All these accompanied by an "all-you-can-eat" Phulka, Cabbage Carrot thepla (flat bread), Ajwain Puri, Hyderabad dum Biryani(mixed rice dish), Curd Rice, and Steamed basmati rice. The entire thali was bursting with flavors, since every bite was just a mix of sweet, spicy, tangy, and sour in your mouth. And since it was a thali, the deserts were also served on the same plate. So when you felt your mouth was on fire with any of the spices, you could just feel free to change your palate with something sweet by taking a bite of the Kaju katli (made out of cashew nut), Akrot Halwa (consisting of semolina boiled with milk, almonds, sugar, butter, and cardamom), and the Apple Basundi (boiled with sweetened dense milk)
We all left the restaurant panting for breath, with bellies filled up, big smiles on our faces, and a half-hearted promise to burn out as many calories as possible on the next day. The bill came up to 45 dirhams (approx. 12 usd) per head. Must not forget to mention, if you decide to visit this restaurant, I suggest coming before 9:00 pm. We were walking out around that time and I noticed a really long queue of customers waiting to dine in.
All in all, it was a good experience dining at Rasoi Ghar, and I cannot wait for my next visit
Rasoi Ghar Restaurant
Zainal Mohebi Plaza
Sheik Zayed Road
Bur Dubai
Tel +9743885711