By sanju on 2 November, 2015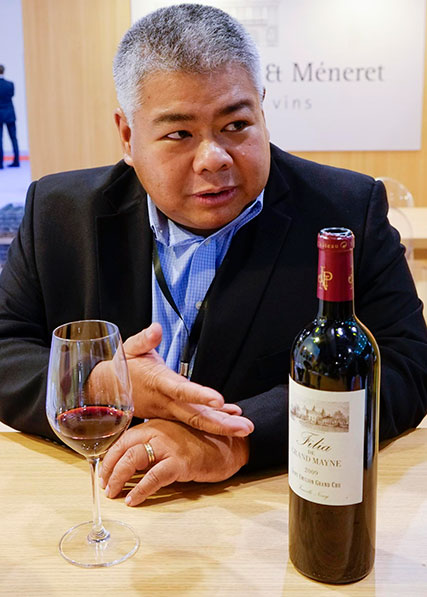 I have been a friend of Jay Labrador for a few years now. I have to say that he is one of the few persons that I know who I trust completely when it comes to expertise with wine. He is a true connoisseur, an officer of the International Wine and Food Society, the Chaine des Rotisseurs and the Ordre Mondial Des Gourmets Degustateurs. Aside from this he has a wine distributorship business called the Wine Steward. Let us take a closer look at what makes Jay tick.
Please explain to our readers how you got initiated into the world of wine.
As kids, we were exposed to alcohol at an early age. It wasn't a regular thing, but when our parents drank, we could have sips of whatever they were drinking. Most of the time it would be gin and tonic or martinis but occasionally, it would be wine. I remember distinctly Mateus Rose and Spañada. For New Year's, we always had Cold Duck which was a sparkling wine. Looking back at it and remembering the taste, I'm pretty sure nearly everything we drank was oxidized or maderized!
How did you grow to love wine?
One Christmas, my brothers and I decided to give our dad a case of wine as a gift. I was assigned to put the case together so I had to do research. I read about it and it was really fascinating stuff. I started to buy bottles and see if I could identify the aromas and flavors the books said were there. Of course, in the late 80's and early 90's there wasn't much choice in the market so most of what I had was pretty dire. I was beginning to think it was all phony but I decided to try one last time and buy something really expensive. I spent half my monthly salary on a bottle of Pichon Lalande 1985 from Santis. The moment the cork came out, everything the books talked about leapt from the bottle. I didn't even have to drink it. The smell alone was already intoxicating. I was hooked from then on. There are so many things I love about it, intellectually and emotionally.
Tell us about your wine business The Wine Steward.
It's just a small business that's an outgrowth of my hobby. I was asked once by a client of my brother to make a wine list for their resort in Palawan. After I made the list, they asked me to buy the wines for them. That's how we started. A few years back, we became the Manila agents for Cebu-based wine merchants Darras+Bowler and that's when we really took off. We represent a well known brand called Fat Bastard which is well-known and popular. I'm also quite passionate about bringing wines made by Filipinos to the Philippines. So we import the 3 wines made by Filipinos or Fil-Ams in California. These are Corte Riva in Napa, Eden Canyon in Paso Robles and Noveroma in Lodi. All of these have been the recipients of various awards or high ratings from critics.
So far what part of your job brings you the most fulfillment?
Apart from The Wine Steward, I also lecture about wine. I think that's the most fulfilling, especially when I do it for people who are just new to it. When you guide them through a tasting, you can see how they light up when they discover that a Sauvignon Blanc smells really different from a Gewurztraminer and they identify the aromas and flavors and they figure out it's not difficult or mysterious.
Unlike other Asian Cuisines, Filipino food has always been on the cusp of entering the mainstream in major cities, but has somehow always fallen short. What do you think would put Filipino Cuisine over the hump?
From what I've been reading, it seems like it just got over the hump. I think presentation was a big hurdle. It just doesn't look appealing compared to say, Thai or Vietnamese, but I think many chefs now are taking more care with that.
What are your favorite restaurants here and abroad?
Tough one. Being a member of the International Wine and Food Society and the Chaine des Rotisseurs, I get to eat some pretty fabulous meals, but many times, the dishes aren't on the regular menu. For something off the menu, I like JC de Terry of Terry's. He's very creative and doesn't scrimp on ingredients. Cyrille Soenen at Impressions and Brasserie Ciçou is another one. For hearty French fare, Marc Aubry at Champetre is great. Prices are very reasonable. His couscous is excellent value. Not everyone likes the style, but I love the food at Mecha Uma. I hate parking at Megamall but I'd go anyway for Ooma. Va Bene, especially for pasta is a no-brainer. Best ramen is Yushoken. The lunch sets at Seryna are hard to beat. Same with Tsumura. There are many others…Abroad, I love eating in Japan. It's virtually impossible to get a bad meal there. Even the takeout at 7-11 or Family Mart is good!
If you had a foreign guest and he or she wanted to eat Filipino food where would you bring them?
I like Abe for traditional food. Sentro is another favorite. Locavore also if it wasn't so noisy or difficult to get a a table.
What junk food do you love?
Clover chips, Cheetos, Doritos, anything that involves salsa or cheese dip.
If you were given the chance to plan your last meal, what would you have?
Definitely KFC, Shakeys pizza – a slice each of Shakey's Special, Manager's Choice and Friday Special, uni temaki and ikura temaki. For dessert, Cafe Ysabel strawberry shortcake. To drink, Champagne Krug Clos d'Ambonnay for the sushi, Romanée-Conti for pizza and KFC, and for dessert, Egon Müller Scharzhofberger Trockenbeerenauslese. I've never had any of these wines before so better try them before it's too late.
Is there a type of food that you just can't seem to enjoy?
Any savory dish with sweet fruit as a component doesn't appeal to me.
Between us, what are the future plans for Jay Labrador?
In the future, I plan to lose 50 pounds, good plan, no?
LABELS: jay labrador, Sanju, wine