By Kitchyart on 30 November, 2015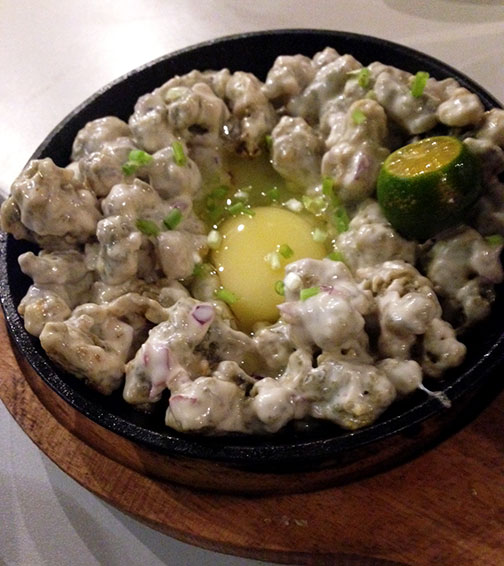 When people think of getting around Manila these days, the first thing you'll hear people say is "traffic's bad anywhere". Last Friday night, I invited a few friends to check out a new place in Cubao X called Habanero Bar and Kitchen. I saw a couple of posts on social media and it looked like a good spot to spend a laid back evening with friends.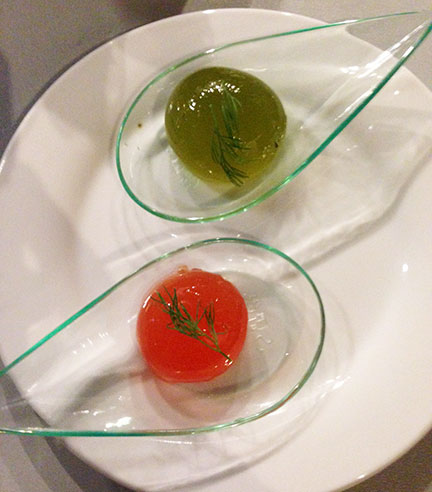 We wanted to avoid rush hour and went to Cubao X around 9pm. parking is very scarce in the area now because of all the construction happening around Araneta Center so best to share a ride with friends or to cab it. Habanero is al fresco style dining; the place is well ventilated because a very sweaty person like me didn't break a sweat (plus the weather is cooler nowadays in the evenings).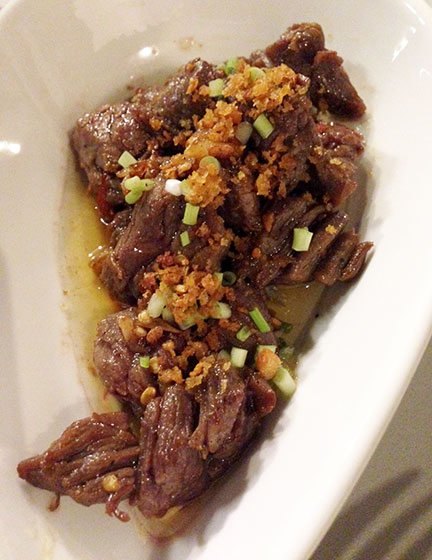 The menu is straightforward and we order mostly appetizers. We got two kinds of sisig: mussels and oysters. Their version of sisig is tossed in mayonaise and topped with an egg on a sizzling plate. The order of mussels we got had too much mayo and the mussels were a little crunchy (maybe it was deep fried before tossed). But they oysters had that perfect chew and was just lightly tossed with mayo. Though we got a second order of oyster sisig and that had too much mayo.
We noticed the staff are very generous especially when they mix drinks. We got free shots of frozen basil mojitos, which were quite refreshing. We ordered a round of their X Bomb shots: little orbs of cocktails that pop in your mouth. It's amusing to see a little molecular gastronomy being played out.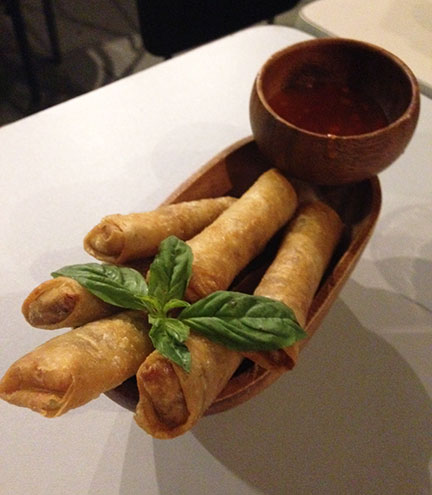 Our other dishes arrived: the sous vide angus salpicao and lengua spring rolls. The salpicao was very tender and had just the right amount of garlic. It didn't appear to be cooked in salty commercial seasoning and we kind of regretted not ordering rice with this one. The lengua spring rolls were great and was our favorite dish of the night. They were not oily; the lengua was nice and tender. I forgot to mention that all the dishes have a hint of heat, the place is called Habanero after all. The heat adds a nice touch to all the food, it won't burn your taste buds since it just gives the food a nice zing.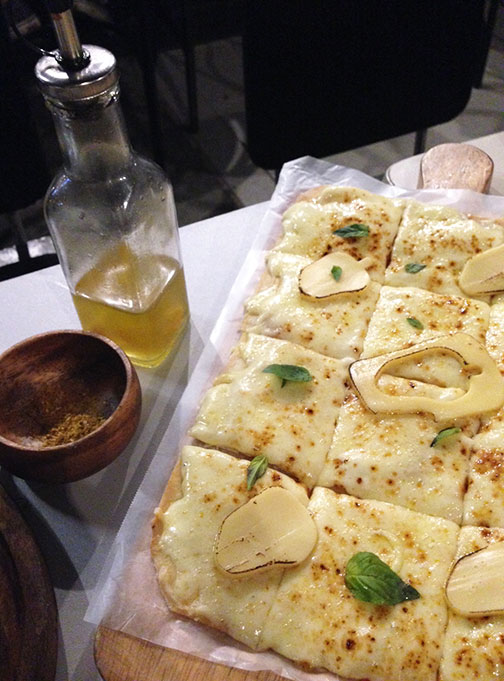 One dish that didn't contain any chili was the Habanero three cheese pizza. It's a rectangular, thin crust pizza. I can't really tell which cheeses were used but the use of basil to garnish makes a nice touch to cut the richness. The edges of the pizza were nice and crisp, though some parts were slighty thick and tough in the center. The staff gave us habanero oil and habanero chili powder, which they make in house, as condiments.
Habanero is just less than a month old. Although the food isn't quite perfect yet, from what we ate and experienced this place would be part of my go to places for some good bar chow and drinks. The staff were attentive and our orders came out quick. Just a few minor tweaks here and there; more things to try one the menu. I have my eye on their habanero flavored vodka.
Habanero Kitchen.Bar
Cubao Expo Stall #63
General Romulo Street
Cubao, Quezon City
Tel. (+63.917) 355.1853
LABELS: Cubao, cubao expo, Habanero Kitchen.Bar, Kitchyart