By Kitchyart on 19 October, 2015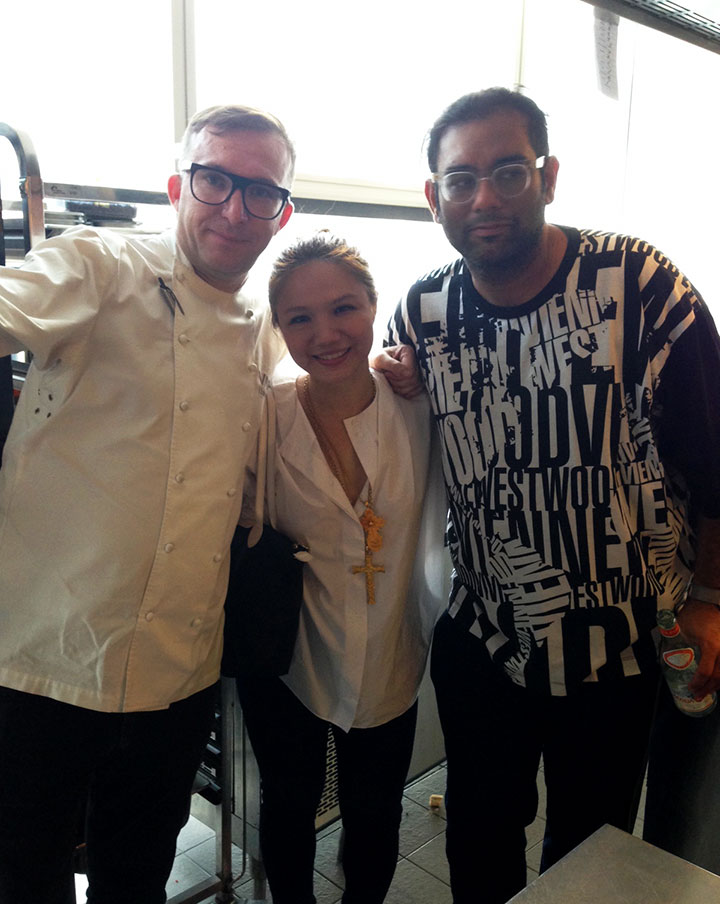 Cheryl flanked by Chele Gonzalez of Vask and Gaggan Anand of Gaggan, currently Asia's number one restaurant. 
Cheryl Tiu: Editor-at-Large for Lifestyle Asia, columnist at the Philippine Star and Forbes Life, co-author of the Wallpaper* City Guide Manila and correspondent for CNN Travel. As if she doesn't already have a full plate, our friend-in-food takes time to tell us about her new baby Cross Cultures.
You're an editor, a writer, an author, a blogger, a lifestyle personality, an avid traveler with a hearty appetite and it's great that you have put up a new platform called Cross Cultures, promoting other countries and their culture through food. Could you tell us how you came up with this idea?
When I told people I was going to Ethiopia, the reaction was mostly surprise and uneasiness, like, "What on earth are you doing there? Why do you want to go there? Is it safe there? Is there even food there?" It's actually one of the fastest growing economies in the world today with one of the most delicious cuisines in the world. (I first had it in Amsterdam in 2006, then later on in New York City then London then Capetown, before finally having it in the motherland!) After I started posting photos on Instagram and raving about it, people became curious. I wanted bring it to the Philippines and share this experience with Filipinos since we don't have a proper Ethiopian restaurant here.
The idea of Cross Cultures kind of stemmed off from there. I realized that through food, we can bring together chefs and cooks, countries and continents, and hopefully create awareness, dispel misconceptions and preconceived notions, and help contribute in building a more global community.
Your first dinner focuses on Ethiopia, up next is India. Do you plan to expand your concept to Filipino cuisine? How would you imagine it to be?
Definitely. Cross Cultures is really a platform to promote the exchange of ideas, talents and cultures through food. So while with the first two, I have brought in cuisines to the Philippines, I also want to do the reverse– which is to bring Filipino cuisine overseas. While there is a curiosity and interest in our cuisine, the truth is there's still so much to be done. I'm currently working on something that will also hopefully dispel the misconceptions about overseas foreign workers in relation to this.
How would Cross Cultures stand out in a market of themed dining experiences?
We are very specific in our advocacy in promoting the exchange of cultures, and likewise talents and ideas in opening up the mind to hopefully practice and live out cultural relevance. So there will always be an educational aspect in our events.
Having traveled extensively, what is your most memorable meal so far? Is there a type of food that you just can't seem to enjoy? Do you have any guilty pleasures in terms of food?
Oh wow, I love eating a lot of things. Ethiopian, Indian, Mexican, Middle Eastern, Chinese (dimsum) top my list. I am also really into all forms of dumplings from xiao long baos to gyozas to empanadas samosas to pierogsi to mantis to raviolis.. those are always my favorites in any cuisine. I really eat everything, and I'm willing to give every cuisine a try. It's certain animals I won't eat, like rabbits, and of course, dogs, cats, horses.. I don't even want to think about it. No way, never.
Say I'm a visitor from out of town, where would you suggest I eat in Manila for breakfast, lunch, merienda, dinner and drinks. And what should I order?
Breakfast: Most of the five-star hotels are good. I am not crazy about the service of some of the restaurants that offer breakfast even if their food is decent so I'd rather not name them.
Lunch: Your Local (creative Southeast Asian dishes—like salmon donburi and chili crab on mantou—in a hip, neighborhood joint); Kafe Batwan (the best pancit palabok cooked in crab stock and crab fat, and served with crispy crablets, chicharon, sauteed squid and soft-boiled egg; kansi panada- an emapanada filled with pulled kansi– a cross between bulalo and sinigang) Tapenade at Discovery Primea (great Mediterranean dishes and unlimited oyster/ salad bar a steal at only P600!)
Dinner: Mecha Uma (Bruce Ricketts is one of the youngest, most talented chefs in the city who creates Japanese-inspired dishes almost free-style depending on what's available that day– the aburis are my favorite as well as the uni and oyster sitting on monkfish liver but I'm not sure if they still have it); Gallery Vask (Chef Chele Gonzalez may be Spanish but he translates his travels around the Philippines into a narrative degustation using produce from around the country– the tiradito is my favorite!); Terry's (classic Spanish cuisine– I am obsessed with their angulas, there is no visit to Terry's where I do not have it! They also import their own wines so they have a large selection of Spanish wines that are decently priced)
Drinks: The Bar at the Peninsula is my favorite watering hole; I'm comfortable going there on my own and completely dressed down. The staff are great, especially Chris, who always looks after us. I usually have wine– they have happy hour from 5 to 7PM on weekdays where you get two for the price of one, and free-flow weekends. Bank Bar is also a nice place to go for drinks; I just pick a cocktail from the menu, depending on my mood. Most I've tried so far are pretty good.
LABELS: Cheryl Tiu, Kitchyart