By Kitchyart on 5 August, 2015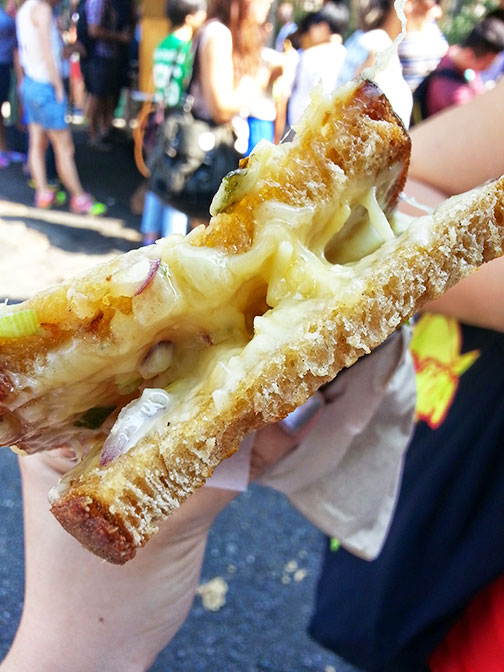 I went to the UK last year to attend a beautiful family wedding in Bath. I took some photos here and there, but the phone I used in the trip went kaput and I thought all those memories were lost. Thankfully, my now defunct phone was previously set up to automatically back up my photos online and I am able to post a few of them now.
The second leg of the trip took place in London. The city has a special place in my heart, I lived around the city for a couple of years during my university days. London has changed a great deal over the last decade, and I'm posting some classics that are worth visiting over and over again.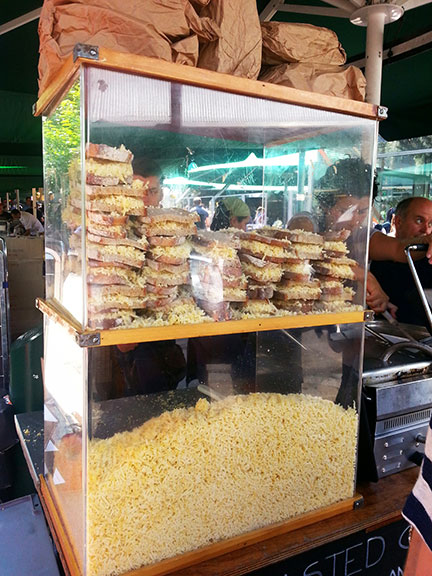 Borough Market is a good stomping ground for great eats. It can get very crowded and touristy at some point, so the key to enjoy the experience is to go early. Most stalls are open throughout the week but more stalls open on Saturday. The most memorable cheese toastie you will ever try in your life is from Kappacasein, a stall that serves Raclette cheese over potatoes with gherkins and the cheese toastie. The cheese toastie is essentially a grilled cheese sandwich with three cheeses: cheddar, comte and Ogleshield cheese on sourdough bread with some shallots and leeks to cut the richness. Words cannot describe how great this sandwich truly is without trying too hard, you just need to try it out for yourself.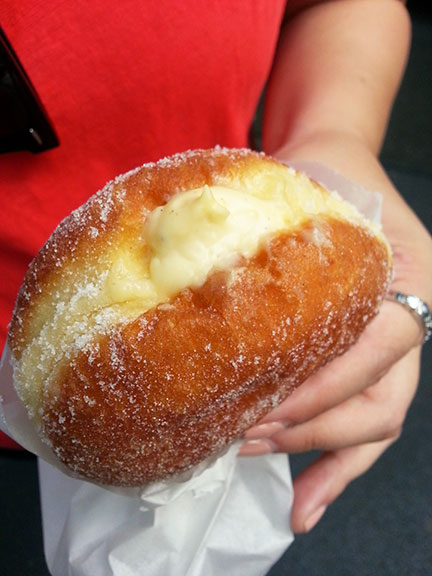 There was still some space for dessert and we spotted a stall called Bread Ahead that sold all sorts of baked goods but the custard filled doughnuts caught our eye. My sister and I happily shared one doughnut and the custard was nicely dotted with vanilla specs in every bite. The doughnut was also nicely chewy and did a great job holding a fistful of custard inside it. When in Europe, there is no such thing as too much dairy.
Borough Market
8 Southwark Street
London SE1 1TL
http://boroughmarket.org.uk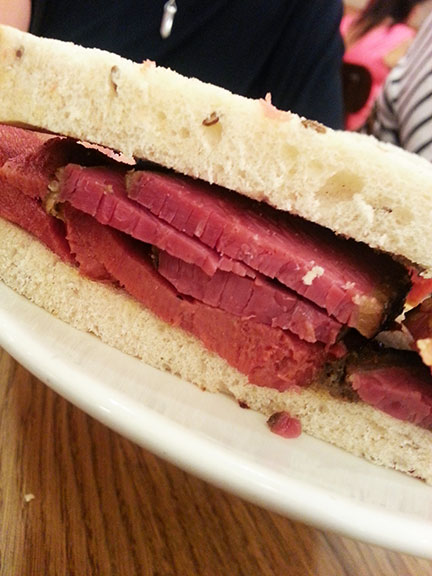 As per Sanju's recommendation, he told me that it's a must to try the salt beef at the Brass Rail in Selfridges. Salt beef plays an important role in British cuisine, curing meats have been around for centuries because it was the best way to preserve meat at a time cold storage had not been invented yet. Salt beef uses brisket that is salted and slow cooked for hours, which makes it tedious to prepare. Lucky for us today, there's a company called Hensons that preserves this tradition and supplies their products at Brass Rail. I'm a great fan of cured meats and this did not disappoint. Salt beef is like a cross between boiled corned beef and pastrami. They typically serve this on rye bread with some mustard, but we opted for another platter sans the bread and an additional order of the ox tongue. For fans of ox tongue, imagine a very soft cut of meat with the perfect saltiness. Oh, did I mention that you could order this ahead and have them vacuum seal this for your trip home? Win.
The Brass Rail
G/F Selfridges
400 Oxford Street
London W1A 1AB
+44 207 318 3115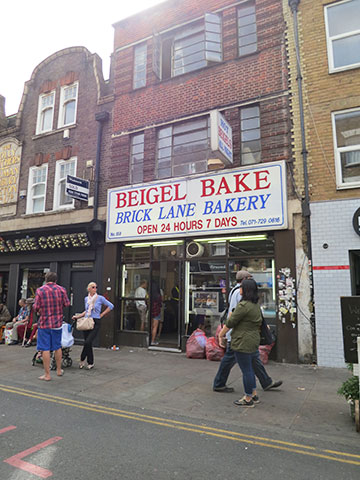 My sister and I were still reeling from the salt beef experience, we explored a bit of East London on foot and found ourselves trying another salt beef institution, Beigel Bake. They serve the salt beef in a fresh made bagel. The salt beef is cut thicker and it appears to have more fat than Brass Rail's version. If you're suffering from jet lag or the munchies in the middle of the night, this joint is open 24/7.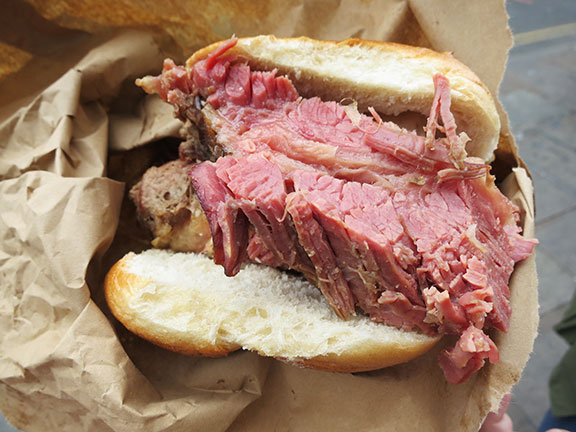 There's definitely a vintage vibe to this place, some of the remaining icons in the neighbourhood are slowly being overshadowed by the influx of new establishments over the past few years. It's like the Lower East Side of New York, a mix of old and new.
Beigel Bake
159 Brick Lane
London E1 6SB
+44 207 729 0616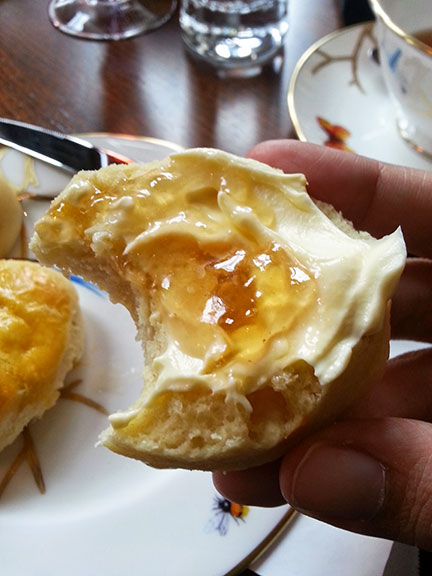 No trip to London would be complete without afternoon tea. A friend in food, Cheryl Tiu, invited me to join her for afternoon tea at the Rosebery. We enjoyed our finger sandwiches and tea with a glass of Ruinart rose, but the highlight of our dining experience were the scones with Devonshire clotted cream with rose petal jelly.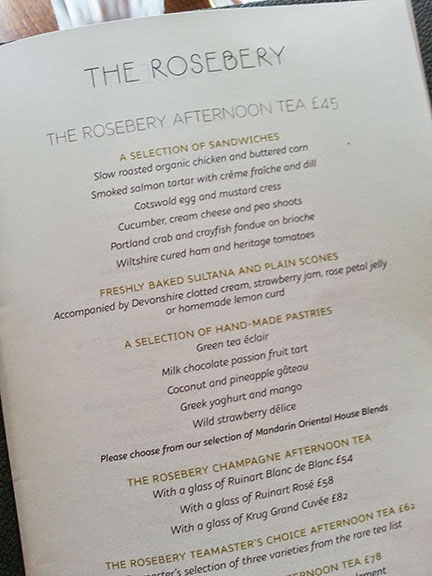 We had a lovely time nibbling and chatting away, we continued our afternoon with a nice stroll outside. We were lucky that London summer was kind to us, we spent most of our days in the sunshine.
The Rosebery
Mandarin Oriental
66 Knightsbridge
London SW1X 7LA
+44 20 7201 3828