By sanju on 16 July, 2015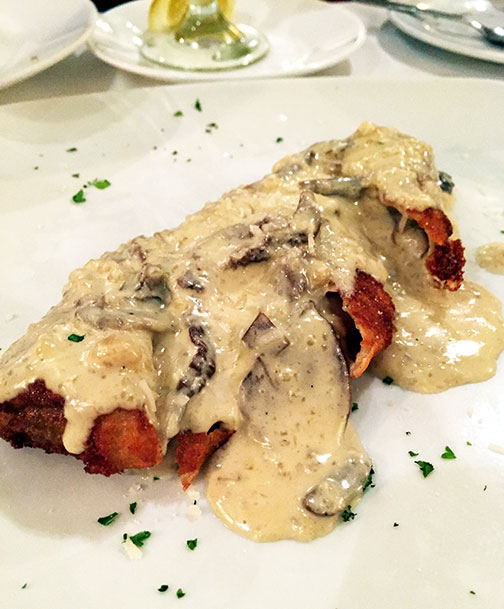 I have always liked eating at Caruso. It is actually our go to place for Italian food in the area. We also like to take our out of town guests for a meal, as the food is always consistently good. One can always tell that only fresh ingredients are used with all of their dishes.
I had dinner with the family a few days ago and as always, enjoyed my meal. I started with a bowl of Crema di Funghi Porcini or Porcini Mushroom Soup (P420). It was evident that fresh Porcini Mushrooms were used in this and the result was an earthy, flavorful experience.
Continuing on, I decided to keep to the Porcini Mushroom theme and had Rotlino di Funghi Porcini De'll Ossola or Rolled Crepe stuffed with Porcini Mushrooms. (P690) This dish has been a favorite ever since. The crepe has a crunchy texture, probably baked and stuffed with an excellent Porcini Cream Sauce that I for one will never tire off.
For my main, I decided on Scaloppine di Vitello in Salsa di Limone or Veal Slices with Lemon Sauce. (P890) This classic Italian dish is not much to look at, but the veal was tender and the tart/sweet sauce was a perfect foil. I would not mind having this again on a future visit. Being quite full, I decided to forego my usual order of Tiramisu for an Espresso.
As I walked out that evening, I found myself already plotting my next meal at Caruso. I have noticed that I find myself doing this frequently after eating in a few places that I am always happy to dine at. I guess this is how I have come to gauge what have become my favorite restaurants. Knowing this, I can definitely count Caruso as one of my favorites.
Caruso Ristorante Italiano
LRI Bldg. 210 Nicanor Garcia St.
Poblacion, Makati
LABELS: Caruso, Italian, restaurant, Sanju