By sanju on 17 June, 2015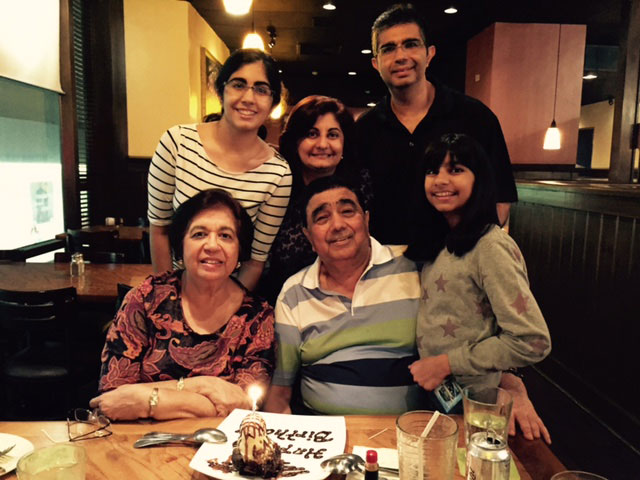 It was golden brown, glistening in all its newly fried glory and looked like a little disc. My maternal grandmother handed it to me with a dollop of sweetened mango pickles and encouraged me to take a bite. At first, I was hesitant being only six or seven at the time, pizza this was not. But Mama as we all called her, cajoled and convinced until finally I did take a bite. I heard the crunch of what I now know as its chickpea flour exterior, followed almost instantly by a silken center that exuded nuttiness as it flowed through my tongue tempered by the sweetness of the pickle. "Mama what did I eat?" I asked. "You just ate Maghaz Pakhora."(Brain Fritter) She answered with a smile. "What is that?" "It's made from the brain of the goat. Did you like it?" In fact I did. This I believe was my first foray into the exciting world of Indian food.
My Mom always told me that I was difficult to feed when I was younger. Friends who hear this do not believe me since I have been known to have no limits to what I put in my mouth. But it was different when I was younger. I only liked a few things and Indian food was not one of them. Like most kids I did not like the burning sensation brought on by hot chili peppers. Although it is not true that all Indian food is predominantly filled with chilies, as like with many others, this was my initial impression. So I stuck to eating more conventionally, like I assume most everyone growing up in Manila at the same time as I, would eat at home: Adobo, Fried Chicken, spaghetti. My mom was a good cook, and slowly, she introduced to dishes with a little more complexity like Lasagna, Steak, Prawns Thermidor and other dishes that were in vogue during the eighties.
It was my grandmother who was more of an influence to me when it came to Indian food. My maternal grand parents, settled in Cebu during the late forties. My mom spent her growing up years there. When my mom married, she then moved to Manila with my dad. However, we would spend our summers and Christmas holidays in Cebu with my grand parents. My grandmother loved to cook for the family and she would make different Indian dishes, sans chili so that us grand kids could taste. Try as she would I however, remained ambivalent at best, preferring Lechon or Dim Sum to Lamb Roghan Josh or Dhal.
Things began to change when I began traveling for work after University. I began to try and seek different Indian restaurants in other cities. Although most had similar menus to Manila restaurants, they served dishes that were more refined than what I was used to back home, thus making more appreciative and open not only to Indian food but to all types of cuisine in general.
There were two events that were complete game changers for me when it came to Indian food. Number one was my first trip to India. To say that it was an eye opening experience is an understatement. I was quite unprepared to face the massive wave of spices, flavors and smells. The sensory onslaught was so intense that I was completely overwhelmed at first. After a couple of days, I settled down and began to enjoy myself. I had different kinds of street food in little stalls that served specialty snacks. Friends and family who have been returning patrons for many years recommended these stalls. I visited a couple of completely vegetarian restaurants that served an immense array of vegetables, many of which I have never seen in my life. All these vegetables were cooked in countless ways that I never deemed possible; I had a great meal at Bukhara, one of the iconic Northern Indian restaurants of all time. Finally no visit to India is complete without going into a sweet shop where I was again in a state of complete amazement at the variety and choices available. I came home with a new found respect for Indian food that I have not lost at all.
The second event happened fairly recently. On a family vacation to Bangkok, I had the opportunity to have dinner at Gaggan. Chef Patron Gaggan Anand transformed a lovely wooden colonial home into a temple that pays homage to progressive Indian cuisine. It is Indian food that is creative and has no boundaries. Eating at Gaggan made me realize that just like any other cuisine, Indian food does not have any limits. On one hand it can be as simple as some cooked chickpeas on top of a piece of bread served by a street vendor; or something as innovatively complex as Gaggan's Willy Wonka and the Foie Gras Factory: Foie Gras with a Spiced Red Onion Chutney and Cold Raspberry-Hazelnut Praline. Both seem from two different ends of the spectrum but in essence they are unified as one, they are Indian.
I can only laugh to myself when I witness the parallel struggles that my own children have when it comes to Indian food. I see my mom cajoling and convincing, and I see the same aftermath facial expressions. I am content to know that the cycle continues and that hopefully one day, I will get the chance to do my own convincing and cajoling as well.
(Published in Town & Country Philippines June 2015)
LABELS: Sanju