By Kitchyart on 23 June, 2015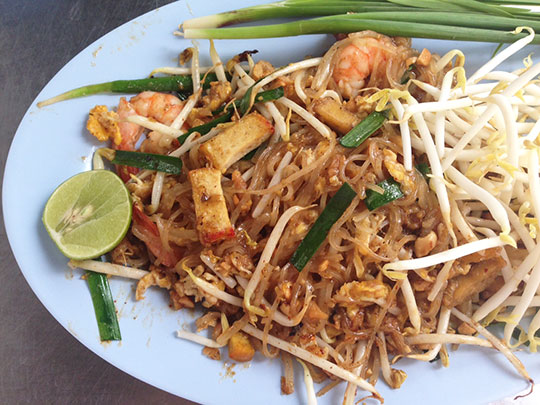 Some friends and I took a quick trip to Bangkok a few weeks ago, thanks to Anonymous Paul, his recommendation to stay in the Silom area was perfect. It's been a decade since I last visited and our other two friends were excited for their first time. We made a pact that we would exclusively eat as much Thai food as we can because it's hard to get the real deal back home. We tried a few spots here and there but what really stood out for us are the street eats. It's amazing that the food stalls alternate shifts in the morning, afternoon and evening so it's like an all day buffet. The best part of it all, it's easy on the pocket.
Here are a few of our favorites: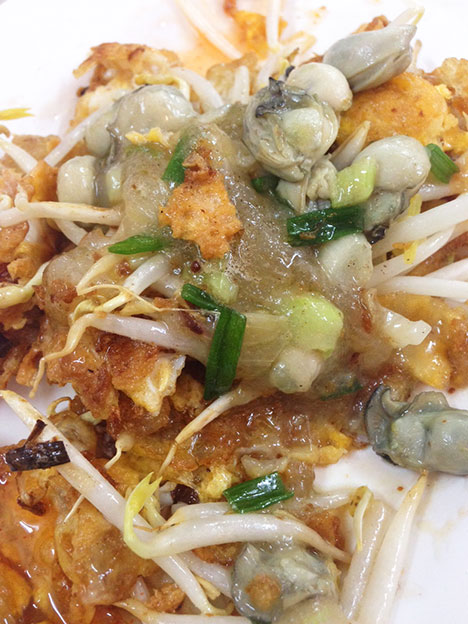 The Thai version of mussel or oyster omelette, hoi thot, is a wonderful combination of chewy and crispy. The egg has the chewy texture of 'tikoy' with crunchy edges, while the mussel or oyster remain soft and generously topped with bean sprouts. We got an order each of the mussel and oyster to compare since we were a group of four. This was a perfect starter for our walking food trip.
The shophouse got its 'volcanic' name when they used to sell hoi thot in the streets, attracting customers and tourists by creating dramatic flare ups with their diesel stove. That tradition is long gone now that they have their own brick and mortar.
Thip Hoi Thot Phu-Kaho Fai (Volcanic Fried Mussel and Oyster)
3 Soi Charoen Krung 50
+66 89 775 1958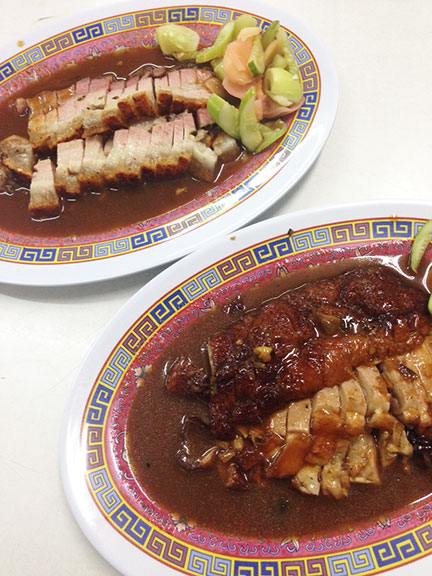 Prachak's roasted duck is a brilliant merging of Thai and Chinese cuisine. Their shop front boasts that they have been in business since 1909. They first prepare their ducks with a stuffing of kaffir, galangal and lemongrass before placing it in a coal oven and cooks until the skin turns crisp to deep brown deliciousness. They serve the duck in fine slices with Chinese plum and five spice sauce underneath. We ordered additional items like roast pork, shrimp cakes, some greens (para healthy) and crab fried rice; and we were all very happy to try a variety.
On our way out of the restaurant, we spotted some frozen duck in vacuum packs for sale. If we knew about this sooner, I think we would have made space to bring a duck (or two) home to share.
Prachak Pet Yang
1415 Charoen Krung Road
+66 22 34 3755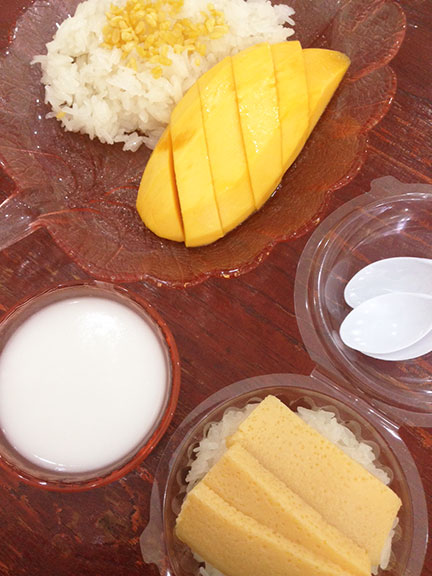 No trip to Bangkok is complete without having some mango sticky rice. This shophouse is run by the same family of Grandma Boonsap; perhaps by her great-great grandchildren and the recipes remain unchanged today. The storefront has a display of a variety of sweets they offer, but we opted to go inside to dine in. The interior is a little bare, having one table for diners and another long table for the staff who were busy packing assorted desserts in gift baskets.
We ordered a mango sticky rice and an egg custard sticky rice to sample. To be honest, I'm not really an avid fan of mango sticky rice and I chose to try the egg custard. What really made these desserts so good is the sweet coconut milk they give you fresh from the pot they used to cook it. It was thick and creamy, it tasted very fresh and it had just the right amount of palm sugar. I didn't know how to say it in Thai but I really wanted to bathe myself in the coconut milk. Maybe that's a good thing, too.
Boonsap Thai Desserts
1478 Charoen Krung Road
+66 22 34 4086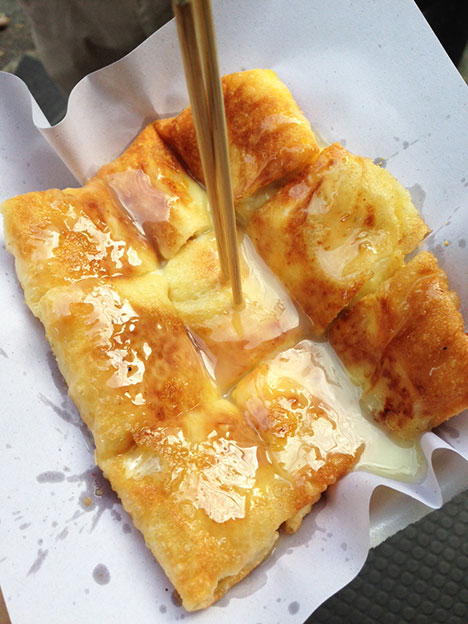 On our way back to the hotel, there was a street vendor that sold a banana and egg roti with condensed milk.
Throughout our trip we sampled shrimp spring rolls, pad thai, fried chicken and spicy barbequed chicken butts in between meals. We still have a long list to complete… We promise we'll be back soon.
LABELS: Bangkok, Eating Bangkok, Kitchyart