By Anonymous Paul on 6 May, 2015

Last time I was in Baler was 12 years ago. It was a bit difficult to get to as from Nueva Ecija, one had to endure around three hours worth of unpaved roads to get to the town. But you can always tell you're near when the landscape starts to look like an Amorsolo painting: coconut trees all over and idyllic. Bahia de Baler was the most decent place to stay in; spartan but air-conditioned. Considered a splurge back then for bus-riding surfers. Now, of course, there are more modern and upscale establishments that welcome the new surge of tourists along the Sabang beach strip.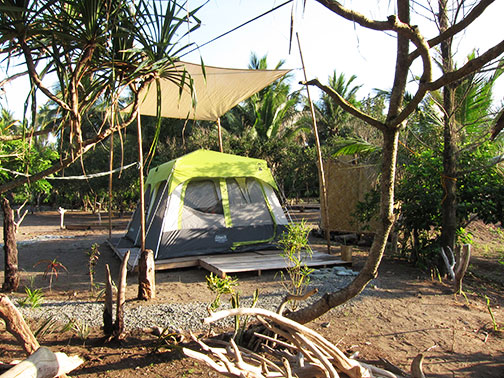 But this trip we stayed in an area about 15 minutes away from all the traffic of Sabang. Called Charlie's Point; a picturesque area where the river mouth meets the Pacific Ocean. It made a cameo in the film Apocalypse Now and you'd have to probably watch it to get the reference; but since the movie came out in 1979, it has helped spread the news of the quality surf in Baler.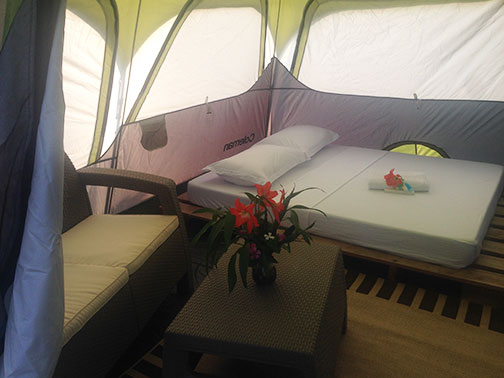 And I was here to try out "serviced" camping at The Conservatory at Charlie's. It's a zero ecological footprint "resort" with several campsites with very comfortable tents. I'm using a lot of quotation marks as I actually have never experienced staying in any place like this before.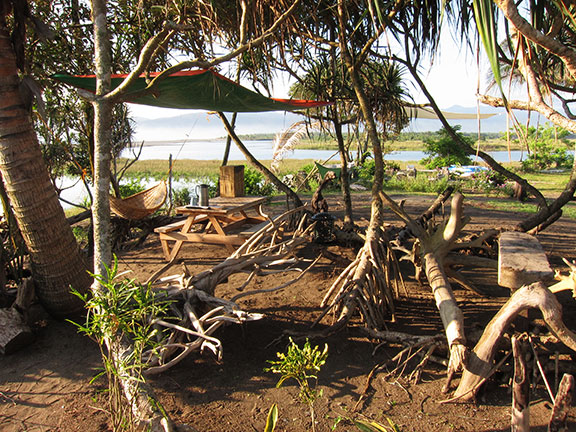 I say serviced in that the tents are appointed with beds, pillows, crisp white sheets, a lounge chair and coffee table. Towels, body wash, shampoo and toothbrushes are provided as well. You have to walk a bit to get to the toilets; but there are actual toilets with bidets. Beside the tents are shower stalls ingeniously made with rolled sawali; the "plumbing" consisting of a jug of water with a faucet. Outside my tent and per campsite is a picnic table with provisions for drinking water and a hot water flask so you can have coffee or tea anytime.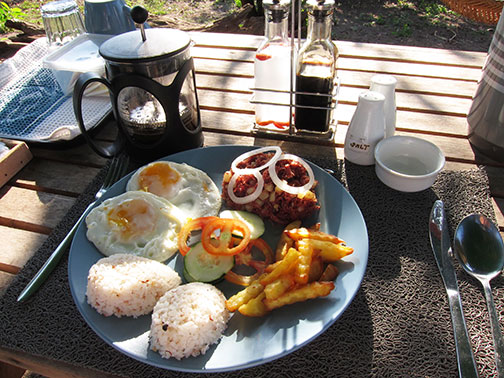 Typical breakfast with proper coffee. You can bring your own beans. 
Meals served are breakfast, merienda, lunch, merienda and dinner. I never had to open a bag of chips. The big plates consist of generous portions of wholesome, home cooked food. And being a fishing town they have access to excellent ingredients and cook them perfectly too.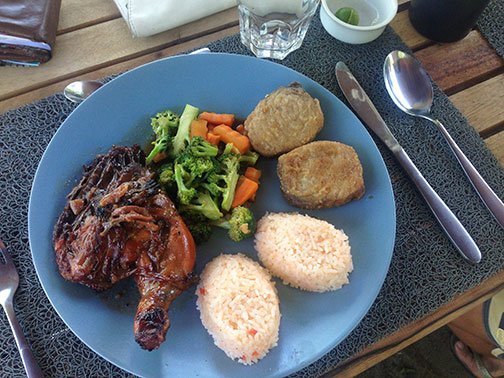 I remember the marlin and tuna steaks to be tender, flaky and just past translucent. Which is how I like my seafood. And if ever you get served their fried squid, immediately ask for seconds.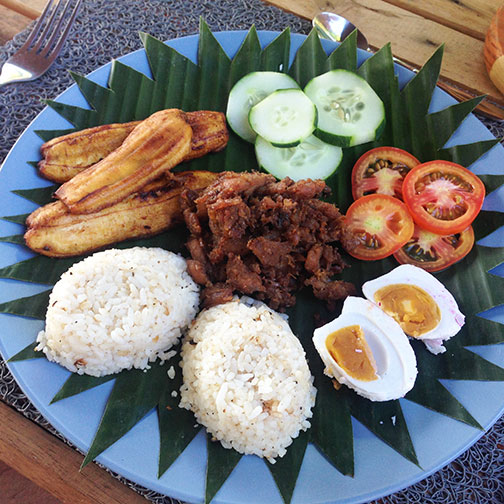 They also carry a couple brands of craft beers care of Global Beer Exchange in case you get thirsty, but generally getting drunk and rowdy inside camp is frowned upon.
Pre activity merienda: turon with Nanay Pacing peanut butter. A local product that tastes like spreadable Chocnut. Good. 
Still, it took some mental programming to get through the four days I stayed at The Conservatory. Being a city dweller my mind's always working and trying to figure out the next thing to do. But here you just have to realize the whole point is doing nothing. Which was a huge challenge. But I adapted and eventually enjoyed it.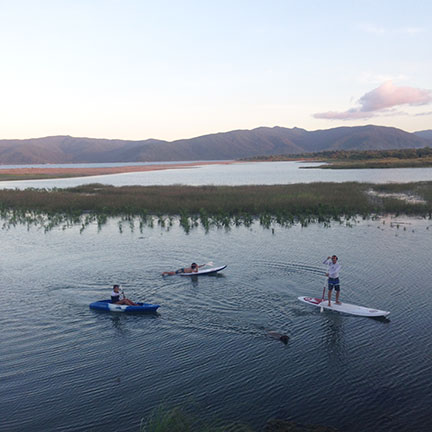 My days consisted of waking up around 5:30am, get on the hammock till breakfast was served. Read a book till lunch (with merienda before of course). Nap till about 4pm and then maybe paddle out on the river mouth on the SUP's or surf if the home break is working. (You are waited on while doing your activities and are provided towels, bananas and water as refreshments as you get out of the water.) Air dry a little bit then have dinner around 6PM or 7PM. And then it was lights out by around 9PM. Of course you can always opt to drive out on the coast or take in Baler's other sights, but I never felt the strong need to go out of the property.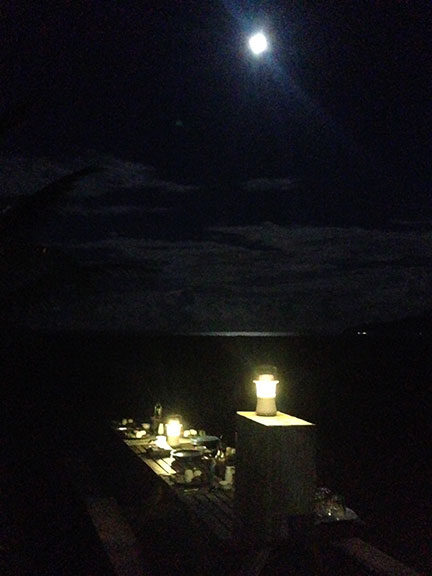 Dinner under full moon and warm camp lights.
There was zero electricity and you are really just out there exposed to the elements. Yes there are neon coloured bugs that just stare back at you when you try to shoo them away and yes there are things that shuffle in the middle of the night outside your tent. That's nature for you.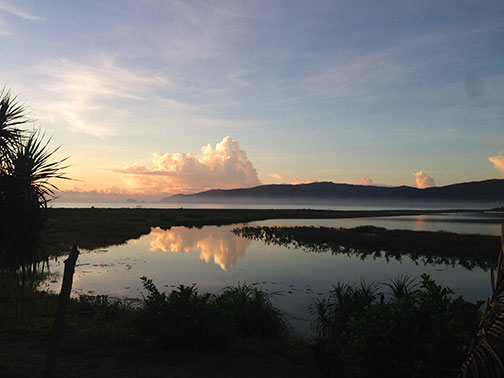 The view outside my tent in the morning. #nofilter
But there are also purple coloured dusks and orange coloured dawns. Crisp misty mornings and the salty breeze from the Pacific Ocean that keeps things cool during hot days. You can ride powerful waves or just allow yourself to drift with the gentle flow of the Aguang River. That's nature too.
The Conservatory at Charlie's
Brgy. Reserva, Baler, Aurora
Book through Airbnb
LABELS: Anonymous Paul, Baler, Food and Travel, The Conservatory at Charlie's