By sanju on 15 May, 2015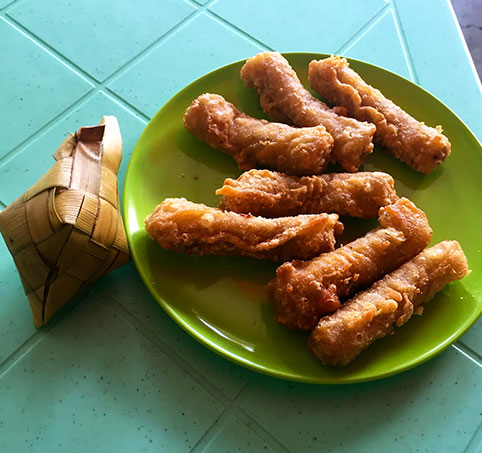 I have always been a fan of Ngohiong; a Cebu style spring roll that is named after the five spice powder that the vegetable filling is cooked with. It is one of the more popular forms of street food in the city. I remember my cousins telling me that they would buy some from the vendor across the street after school and have it as a snack on the way home.
Most Cebuanos have their favorite spots and my friend Roy is no exception. When I told him that I wanted to Have Ngohiong for lunch, he took me to Carlos Special Ngohiong along Abellana Street, right behind the provincial capitol building. Owned by Carlos Carillo, this nondescript albeit clean establishment only serves a few fried items like chicken and chicken liver, but most everyone comes for the Ngohiong (P8/pc). Carlos' version is filled predominantly with Ubod (Heart of Palm) and cooked with different spices including of course five spice powder; it is coated in batter then deep-fried to a crisp. Ngohiong is eaten kamayan style with puso (P8, room temperature white rice wrapped in Coconut fronds) and a dipping sauce made with potato flour, fresh chili, soy sauce, salt and pepper.
The result is a crunchy, slightly oily medley of flavors that is heightened initially by the spiciness of the sauce then tempered down by the rice. Quite an enjoyable treat if I may say. The only caveat is that one has to sit in the summer heat as the venue does not have any air-conditioning. I honestly do not care where I eat as long as what I am eating is worth it. For those who do have an issue with eating in the heat, Carlos can offer you his Ngohiong half cooked. You take them home, fry them at your convenience and enjoy.
If you are a lumpia freak like I am don't miss this simple but satisfying treat the next time you find yourself in Cebu.
Carlos Special Ngohiong
Andres Abellana Street
Cebu City
Tel +63 32 2544372
Open Daily from 9:30AM-4:30PM