By sanju on 28 May, 2015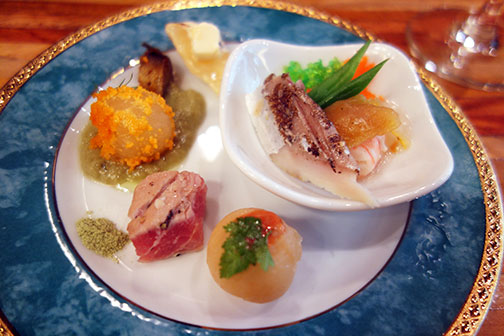 A Few days ago C and I were able to attend a one time only Ramen Omakase at Mendokoro Ramenba in Salcedo Village. The dinner was held to celebrate Medokoro's transition from soft opening to its regular hours. This means that Ramen will be served from 11AM till 11PM daily. The dinner also showcased the talents of Japanese Consultant Chefs Hedeaki Aoyama and Kazunori Kuramochi. These two gentlemen visit the restaurant regularly to make sure that all standards remain consistently at a high level.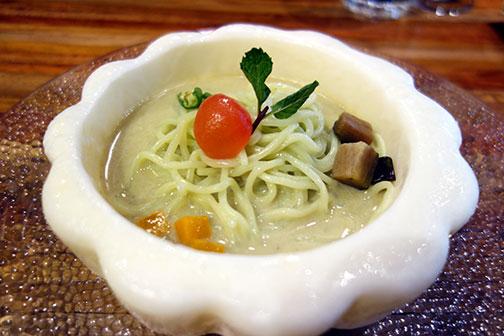 Our hosts Elbert Cuenca, Ryan Cruz and Raffy David took us through each course. It began with an assortment of starters that included Mullet Roe, Camembert, Skip Jack Tuna, and Sweet Fish all cooked in various ways. The starter set showed us the chefs' versatility and technique by uniting ingredients with different flavors and textures into an exemplar of cohesion.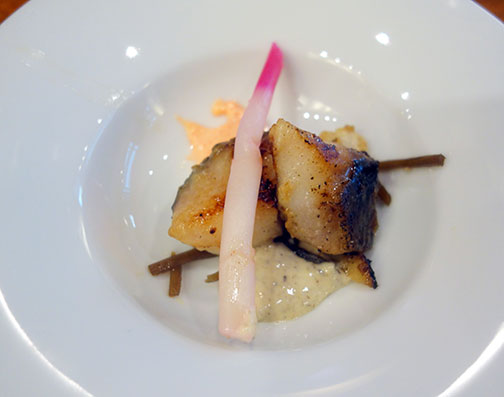 Our first of three bowls of ramen arrived shortly thereafter: Coconut Chilled Curry Ramen served in an ice bowl made from Fresh Milk and Coconut. I enjoyed this a lot since it was a refreshing respite to a hot summer's day. The flavors were subdued and the noodles remained katame (al dente) all through out. Next we were served Sea Bass Grilled in Hokkaido Miso and Chawan Mushi with Orange Rind. Most of us have had a version of this egg custard at some point. Personally, I would rank this version as one of the best I ever had due to the addition of the orange rind. Simply put, the rind added another flavor dimension that put the dish over the top. It was really good!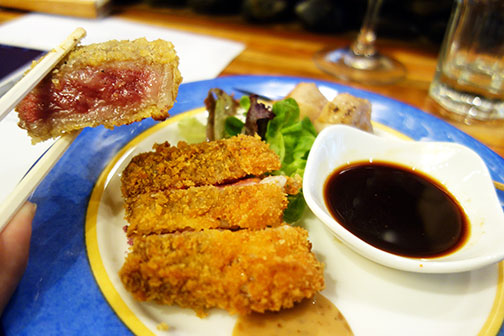 For our Meat Course, we had Grade A5 Wagyu Sirloin Katsu cooked rare with grilled 3-Salt Chicken. I have never had Wagyu cooked Katsu style before as I have always stuck to pork or seafood in the past. I felt that Sirloin was apt in this case since it was not overly marbled and was able to hold its rare form even after it was fried. I cannot wait to have this again if given the chance.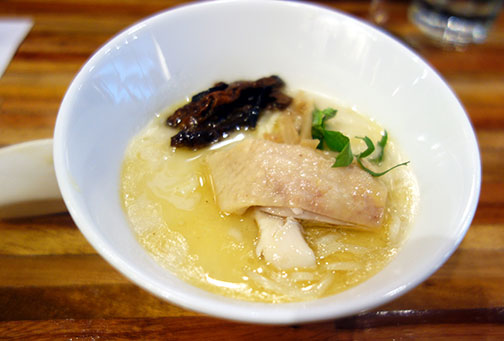 After a refreshing Kiwi Sorbet, we were served our second and third bowls of Ramen: Chicken Broth Ramen with Foie Oil and a Beef Bone Ramen with Chashu (braised pork) marinated in honey and Foie Oil. Both Ramens were excellent with each bringing their own distinct profiles. However, the Chicken Ramen was a revelation as it was bursting with chicken flavor, with subtle Foie ending, much like the layers of a good wine. Bravo Chefs!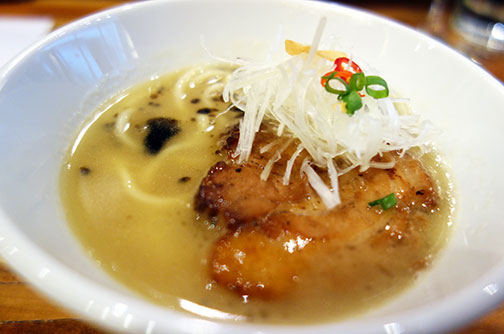 We ended our meal with dessert: Silken Tofu drizzled with Sugar and Polvoron. Unfortunately, I was too full to do it justice. As much as I tried I just couldn't.
I kept asking Elbert whether this dinner could be repeated in the future as I am sure that many would be interested to try it out. With pricing at P2000 per person, I thought it quite reasonable for top notch ingredients coupled with creative cooking. He however says that it is a one-time event that will never be repeated. I believe though that given the right amount of "kulit" he may be persuaded to change his mind. I for one hope that he does.
Mendokoro Ramenba
G/F V Corporate Center
125 Leviste Street
Salcedo Village, Makati
LABELS: mendokoro ramenba, omakase, Ramen, Sanju