By sanju on 29 April, 2015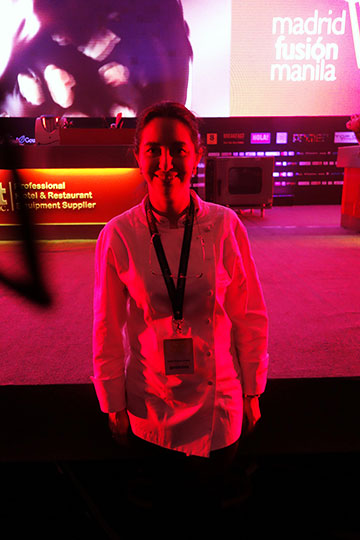 I am proud to say that I played a small role that contributed to the success of Madrid Fusion Manila. Because of this and thanks to a good friend, I was able to get full access to the event held at the SMX Center. I am sure many are quite Madrid Fusioned out due to the overload of pictures flooding all our social media feeds these past few days. However, for those who would like to know what it was like to attend Madrid Fusion Manila, please read on.
The event was divided into two main areas. International Gastronomy Congress and Trade Exhibit. The Congress featured different speakers. Some of the best local, Asian and Spanish Chefs were on tap to speak about different culinary topics. Headsets were provided for simultaneous translation.
The Trade Exhibit area had different booths that featured food products both Spanish and Filipino including wine and spirits, cooking equipment, and some local regional specialties. The main aim for this area was to promote commerce and awareness for both Philippine and Spanish products.
Day 1
C and I arrived at the venue at around 10 am. Registration was quite seamless. We were given our badges and headed to the Congress area where we waited for things to get started. While waiting Undersecretary Berna Romulo Puyat introduced me to Chef Elena Arzak. She graciously chatted with me for a few minutes. Arzak, named the best female chef in the planet, spoke about her love for the Philippines. She was quite amazed at how hospitable everyone was and also how diverse our food culture seemed to be. I also asked her to promise to check out our blog when she had the time to do so.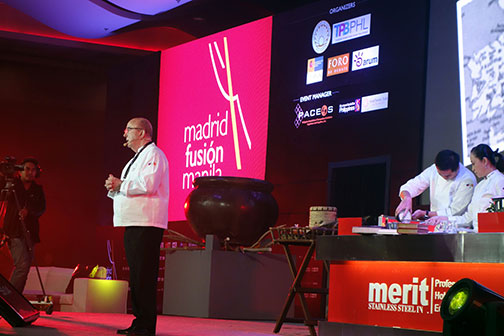 When things settled down and the festivities began, Secretary Ramon Jimenez Jr., of the Department of Tourism, formally opened the event and we then moved on to the first speaker, Chef Juan Carlos de Terry who gave a presentation about Spain: Center and Origin of Modern Occidental Cuisine. My impression of this presentation and all succeeding presentations that I was able to catch: original, informative and meticulously researched. It's nirvana if you are a food nerd. I take my hat off to all the chefs for a job well done.
Since I did not have too much time during day 1 ( I had to go back to the office) I did a quick round of the trade exhibit area then headed off the ASP lounge where a themed regional (Luzon, Visayas and Mindanao) lunch was prepared for the visiting chefs and special guests. During each of the three days, different local chefs from various parts of the country, were tasked to prepare a couple of original dishes that represented the region of the day. Unfortunately, I was not able to stay for lunch during Day 1(Luzon). I did get to see the prep area where students of Enderun College, were helping the participating chefs of the day, plate the different dishes.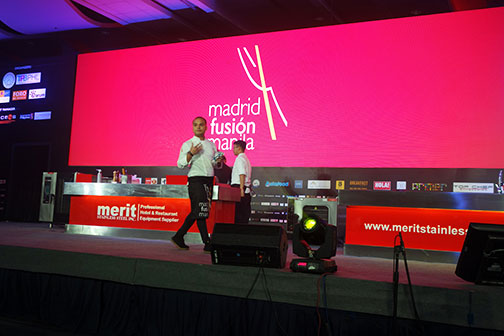 Day 2
I got in just in time to catch my favorite chef of the Moment, pun intended, Bruce Ricketts speak about Local Seasonal Ingredients. He had a terrific presentation that combined video, and actual cooking. Next I headed over to the ASP Lounge for the Visayan themed lunch curated by JJ Yulo. All the dishes that I tasted were very good but the standout was the Roast Baby Lamb by Vicente Lobaton of Enting's. Enting's is Located in Sagay, Negros Occidental near Bacolod. Cocktails that afternoon by Enzo Lim of the Moment Group were well done as well.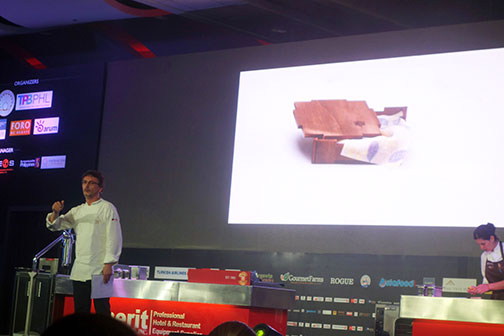 After Lunch, I headed to the Trade Exhibit area and visited the Albay Pavilion where Chefs Gene and Gino Gonzalez held court. They prepared various mouth-watering dishes that showcased the various indigenous ingredients of the region. What made the array quite special was the fact that each dish was paired with either wine or craft beer, thus enhancing the whole experience. After gorging on what Albay had to offer, I headed to the Spanish Pavilion for a tasting of Riofrio Organic Caviar presented by Chef de Terry. All of us got to try the different Caviar and derivative products that will be available to everyone soon. We also learned a little about the advantages of Organic Caviar. To Cap off the day, I watched the presentation of Chef Andoni Aduriz of the famous Mugaritz. He spoke about Open Creativity.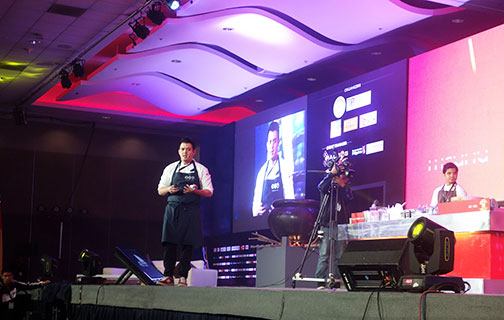 Day 3
C and I came in early to listen to Chef Rob Pengson speak about The New Filipiniana Cuisine. His presentation ended with one of the most spectacular videos that I have seen. After Chef Rob, we stayed on to listen to Chef Ramon Freixa of Restaurant Ramon Freixa speak and demonstrate about making Tapas. His versions of traditional tapas like Gazpacho for example, were done with a modern twist.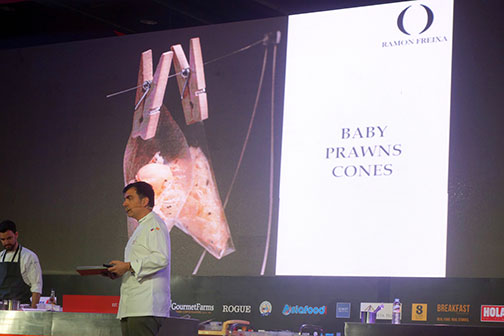 After watching Ramon Freixa we headed down to the ASP lounge for the Mindanao themed lunch curated this time by Alicia Sy. Again excellent dishes all around and standouts for me were Bruce Ricketts' Dirty Rice, Chef Laudico's Tuna Kinilaw with Sea Urchin Roe and Suwa. Suwa is a type of native citrus fruit found only in the Cagayan de Oro area. I also enjoyed Mark Tan's Pitik with Caviar and JC de Terry's old-fashioned Maja Blanca with Vanilla and Lambanog syrup. In between, I entered the kitchens to see how things were going. I caught one of the best pastry chefs in the world Paco Torreblanca quietly preparing for his presentation and Chef Mark Tan of Allium Restaurant prepping his contributions for the lunch.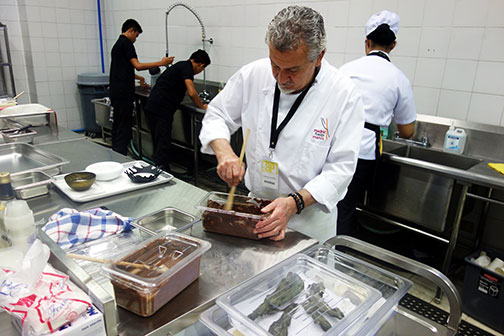 After lunch we watched Alvin Leung of Bo Innovation in Hong Kong. His topic was: It's Fun to Cook: Xtreme Filipino. He playfully reinvented classic Filipino food like Lugaw and Sardinas to a much higher level. Chef Leung was funny, irreverent and very competent. An engineer by profession, he is completely self-taught in all matters culinary. This hasn't stopped Bo Innovation from earning a Michelin star. Proof positive that anyone can do it as long as you have the inclination and the drive.
As the first edition of Madrid Fusion Manila came to a close, I can't help but feel that our Filipino cuisine is at the precipice of being great. All it needs are a few more steps and we are over the edge. I believe this event is the first of those steps to greatness.
LABELS: madrid fusion, Sanju