By Anonymous Paul on 9 April, 2015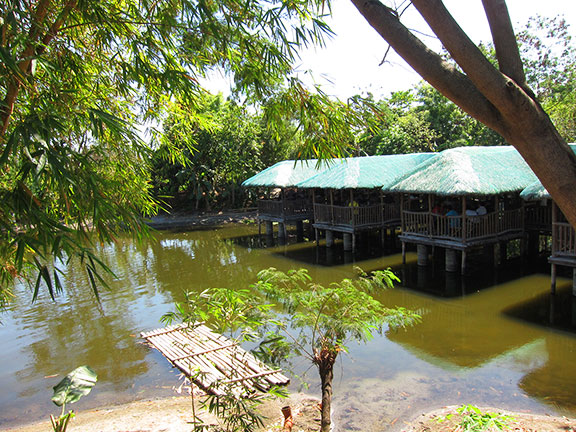 I don't usually go away during Holy Week but last Thursday, I got picked up by some friends for a day trip to Pampanga. It was a relatively quick drive reaching San Fernando in less than an hour via NLEX.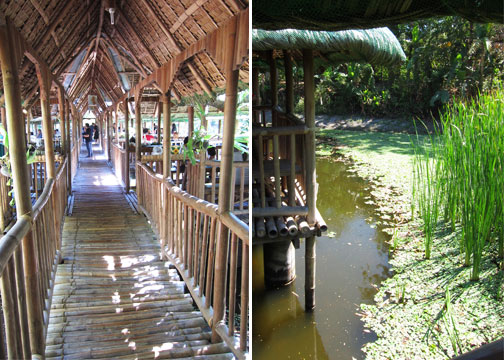 We were to meet some friends there at a place called Apag Marangle, this huge property with bamboo huts on stilts above a pond as a dining area. It was a very humid day but the scenery seemed to temper it.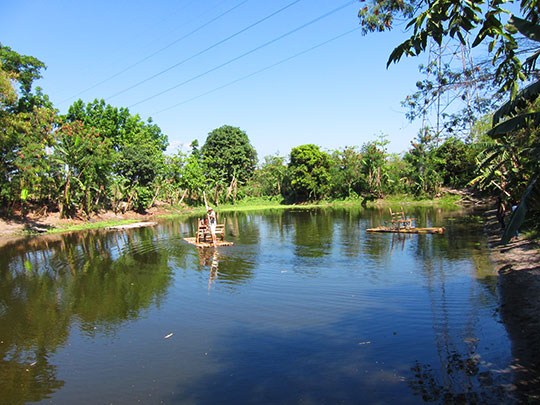 Service-wise, it took maybe at least an hour to get all our food on the table. But hey, we were on holiday and I didn't want to stress out about it. The food I would say was nothing mind-blowing; what one would say typical Pampangueno favorites.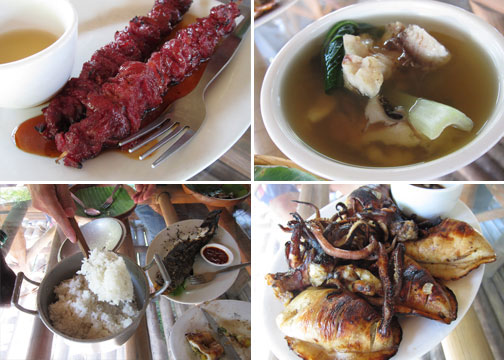 Some better than others. The pindang damulag (carabao tocino) was a tad sweet and sinewy. The pesang dalag (mudfish) seemed devoid of seasoning, but nothing a spoonful of patis (fish sauce) couldn't rectify. Stuffed frogs were nice, and tasted like… well, chicken. And I've had better sisig.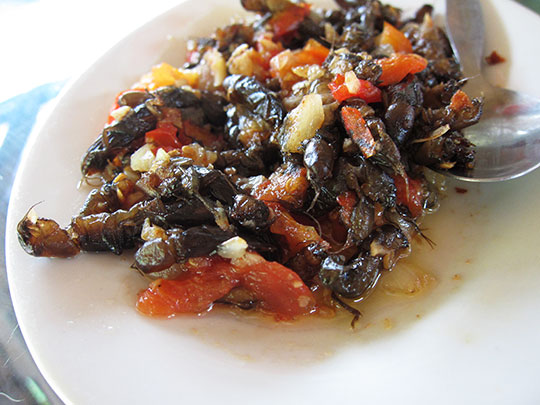 But I did love the kamaru (mole crickets) deep fried till crisp then sautéed in aromatics (a.k.a. guisado). Very flavourful and reminiscent of shrimp in texture. There was the perfectly grilled dalag which I wrapped in spicy mustard leaves and dabbed with some tangy/savory buro (fermented rice). Delicious.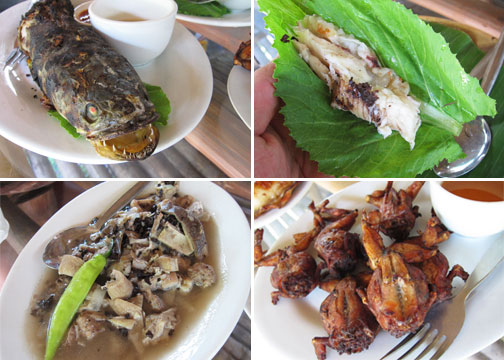 And I quite liked the tidtad, or their version of dinuguan. It wasn't a black coloured stew but there were bits of various kinds of offal cooked till soft, including coagulated blood. The sauce was vinegar based and cut through the oiliness of the ingredients. All eaten with rice. Which they serve in an aluminium caldero.
I find out later that Apag Marangle had branches in Marquee Mall and Park Square, Makati. But I doubt they have the same surroundings as the main branch, obviously.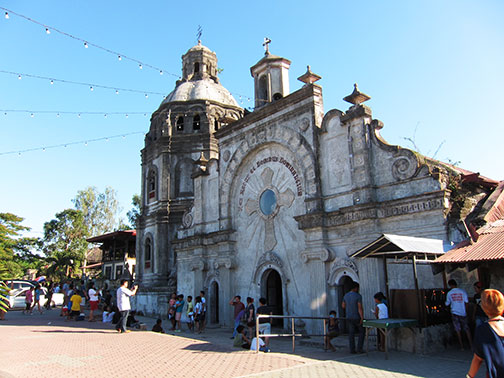 So after lunch, off we went to the nearby Bacolor Church. Half buried in lahar after Mt. Pinatubo erupted in 1991.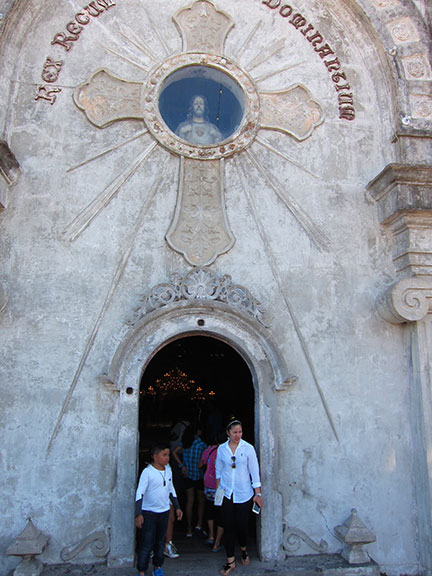 The locals salvaged what they could and today in it's rehabilitated form, the windows now have become the passageways.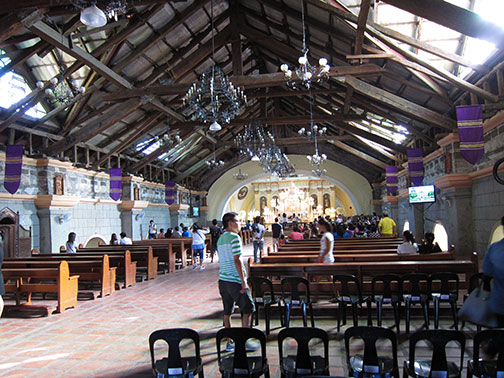 Inside, the ceilings aren't as high but if you didn't know it was half-buried in ash one wouldn't have noticed. It remains dignified. Including the amazing altar all decorated for the Lenten rites.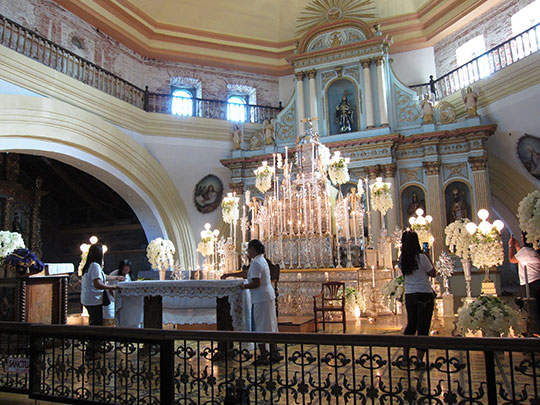 We had then went off to get a halo-halo fix as Susie's and some cheese bread at LA Bakeshop before heading out to a friend's lovely house in Mabalacat.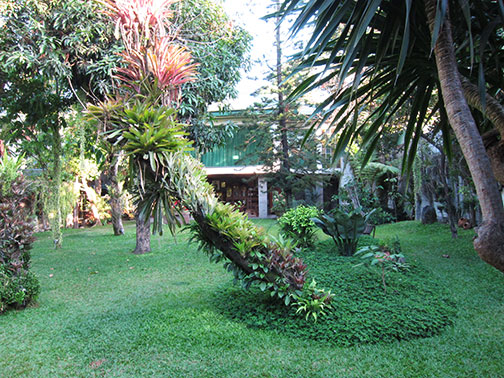 Where we ate more of our loot, including this Pampangueno style tamales. Talks of dinner soon dissipated as we could not eat anymore.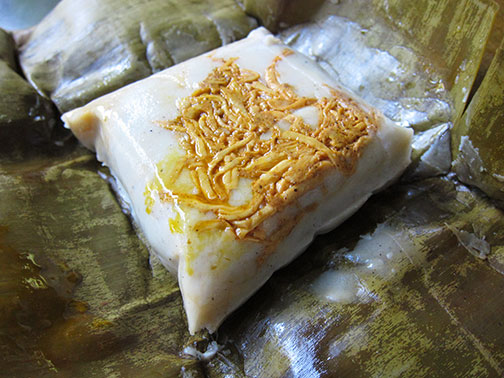 And just took the leisurely drive back home, in again, less than an hour back to Manila. A nice quick trip out.
Apag Marangle
Bacolor Main Branch
(+63.922)888.0568 / 045.436.1600
Marquee Mall, Angeles City
(+63.925)885.8979 / 045.304.0207
Park Square, Makati
(+63.925)875.1100 / 02.668.58.12
LABELS: Apag Marangle, Food and Travel, Pampanga, Restaurants, The Travelling Table