By Anonymous Paul on 17 March, 2015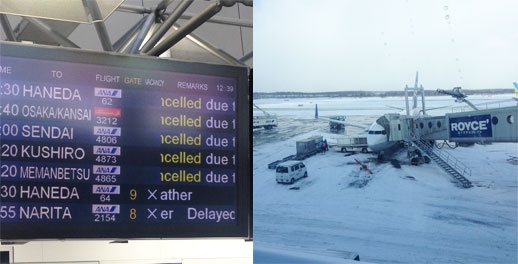 My journey back to Manila from Sapporo was not quite the smoothest experience. We had waited around 3 hours to check in as all flights were either delayed or cancelled due to the bad weather. And once we did get to check in it just became a guessing game if we were to fly out that day or if we would still make our connecting flight home via Narita. We were sort of lucky as our plane was only delayed and we did manage to board 2 hours late. With the ground crew also informing us that we would make it to our connecting flight.
When we landed in Narita, we were approached by the airline staff and were told the plane for Manila left without us. But they had already arranged our tickets for the flight scheduled the next day. Which left us with 24 hours in Tokyo. Yes!
Honestly the brutal cold, seeing all white and trudging in the slush and snow for about 6 days was starting to depress me. Winter has a beauty of its own but I cannot imagine how to actually live in those conditions for half the year, every year. I now appreciate being a tropical boy much more. And a night out in Tokyo was probably what I needed to decongest before coming back home to Manila. For me, Tokyo really has this energy and I was raring to go out as soon as I got my bags from the carousel. Good thing some of our Sapporo travel buddies extended in Tokyo and I had just crashed with them for a night.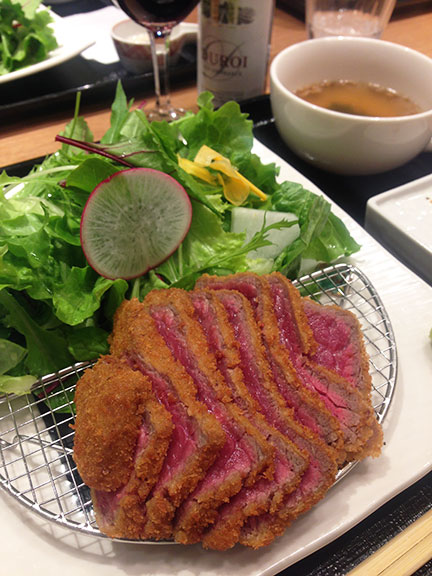 So after meeting, off we went to have dinner. Seafood is awesome in Sapporo but now I was looking for meat. And just walking around Ueno we stumbled upon the perfect place called Gyu Katsu Aona. Serving breaded and deep fried A5 Wagyu steaks. Quite over the top. The beef came with a salad of super fresh greens with a citrusy sesame dressing, a consommé-like soup with seaweed and mushrooms and a bowl of white rice.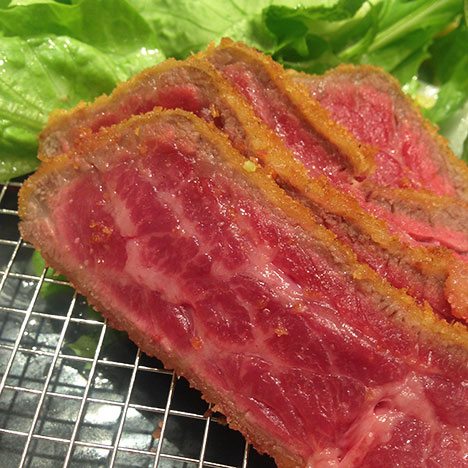 As for attacking the steak, one simply dabs a perfectly pink slice with fresh wasabi or dip in a fragrant toasted garlic oil. Amazing. I had a small bottle of Bordeaux to go with my meal. Exactly what I needed. And the best part is that it's surprisingly reasonable at just Y1650 for the set sans wine. Also very well balanced; I wasn't feeling sickly at all after considering the amount of marbled fat and oil I had ingested.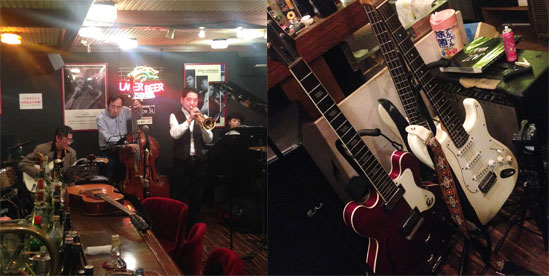 So what to do next? My friend wanted to see a live act so he plotted for a jazz bar on Google Maps called Every Swing; located just a few blocks from where we were. A small, narrow bar filled with cigarette smoke and good music. Everyone seemed to know each other and they welcomed us Gaijins very warmly. I had only ordered a glass of Kirin but the barkeep/owner/in-house master trumpet player gave us so much bar food, a glass of soju and even chocolates. I believe it was Valentine's day that time and they have this culture of giving out chocolates as presents. A different type for your boss and your special someone, etc…. I have no idea what kind they gave us but it was a pretty good dark nama cube. We hadn't noticed it was midnight and the bar had to close.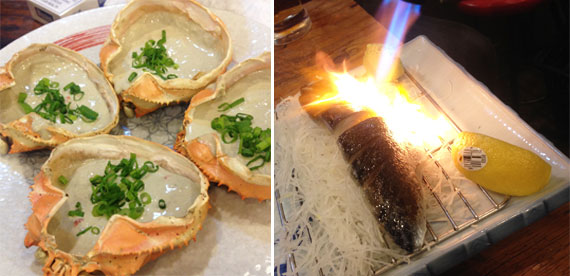 As a last hurrah, we had walked back to the Ueno nightlife strip and ended up in an Isomaru Suisan. I have written earlier about this seafood izakaya in this entry. But everyone was in agreement as we ordered many many plates of kani miso and vinegared mackerel. Washed down with more beer. A fun night.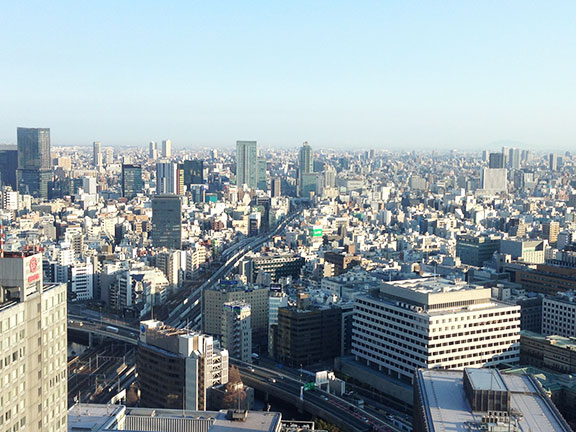 I woke up the next morning with this view of the city. Went with a friend to the huge Loft at the Yurakucho area and had a bowl of soba and tempura at a restaurant just underneath the Yurakucho train station.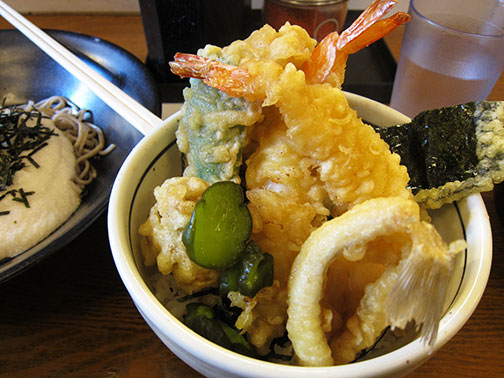 And soon enough we were on the train back to Narita. I love Tokyo. And I love discovering finds in the unplanned. But was more than grateful to have finally slept on my own bed that same night.
LABELS: Anonymous Paul, Isomaru Suisan, tempura, tokyo, Wagyu