By Anonymous Paul on 12 March, 2015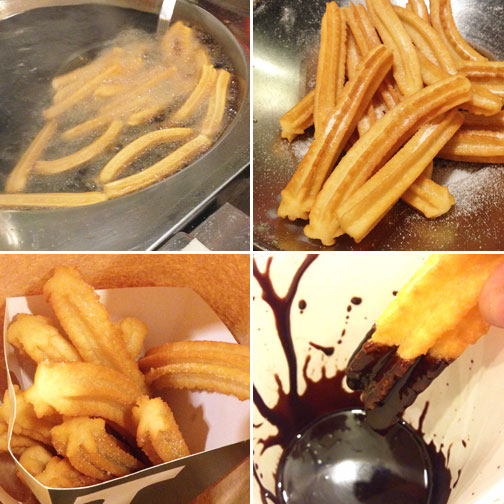 La Lola came out with a bang earlier this year and I sort of tuned out trying it because of the long lines. But I found myself in Rockwell recently, early for a dinner, and noticed there was no queue. So I took the opportunity to sample their classic churros.
Churros are quite popular in the Philippines but availability is limited to just a few establishments. At least acceptable ones. One obviously being Dulcinea and the other being Sancho (along Maginhawa Street). They serve similar styles of churros (with the latter's quality being a little variable as there are times the oil gets noticeably rancid.) Both serve teardrop shaped hoops on the thin side; providing a delicate crunch.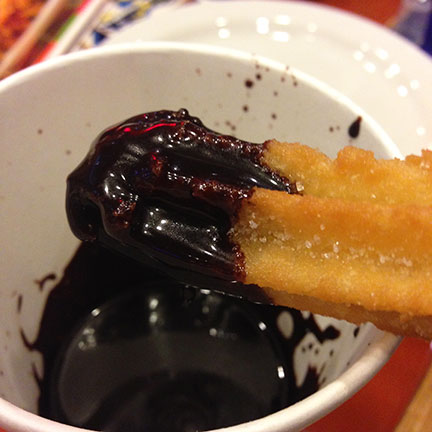 La Lola makes big long strips. Thicker and heftier. Choux pastry is piped into a vat of pomace olive oil, fried till golden and simply dusted with sugar. Deceptively simple. Choux pastry takes a little elbow grease to make. Essentially a batter enriched with eggs and butter; the same used to make profiteroles and eclairs. It's rich but bland, hence the need to sprinkle with sugar. I love how the outsides of La Lola's churros have this deliciously hard golden shell. And how it's thickness allows the center to let the egginess of the batter come through. So comforting. The churros are actually good to eat on their own. But what better than to pair it with their bittersweet Belgian chocolate dip. Perfect consistency: thick and gooey.
Worth the calories.

Churreria La Lola
Basement 1, Power Plant Mall,
Rockwell, Makati
Tel. (+63.915) 412.9468
LABELS: Anonymous Paul, Churros, La Lola