By Kitchyart on 24 March, 2015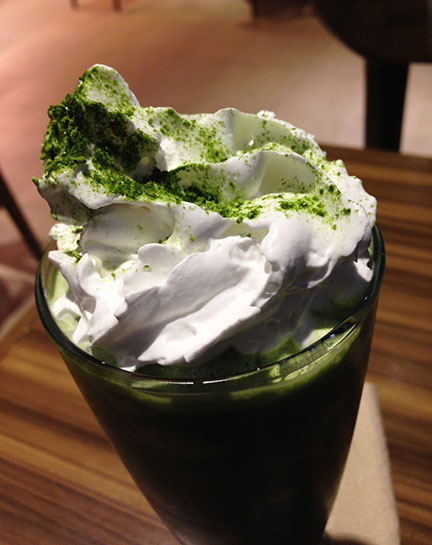 I found myself in the Pasig area yesterday and I had to run a quick errand at the supermarket in Pioneer Center. I bought a few things for the house and as I was walking back to the parking lot I realized  I parked across the little Japanese cafe called Kissako Uji Matcha Cafe. I thought it would be a great idea to load my purchases in the car and have a little break before heading home.
The cafe offers matcha, a fine powdered green tea from Uji, a region in Japan that offers the best quality green tea. They use the matcha on their drinks and pastries in the cafe. Most of the ingredients they use are from Japan. They offered me to try the matcha parfait, but I wasn't hungry (save for next time). I just got myself a blended matcha latte, I asked the staff if they added sugar to their drinks and I was glad that they said the matcha is used in its pure form and the sweetness only comes from the milk and whipped cream.
I was very pleased with my order, the blended matcha was all I needed. Something cool and straightforward, a drink that wasn't too sweet that I'd have to down a bottle of water to quench my thirst. It's a far cry from those commercial green tea frappes, this is good stuff. I enjoyed myself for a good 15-20 minutes with my drink.
Just a funny note to add to this, I looked up the meaning of Kissako. The word "kissa" means tea room or coffee shop. "Kissako" refers to a Buddhist teaching referring to times of worry or trouble, "why don't you have a cup of tea?". Perhaps a cup of tea to take a break and soothe the mind? Sounds like great advice to me.
Kissako Uji Matcha Cafe 
Pioneer Street corner Brixton Street
Pasig
Tel. (+632) 730.3356