By sanju on 27 March, 2015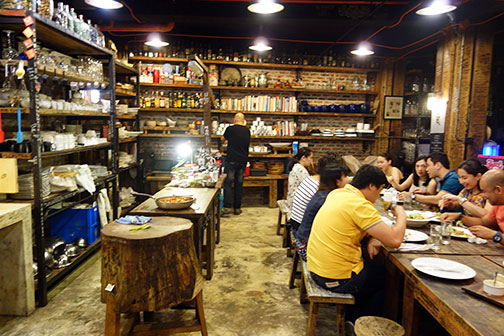 Upon the invitation of Cyrene de le Rosa (aka Chowbuzz) and Everybody's Café proprietor Poch Jorolan, C and I finally got to try Denlim's Kitchen. A private dining destination located in San Fernando, Pampanga. On a recent Saturday, we drove through horrendous traffic to finally reach San Fernando after more than three hours.
As soon as we entered the venue, all our feelings of exhaustion seemingly went away as there was this unexplainable feeling of serenity and welcoming that engulfed us. The venue was a converted commissary and home with a center table that can seat up to 24 guests at one time. The décor is quirky, with lots of bottles and other kitchen accoutrement around. Owner and Chef Dennis Lim who is completely self-taught, decided to open his place up as an outlet for his passion. Price per person is about P1200-P1500 and groups should be a minimum of twelve.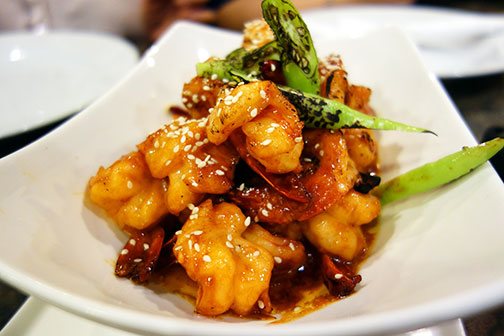 Our dinner that evening started with some Home Baked Bread and Spread. Unfortunately, because we were late, we did not get to sample this. The Salad course was underway by the time we arrived. No matter, our Oriental Cashew Salad was refreshing with hints of sesame and made even crunchier with the addition of corn flakes. Our Shrimp Course was called Shrimp Angelita. Fairly large pieces of Shrimp doused with a sweet/spicy sauce that was proportionately right.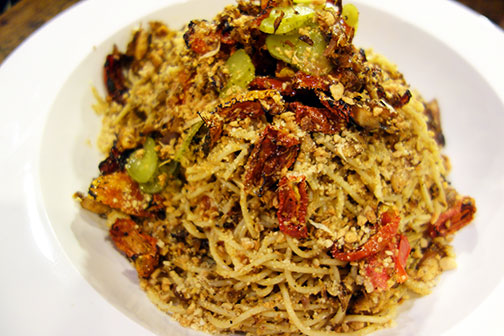 For Starch, we were served a Smoked Japanese Mackerel and Chili Tomato Pasta. I enjoyed this course since it was quite busy: chockfull of sundried tomatoes, Parmesan and slices of dill pickles. Very well made.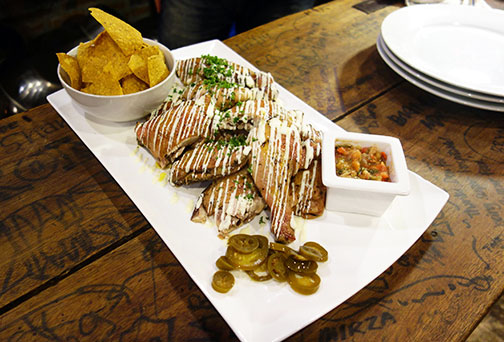 We had three meat courses that evening. We started with a Mexican Chicken and Salsa, Caveman's Shank, and Pugon Liempo. Standouts were the Beef Shank that was slow braised and tender, and the Liempo. The Liempo was crunchy as it should be, but its accompanying Pork Buro (Pickled Fermented Pork) was for me the star. Its flavor nuances were surprisingly delicate and it paired quite well with the Ampalaya Crudo.  The Pork is served as a wrap similar to how Korean Barbecue is done. Add everything in a slice of lettuce, wrap and enjoy!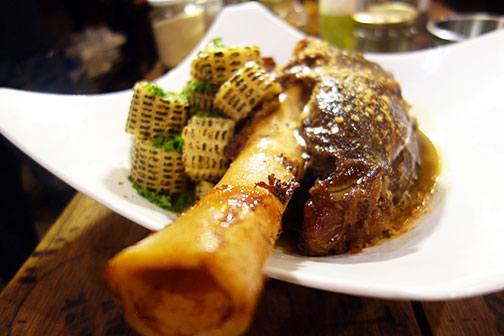 Dessert is not Dennis' strong point so aside from a lemongrass tea, do not expect anything else. Diners can order a Queso De Bola Cheesecake from a nearby bakeshop or bring their own. There is no corkage so feel free to bring your alcohol with you, as long as you offer some to Dennis.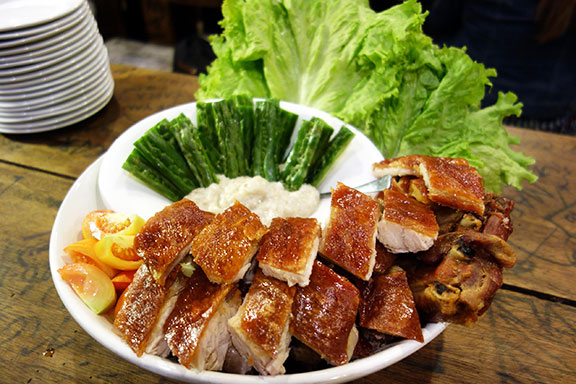 Eating at Denlim's is highly recommended. Food was consistent and the atmosphere was topnotch. Pricing is quite reasonable as well. Menus can be customized based on preference. Pictures are available on Facebook or upon suggestions of Chef Dennis. The only caveat is that you would need to make booking months in advanced especially if you desire a coveted weekend slot.
Denlim's Kitchen
Maharlika Street
San Fernando, Pampanga
Tel (+63.917) 880.8552
Facebook Page
Dinner Only
LABELS: Denlim's Kitchen, Pampanga, Sanju