By sanju on 9 February, 2015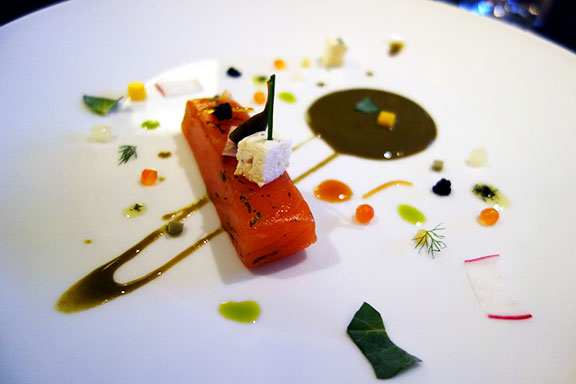 The Tasting Room is located in The Crown Towers Hotel within the City Of Dreams Complex. I have been to this restaurant twice and I can say that I enjoyed myself both times. The restaurant only offers tasting menus. They have their preset recommendations or you can pick and choose. Prices start at P3200++ for five courses to P4500++ for eight courses. At the helm of the kitchen is Chef William Mahi, whose resume includes stints in different restaurants in France and Greece; while front of house is expertly handled by Damien Plalnchenault who I have to commend for his personalized service touches.
Initially, I was quite hesitant to schedule a visit as most of my experiences with restaurants in large hotels were quite impersonal and the food while being good, usually lacked soul. The tasting room tries its best to veer from this impression by giving diners the flexibility to craft their menus. For example, one can have five appetizers or go wild with a main course and four desserts. The combinations are limitless. Another plus is the fact that the wait staff are very well trained. Our dishes were explained well, questions answered knowledgeably and demeanors remained cheery all throughout. This was evidenced more during my second visit as I was accompanied by a group of guys that by no means of the imagination can be considered shy or timid.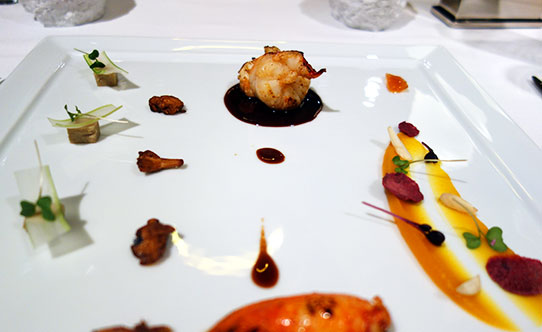 Chef Mahi's creations tend toward deconstruction with sauces and accoutrements are plated like a beautiful abstract painting replete with colors and textures. Many chefs tend to overplay their hand when it comes to this type of modernist cuisine. Thankfully, restraint is practiced here. I had fun with the mish mash of flavor profiles that this type of cooking exemplifies. My favorites were the Brittany Lobster that  had pumpkin and almonds; the Pigeon with its combination of white beans and beets and the Dry Aged Wagyu. Both the pigeon and the beef were excellently cooked. The beef to my medium rare preference and the pigeon was rare enough to be tender and flavorful without it being exceedingly bloody.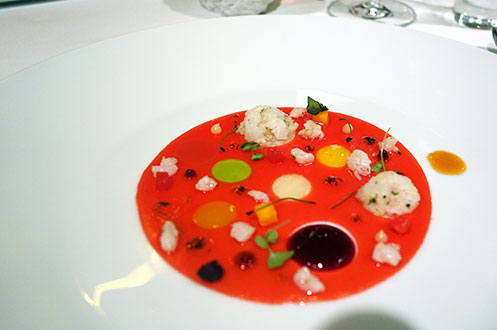 Of all the dessert options that I sampled, my favorites were the Pistachio Soufflé and the Artisanal Cheese Platter. The soufflé was at its fluffy best and I had it on its own. I didn't touch the accompanying Cardamom Milk Shot, since I am not a fan of both milk and cardamom. I loved the Cheese platter as it had some of my perennials like a nice aged Comte and English Stilton. My only quibble was that the accompanying Warm Fruit Bread arrived way after the cheeses were served. It would have been nice to have it served at the same time.
I believe one can enjoy the Tasting Room for what it is: an elegant hotel restaurant that has exemplary food, wine and service. If management can make sure that consistency does not become an issue in the future, and if the kitchen continues to come up with innovative cuisine, we may have the next great restaurant.
The Tasting Room
Crown Towers Hotel
City of Dreams Manila
Dinner service only.
Tel: (+632) 800.8080
LABELS: city of dreams, Restaurants, Sanju, the tasting room