By Anonymous Paul on 4 February, 2015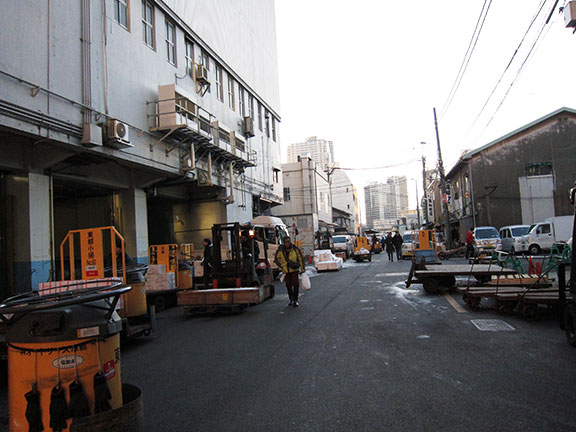 On a recent family trip we had felt iffy about going to Tsukiji Market on our last morning in Tokyo. After being there several days walking around the megacity in the cold, we were just so tired and the temptation to sleep in was just so strong. But I got this incessant wakeup call around 5am and just dragged myself out of bed.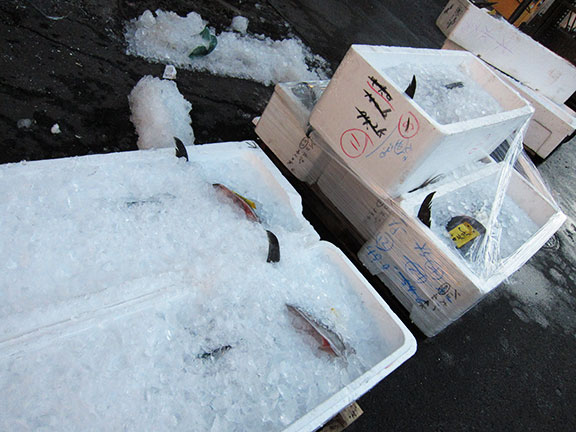 The sibs and I boarded the train like zombies and headed out. I am not a morning person and I don't normally eat big breakfasts. So this was a big frigging effort for me, considering we were also out drinking the night before. But you know, when in a certain place, best to make the most of it.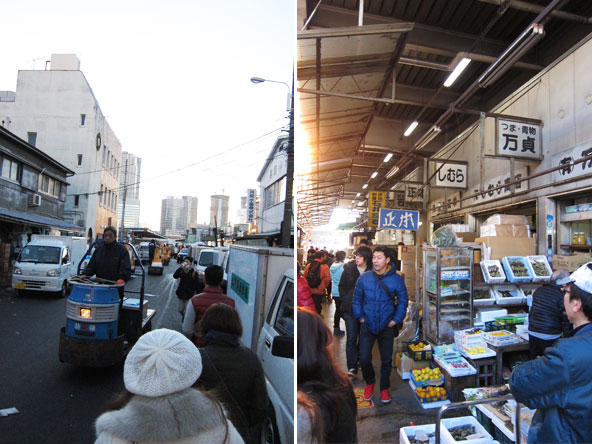 Sanju, in an earlier entry, had primarily shared going to Tsukiji's inner market, which you can see here. One has to understand that Tsukiji is an actual working fish wholesale market. There is some real trade going on. And they take their work seriously. I can remember almost being sideswiped by those forklifts and transport vehicles a few times. So visitors should keep in mind to watch where they're walking lest they want to get run over.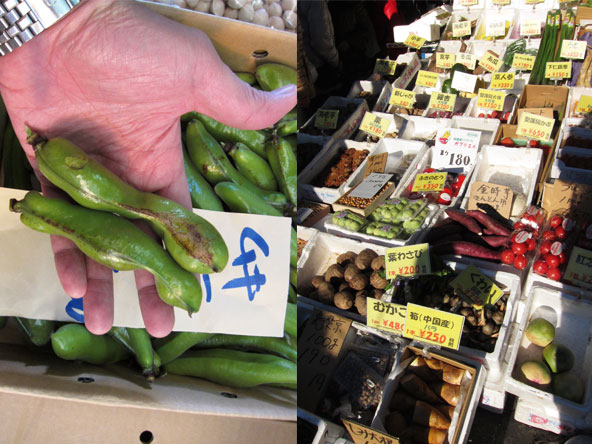 We had planned on going to the outer market. Lots of produce to see. Knives and fish market workwear as wellington boots. Of course we were primarily there for the sushi. Sushi Dai is probably the most famous sushi bar in the area. But there are many others to choose from.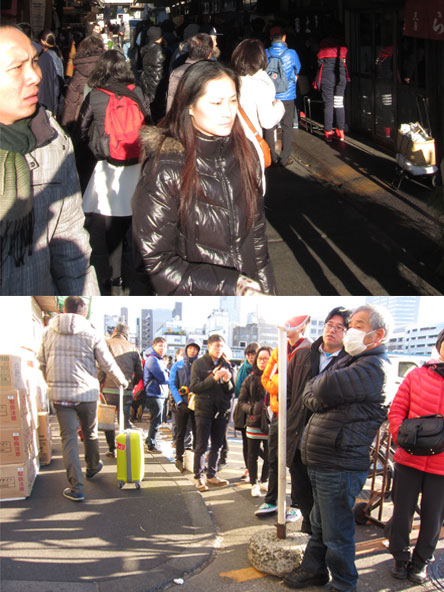 And there are lines of hungry people in every single establishment. We didn't quite have the luxury to queue 3 hours for raw fish and rice so we had just picked a place where we could sit with relative ease. The internet is an amazing tool in that you research and find in advance all these places to eat at; but sometimes we bury our noses too much in our smart phones searching for specifics that we sort of miss out being in that actual moment. Why wouldn't any of the other places be worthy of a try?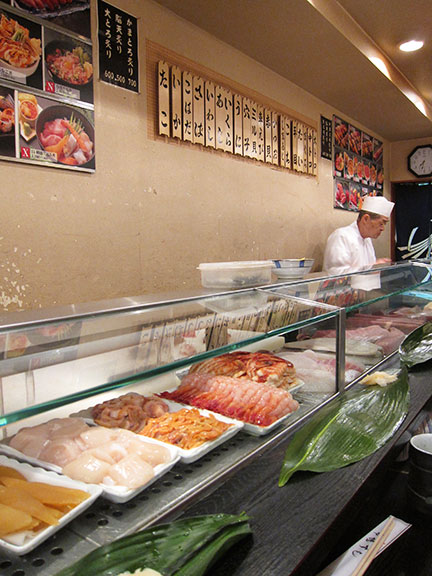 Dizzy with sleepiness and fatigue, I didn't even make the effort to know the name of that place we got into. But the seafood on display looked really promising. The ladies in our group had ordered what they called a welcome set. Quite beautifully plated and with generous servings.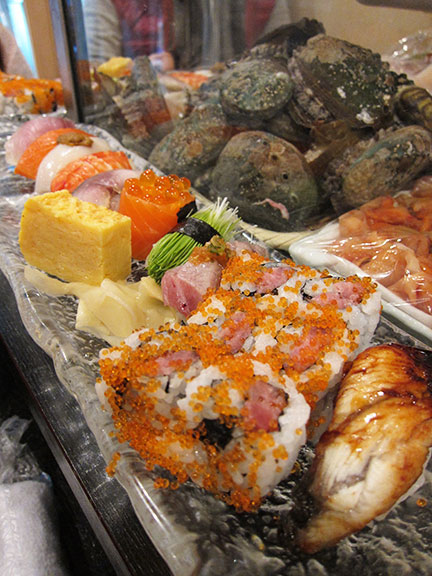 The brother and I had ordered the omakase, composing of fifteen pieces of sushi. Extremely fresh stuff.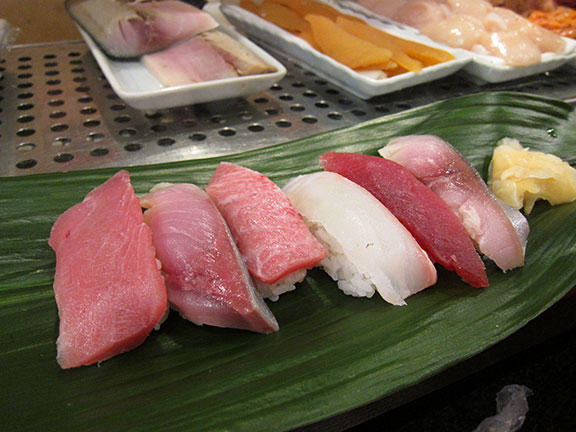 There was the assortment of tuna with different levels of fattiness. Amaebi, or sweet shrimp. Mackerel and anago (eel) among others. But what I liked most were the huge Hokkaido scallops, the whelk, fresh oyster and uni. Not bad value at maybe around Y3800 for a set.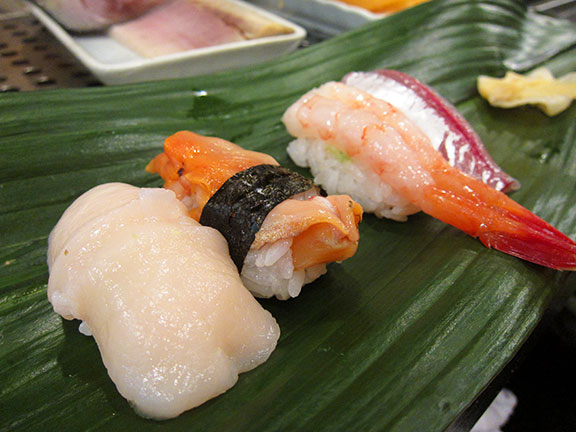 Admittedly the stuff we had at Endo Sushi in Osaka was a little better. The miso soup alone was excellent. But not to say what we had in Tsukiji wasn't good. I don't think we'll ever have this level of freshness and quality at these prices in Manila. Sushi at the source is really very different.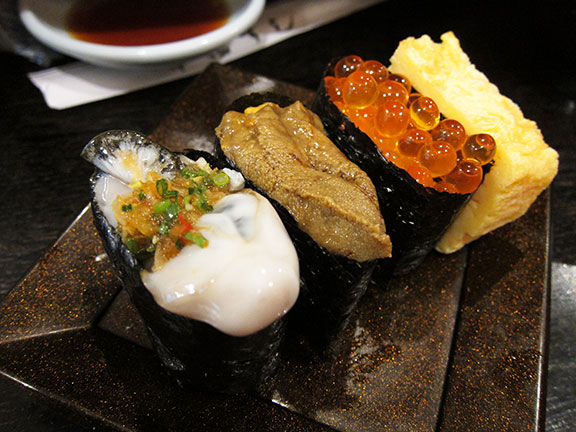 And there are several more options to try around the market area next time. Maybe even see what the fuss about Sushi Dai is all about. Someday. But the important part is that it was an early morning we all enjoyed.
LABELS: Anonymous Paul, Sushi, tokyo, tsukiji market