By Anonymous Paul on 16 February, 2015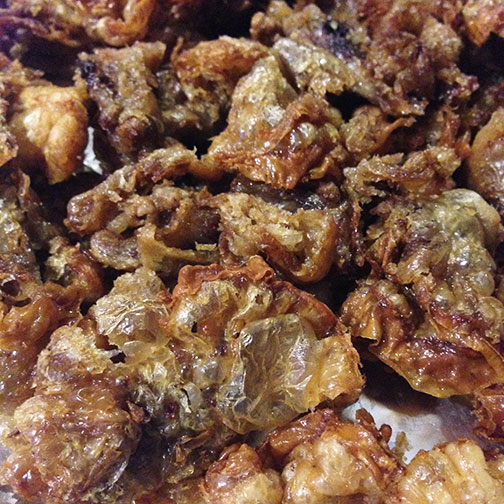 It's always hard to explain chicharon bulaklak to the uninitiated (i.e. balikbayans, foreign visitors, vegetarians, etc…). The thought of fried intestines as it is is hard enough concept for some to swallow. But if one was to describe chicharon bulaklak accurately and appetizingly; it's tough. I mean what could possibly give that part of the anatomy its curiously flowery appearance?
In simplest of terms, chicharon bulaklak is not actually made from pork intestines but from a fatty, elastic membrane that holds the internal organs inside the abdomen. And so probably like a worn garter or accordion, contracts into flower-like folds when relaxed (or when obviously detached from the body).
Quite tedious to prepare too as it has to be cleaned thoroughly and then boiled to soften and then fried till crisp.
It's not uncommon though as probably every beer garden or Filipino restaurant will have it in their menu. Though consistency/availability might be an issue.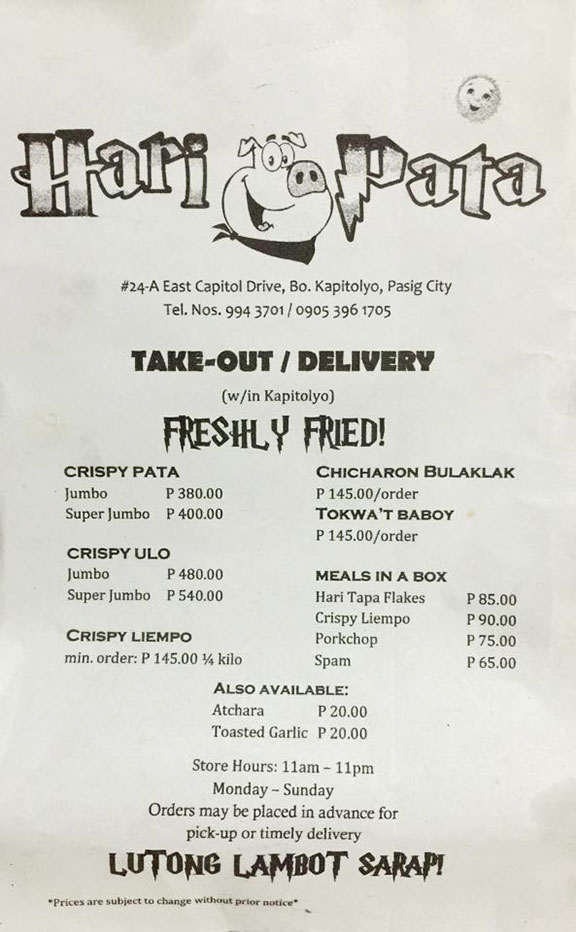 Chicharon bulaklak is my guilty pleasure. It's offal, weird looking, it's fatty, clearly unhealthy and cholesterol laden but it just tastes so good; when cooked right. I prefer it thoroughly cured/boiled in brine and aromatics (onions, garlic etc…) and it has to be crisp all throughout. A little chewiness in the center or thicker parts is acceptable. But the thinner, "flower-like" extremities are to die for when crunchy.
Hari Pata, a small takeout joint in Kapitolyo, will probably get more social media attention for it's cheekiness (along the lines of Susan's Roses flower shop and Sylvester's Salon) than its excellent pork products. But I have sampled their fare quite a few times over the holidays and I'd have to say they do serious stuff with pork. Their short menu only has a handful of choices: crispy ulo (pigs head), lechon kawali, crispy pata (trotters) and chicharron bulaklak. For the record, the pata and ulo pass with flying colors. But the bulaklak: benchmark. The flavor is intensely porcine. Lard just oozes with every bite. The thicker parts are tender, the outer parts crisp. It's salt (and most likely MSG) laden as I like it and fried to perfection.
So, stamp of approval for Hari Pata. They do pork magic.
Hari Pata
24 East Capitol Drive
Brgy. Kapitolyo, Pasig
Tel. (+63.905) 396.1705
LABELS: Anonymous Paul, chicharon bulaklak, Guilty Pleasures, Hari Pata