By Anonymous Paul on 13 January, 2015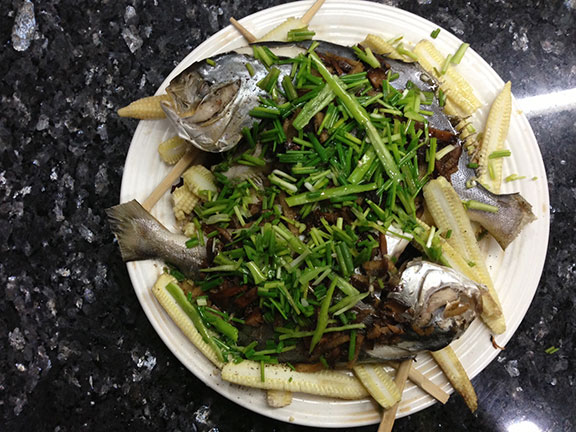 Here it is. The requisite healthy food post after all those bingefests over the holidays. Quite quick and simple to do; but freshness of the fish is crucial. Truth be told, I probably love fish except dory more than beef. Is that shocking? So this dish really requires no sacrifice for me at all to eat. Simple, savoury and super satisfying over spoonfuls of jasmine rice.
Ingredients:
1 or 2 whole pompano. Cleaned and gutted. Through grouper, tilapia, apahap or other white fleshed fish may also work. I just personally prefer the pompano's fine, feathery and sweet flesh. Especially when steamed.
1 tsp salt
Wood ear mushrooms (tengang daga), shredded. But I had dried shiitake and that worked as well. Of course rehydrated at least 10 minutes in hot water.
A few tablespoons of shredded/slivered ginger. I like to use a lot.
½ tsp soy sauce
½ tsp sugar
1 T rice wine
½ tsp black pepper
1 tsp sesame oil
A couple tablespoons shredded spring onion. Though, again, I like to use a lot.
2 to 4 tablespoons peanut oil
Instructions:
Prepare your steamer. It should be on rolling boil by the time you've prepped the fish.
Rub the fish in and out with salt. Place 2 pairs of chopsticks on a heatproof plate and make a crosshatch to make an improvised rack. Place fish on top. This will raise the fish and keep it from boiling in its own liquid. I had some young corn handy so I used some of that as additional prop. And also, I love young corn. So that worked well.
Rub fish with soy sauce, sugar and rice wine and stuff and top with ginger slivers.
Steam 8 to 10 minutes over high heat. Err on undercooking as it will continue to cook even as you pull it out of the steamer. It literally takes just a couple extra minutes to dry out the flesh and make it rubbery; which is a waste of good fish. We aim for flaky and tender meat.
Sprinkle with pepper and sesame oil.
Top with shredded green onion (and maybe more ginger if preferred).
Heat the peanut oil till just before smoking point and, with a spoon, pour over the green onions. It will sizzle and splatter but will also release this incredibly tantalizing aroma.
Remove chopsticks (or not). Serve and enjoy.
LABELS: Anonymous Paul, recipes, Steamed Pompano, Table Recipes