By Kitchyart on 20 January, 2015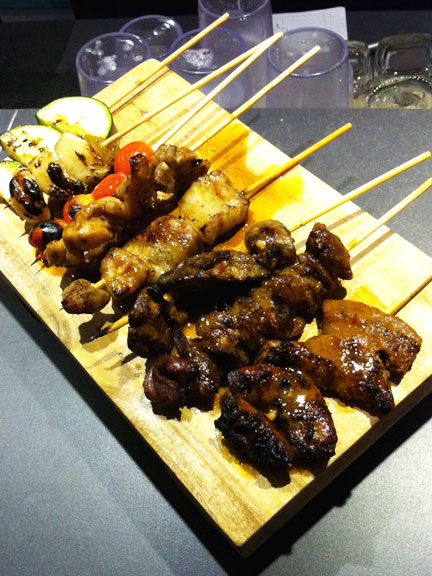 After spending much time working in the kitchen, I finally found some down time between Christmas and New Year's. I'm pretty bummed to have missed out on seeing friends who came home for the holidays and my only consolation was to try something new and feel a little less sorry for myself. Tambai started popping up in my social network… grilled meat on sticks and beers, my type of place. The added appeal was its location: the red light district that people now call "Williamsburgos"™ in Makati. AP has written a couple of spots in the area such as Argos/Pasha and El Chupacabra, to name a couple of spots making this area quite popular.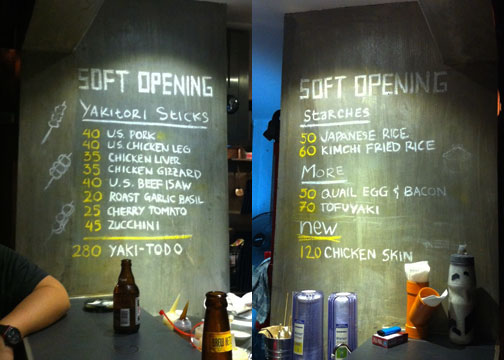 In a short span of time, I've made 4 attempts to eat at Tambai. Once, it was past midnight and they were only selling beer. The second time, my friends and I were left to share just a stick among us. The third time, we decided to go early (they open at 5pm) and they decided to close shop that day. Finally on the fourth attempt, we made it! At 7pm, Tambai's al fresco spot was packed! We were lucky a few people stood up and we squeezed ourselves at the counter. Since it was our first time to order food, your best bet is the Yaki-Todo, an assortment of grilled skewers such as beef isaw, beef rib finger, chicken leg, chicken liver and gizzard, pork, zucchini, cherry tomatoes and garlic with basil. There are also larger sticks called Laki-Tori, if you're feeling peckish. We also ordered some quail eggs with bacon and some kimchi rice.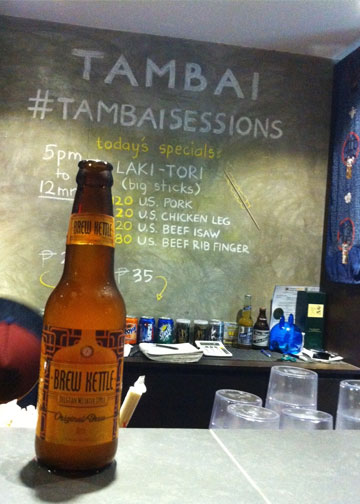 Grilled food takes a while to be served so it's advisable to order a bottle of beer or a shot of Japanese whisky. Brew Kettle is a new local beer, a white beer variety, like Hoegaarden. Tambai offers local and Japanese beers and those cute portable one cup sake.
Was it worth the wait? Yes! I enjoyed the al fresco vibe and the no-frills food – the grilled sticks were all seasoned with the same yakitori sauce that's not at all Pinoy style sweetness. It's the perfect grub when you've just finished work (hint: come early) and need to kill some time before heading home ( to avoid mad traffic). The owners and staff are friendly, it's like having a little barbecue party. If you're with friends, share the Yaki-todo but if you're solo and hungry, go for the Laki-tori sticks (Beef rib fingers are a hit). One last pro, their food and beers won't break the bank. Kampai!
Tambai Snackhouse
5779 Felipe Street
Población, Makati City
Open Tuesdays to Saturdays, 5pm-12mn
LABELS: Kitchyart, P. Burgos, Tambai, Williamsburgos