By Anonymous Paul on 23 January, 2015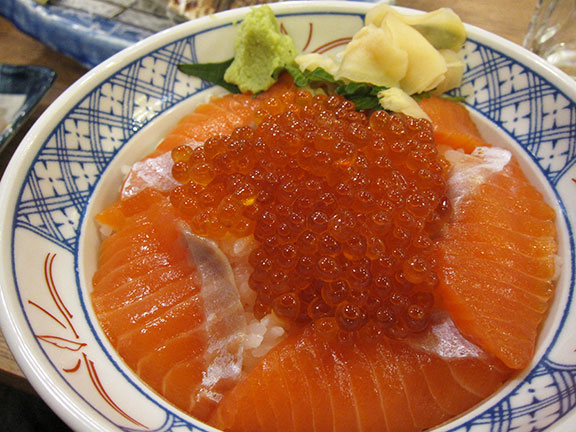 Everyone seemed to be in Japan over the holidays. Over the past years it's been made relatively accessible given the more lenient visa process (they've been giving out 5 year multiple entry visas of late), the abundance of affordable flights and hotels and the favorable exchange rate (as of writing around Y1=P0.37). I was in Tokyo with the family just last week and it was a great break; a nice cold one too.
Tokyo is massive; and given we were there for 6 days, it still seemed insufficient to do all the things on our list. Temples, shrines, shopping and of course food. Of which we ate a lot of. We did a mix of high and low, street to storied establishments, standing lunches and those that required sitting on tatami mats. But I felt I wanted to share Isomaru Suisan most. An izakaya, or a drinking place for regular folk. It's actually a chain restaurant with branches all over the country. Typical izakayas usually serve yakitori, karaage, gyoza and the like but Isomaru Suisan has a seafood centric menu. All very fresh and at very reasonable (even inexpensive) prices. It's a very informal place. Casual, boisterous, enjoyable, cheapish beer. And did I mention the seafood?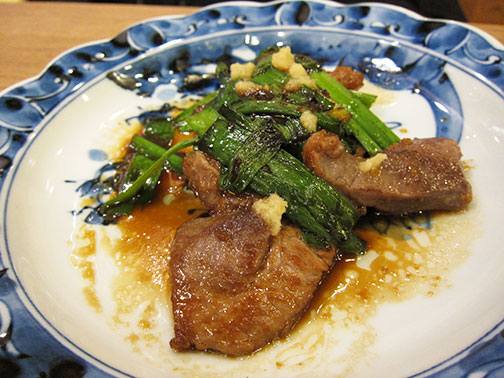 Tuna cheeks simmered in sweet soy and leeks. Dark, luscious and meaty.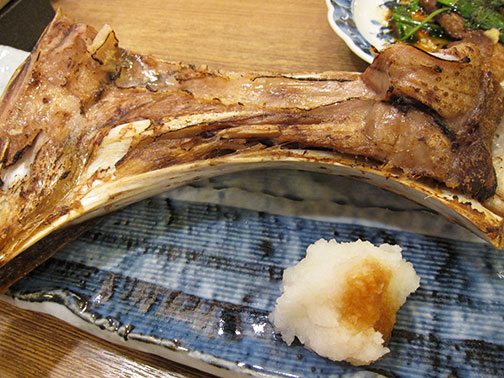 Tuna collar (panga); yes we have it in the Philippines as well. But we tend to marinate in so many things. They just salt extremely fresh ones and deftly grill; resulting in flesh so sweet and tender.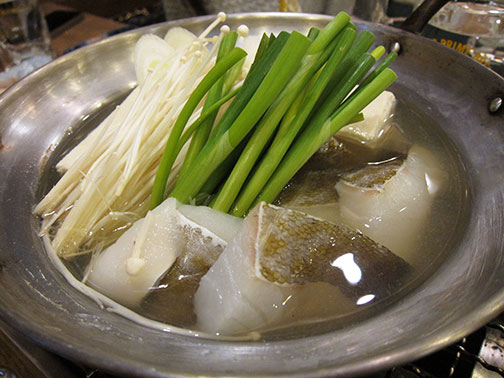 Codfish nabe, or hotpot, was something welcome for the cold weather. Cooked on the table. Dipping the fish in ponzu balanced out its fattiness.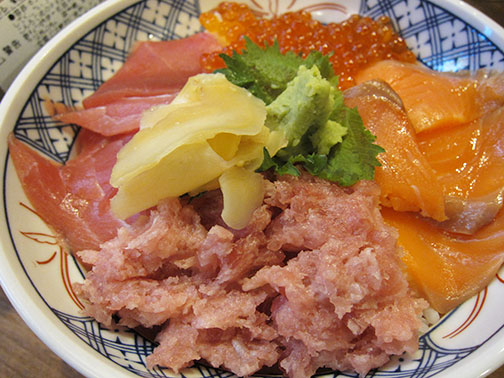 We had tried a few donburis, or rice bowls. One topped with salmon and salt cured salmon eggs (pictured top of post). Another with more varied ingredients as spicy bean paste infused tuna tartar and tuna along with the salmon and roe. Served with fresh wasabi and pickled ginger. Simple yet decadent.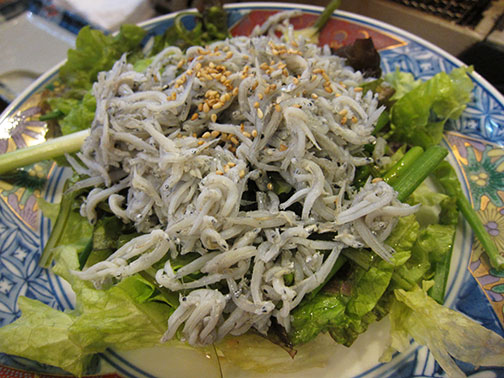 Salad with a roasted sesame oil dressing and topped with baby sardines.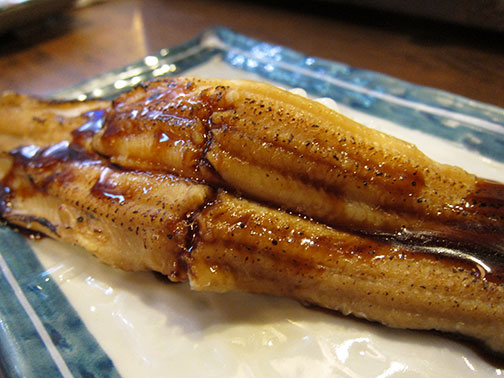 Grilled and glazed anago (eel).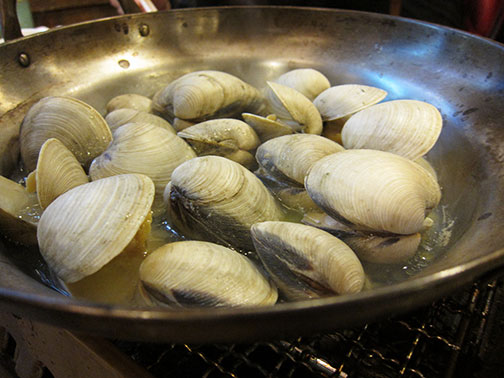 Clams steamed in a sake mixture and butter. Also cooked on the table. A little gritty but very fresh nonetheless.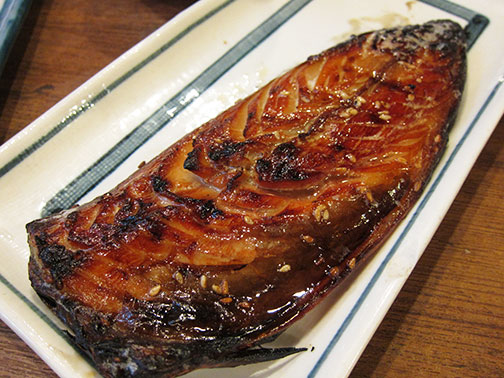 Grilled and glazed saba.
But I found two items that really stood out for me over a couple of visits: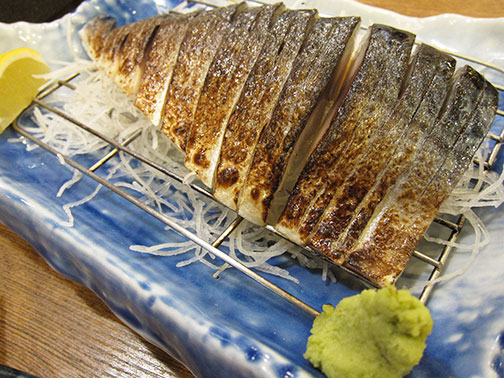 One being the vinegar cured mackerel. The meat was extremely tender and there wasn't a harshness from the vinegar as the ones you get locally. In fact there was a roundness and refined balance to it. You initially pickup the charred skin flavor then as soon as you think it'll get too sour it ends on a sweet note. Amazing subtlety.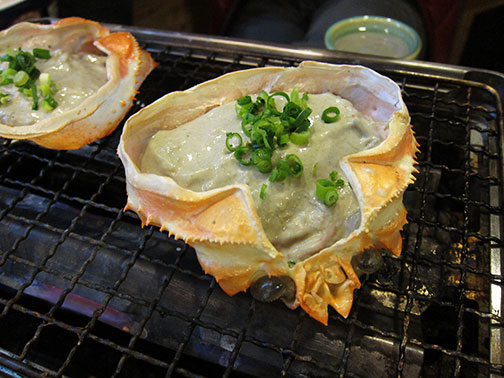 Finally another deceptively simple dish called Kani Miso. Crab meat, miso paste and I'm assuming Japanese mayo in a crab shell then grilled on the table. You stir the seemingly unappetizing grey mixture a few times over a few minutes. And when it starts to brown at the edges, you're good to pick on it with your chopsticks. It is unbelievably rich and flavorful. Briny and creamy and packed with umami. After scraping the paste off the shells we couldn't help but spoon rice back in the shell just to sop up the remaining crab.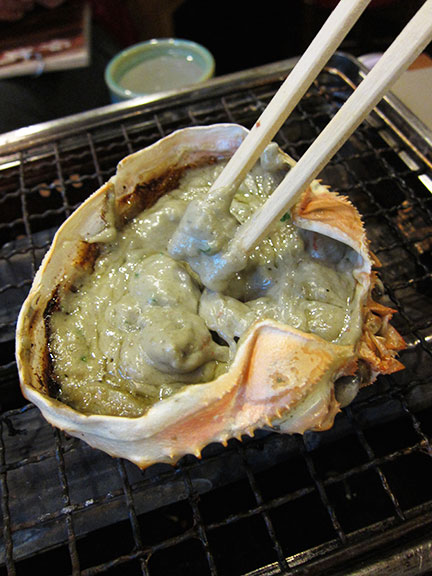 There you go. Consistently fresh, satisfying seafood at very reasonable prices in an unstuffy, unpretentious environment. Open 24 hours.  On two visits in different branches I think it averaged to about P500-800 per person for all that quality food. The downside: you'll smell like cigarette smoke and grilled fish when you get out. For sure. But I guess that's all part of the experience.
LABELS: Anonymous Paul, Food and Travel, Isomaru Suisan, Izakaya, The Travelling Table, tokyo