By Anonymous Paul on 12 December, 2014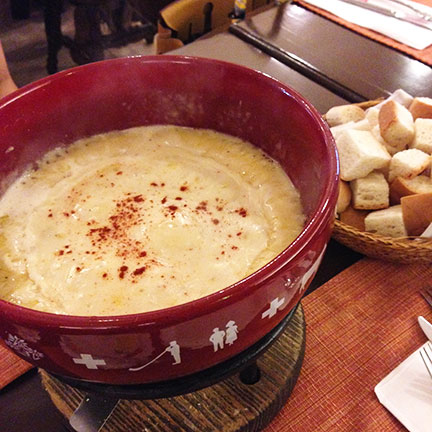 I love cheese. And I love wine. And the Swiss were really brilliant to combine these two things in such an interactive dish.
To make fondue, two cheeses (usually Emmenthal and Gruyere) are grated and mixed in with dry white wine over a stove and melted together. Garlic is usually rubbed round the heavy cooking pot, called a caquelon, and the clove thrown in the mix. Cornstarch or flour is also used to emulsify the bubbling mix and to make sure the cheese and wine don't separate. Finally, kirsch is added for complexity especially if younger cheeses are used. The whole pot is then transferred on the table and served atop an alcohol burner to keep things molten.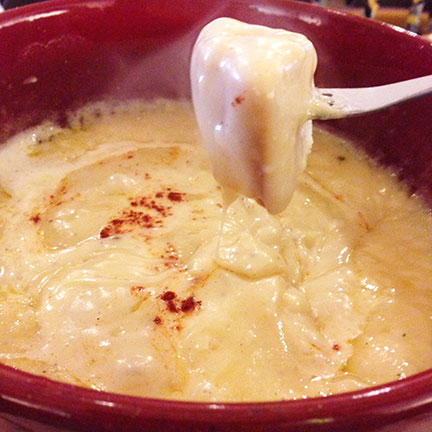 You then skewer a cube of crusty bread with a fondue fork, twirl it around the melted cheese to coat it and, if your palate is made of steel, straightaway take a bite. I've learned the more civilized/hygienic manner of eating fondue is to put the cheese covered bread on your plate and then use a separate dining fork. I was never really that civilized and use the fondue fork straight out. And assuming you do share this communal dish with friends or family, transmittable diseases would probably least of your concerns. That being said, double dipping is always a no-no.
I haven't had fondue in a long time and was quite glad to have shared a pot of the Waatlander Fondue with a long lost friend at the old skool Old Swiss Inn off Makati Ave. Towards the end of the meal we were both scraping the bottom of the pot for the crusty bits. Good to know they still bang out consistently good food; raclette, rosti, baked gnagi (pork trotters) and fresh corned beef among others. You can still order a schnitzel; off the menu. And the best part is that when craving strikes, they're open 24 hours a day, seven days a week.
Old Swiss Inn
G/F, Somerset Olympia , Makati Ave. cor. Sto. Tomas St.
Makati City, Metro Manila
Tel. (+632) 818.0098
with branches in Alabang and Paco, Manila
LABELS: Anonymous Paul, cheese, Fondue, Merry Cheesemax, Old Swiss Inn