By Kitchyart on 22 December, 2014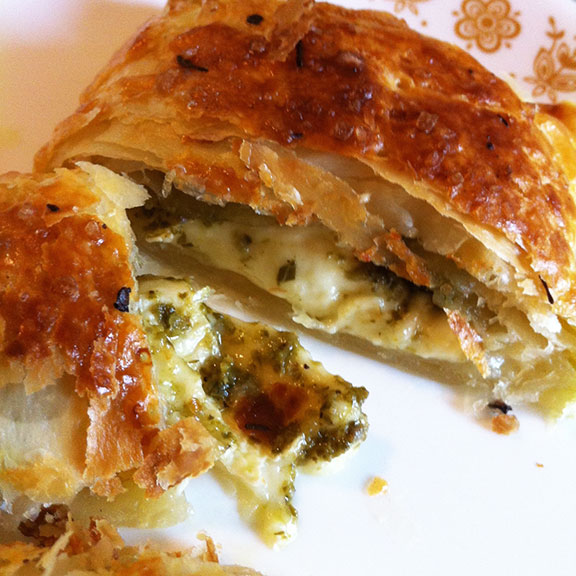 Christmas is definitely in the air. The weather is cooler and melty cheese is just perfect for the holidays.
As I was running some kitchen errands, I found some square cuts of puff pastry at the frozen section in the grocery and a baby wheel of Brie. The idea is similar to a whole wheel of Brie, wrapped puff pastry and baked.. but in solo snack portion. I know myself well enough that I could wipe out anything smothered in cheese so I opted for a very modest portion instead; in a grown up Pop Tart form.
You will need:
Small wheel or wedge of Brie
2 square sheets of puff pastry
1 small egg beaten with a splash of milk (egg wash)
A tablespoon of pesto (or jam for a sweet/savory treat)
Sea salt (I used a delicious herbed salt from The Pantry, details below*)
Place one sheet of puff pastry on a baking sheet and brush with the egg wash. Place small pieces of brie at the center of the pastry and top with a tablespoon of pesto (or jam). Place the other sheet of puff pastry on top of the cheese and press the sides down with a fork to seal. Brush top sealed pastry with the egg wash and poke a few holes with a fork. Sprinkle the pastry with some sea salt. Bake for 15 minutes or until golden brown.
Best served warm. Enjoy the melty goodness!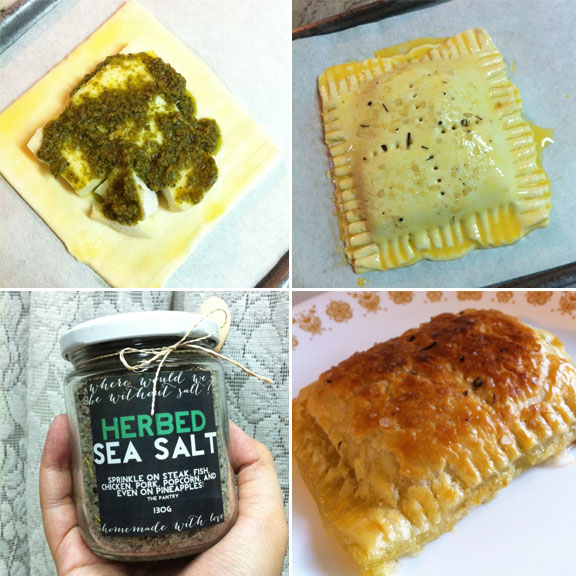 I made my single serving pop tart in the toaster oven set at 350°F. To prepare more pop tarts at once, set the oven temperature at 350-375°F and prepare the pastry as instructed above on a baking sheet.
Brie is just one of the many possibilities for this cheesy treat. Pick any easy to melt cheeses such as Fontina, Gruyere, Tallegio or your choice! The combinations are endless.
Happy Holidays to all our readers and enjoy feasting with your loved ones!
*The Pantry makes a lovely Herbed Sea Salt and Chili Salt that goes well with this recipe. For inquiries, you may contact +63 917 577 8758 to order.
LABELS: brie pop tarts, Kitchyart, Merry Cheesemax, recipes, Table Recipes