By sanju on 5 December, 2014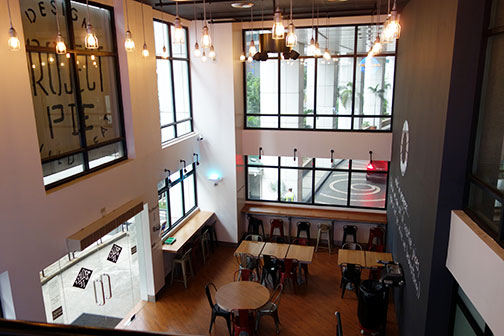 I have been hearing many good things about Project Pie ever since they opened their first branch along Shaw Boulevard, especially after our earlier entry about it. However, I never got to try it out for some reason or another. Slowly, it began to fade from my consciousness as other new restaurants began to crop up. It was my daughter S who reminded me about Project Pie. She had gone out with her friends and ended up there for dinner. She loved the place and declared it as one of her favorites. I promised here we would go back as a family soon.
Our chance came when my other daughter N celebrated her birthday recently with an arts and craft + make your own pizza party at the newly opened Salcedo Village branch. N and her friends had the whole second floor to themselves and had a grand time of it all, while C and I entertained some of the parents who came along. Of course, we did get to have the whole Project Pie experience along with everyone else.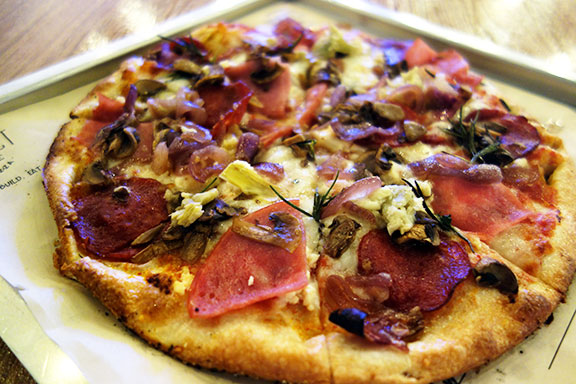 Let me remind you about the concept; you pay P285 to build your own Pizza. (I remember that Kramer had a similar idea in one of the Seinfeld episodes). Fresh dough is laid out and you get to choose your sauce, cheeses: Mozzarella, Ricotta, Parmesan, Gorgonzola and Feta, a multitude of toppings including fresh veggies. The Pie is then placed in a high heat oven to bake for five to seven minutes then served piping hot. You can load up on ingredients to your liking as long as your pie can hold it.
My personal creation had tomato sauce, Mozzarella, double Parmesan, Ricotta, Pepperoni, Ham, fresh Mushrooms, caramelized Onions and fresh Rosemary. For the most part, I liked how it turned out. The dough was had the right thickness and texture plus it was pretty good flavor wise. There seems to be a big improvement since AP dined here last. He found the dough to be a bit bready. I, thankfully did not have that same experience. My only regret was that I should have added a bit of Gorgonzola for that added bite. The good news is there is always a next time.
For those who have a hard time making decisions, there are eight pre-crafted pizzas that are part of the menu. These pizzas look good as well; I however feel that the fun is in the creation. Aside from pizzas there are a few salads and dessert pizzas available as well. Taking a cue from AP's visit, we tried the Banana Nutella Pizza and it hit the right spot.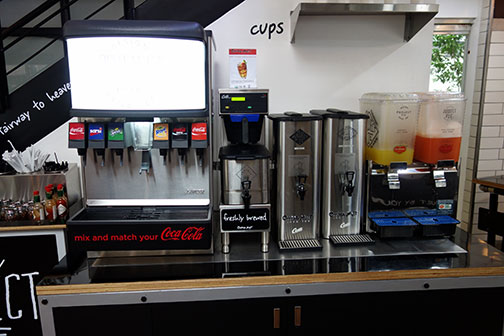 Project Pie employs a self-serve concept. You pick up your own Pie after it is baked. There is also a drink station that has sodas, juices and fresh brewed iced tea for P65 with unlimited refills. Service was bright and the servers behind the counters were quite knowledgeable and helpful. We all had a pleasant experience overall, one that will be repeated soon.
Project Pie
Multiple Branches
www.projectpie.com
LABELS: Pizza, project pie, Sanju