By sanju on 10 November, 2014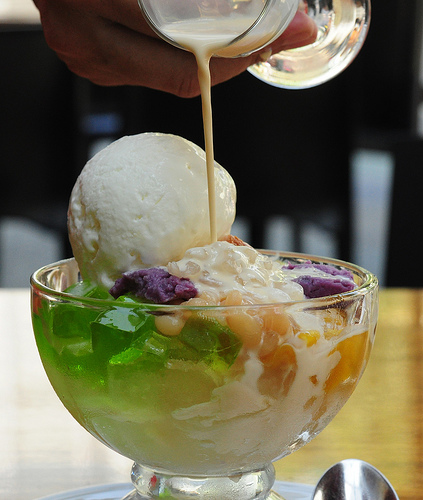 I started writing about food around 1999. Since this was a time when the Internet in the Philippines was still in its infancy and blogging was not that popular, I would write for various print publications. From the start I did it as an outlet for creativity and just because I love to eat and drink.
Just like Anonymous Paul, Franco recruited me; and now a million hits later here we are. For the most part, I like most of my posts since I put in a lot of time and effort while not knowing if it ever is going to be read. It is enough for me to know that I have a personal record of my most enjoyable food adventures in the form of posts that were always crafted to the best of my ability. My favorite post if I were to pick only one was called 'Dada, Ice Buko, Halo-Halo And the Nourishment of My Soul." I enjoyed writing this post immensely, since it brought back memories of my grandfather who was one of my heroes growing up.
Writing for the blog has brought me through a path where I have met many friends and acquaintances that have become a support system of sorts. It also made me very aware of the difficulties encountered by chefs and restaurant owners as they continuously strive for perfection. Most important of all, I can say with all honesty, that Tableforthreeplease.com has grown to more than just a blog. It might sound corny, but I consider Anonymous Paul and Kitchyart as family. We have a relationship that was born of the blog yes, but has evolved into one where we have each other's back. I have heard time and again that a person is considered very lucky if he or she has one true friend. Well, it seems that I hit the jackpot since I have two. For this reason alone, it has been a worthwhile and irreplaceable experience.
LABELS: one million hits, Sanju