By sanju on 21 November, 2014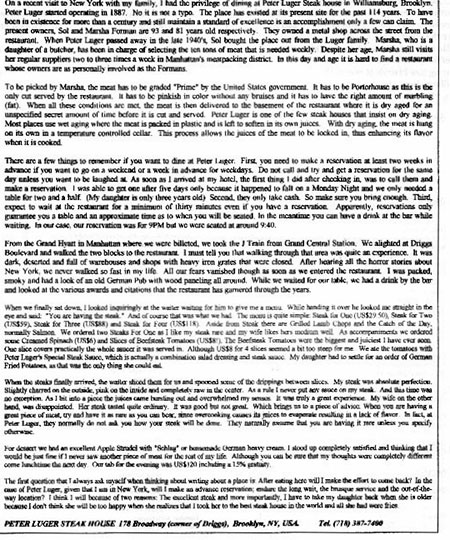 Over a late dinner recently, I was telling Kitchyart how difficult it was to write articles before blogging became popular. Photos were not used that much, this forced the writer to convey what he wants to say exclusively through words. As an example, I told her about an article I wrote about Peter Luger Steak House in New York City. It was published sometime in 2000. She urged me to look for it and repost it. Well here it is in its entirety. I Hope you enjoy it.
Peter Luger Steak House
On a recent visit to New York with my family, I had the privilege of dining at Peter Luger Steak House in Williamsburg, Brooklyn. Peter Luger Started operating in 1887. No it is not a typo. The place has existed at its present sit for the past 114 years. To have been in existence for more than a century and still maintain a standard of excellence is an accomplishment only a few can claim. The present owners, Sol and Marsha Forman are 93 and 81 ears old respectively. They owned a metal shop across the street form the restaurant. When Peter Luger passed away in the late 1940's sol bought the place from the Luger Family. Marsha, who is a daughter of a butcher, has been in charge of selecting the ten (10!) Tons of meat needed weekly. Despite her age, Marsha still visits her regular suppliers two to three times a week in Manhattan's Meat Packing district. In this day and age it sis hard to find a restaurant whose owners are as personally involved as the Formans.
To be picked by Marsha, the meat has to be graded "PRIME" by the United States Government.   It has to be Porterhouse, as this is the only cut served by the restaurant.  It has to be pinkish in color without any bruises and, it has to have the right amount of marbling (fat).   When all these conditions are met, the meat is then delivered to the basement of the restaurant where it is dry aged for an unspecified secret amount of time before it is cut and served.   Peter Luger is one of the few steak houses that insist on dry aging.   Most places use wet aging, where the meat is packed in plastic and left to soften in its own juices.   With dry aging, the meat is hung on its own in a temperature controlled cellar.   The process allows the juices of the meat to be locked in; thus, enhancing its flavor when it is cooked.
There are a few things to remember if you want to dine at Peter Luger: First, you need to make a reservation at least two weeks in advance if you want to go on a weekend or a week in advance for weekdays. Do not call and try to get a reservation on the same day unless you want to be laughed at. As soon as I arrived at my hotel, the first thing I did after checking in was to call them and make a reservation. I was able to get one after five days, only because it happened to fall on a Monday night and we only needed a table for two and half. (My daughter is only three years old). Second, they only take cash. So make sure you bring enough. Third, expect to wait at the restaurant for a minimum of thirty minutes even if you have a reservation. Apparently, reservations only guarantee you a table and an approximate time as to when you will be seated. In the meantime, you can have a drink at the bar. In our case, our reservation was for 9 PM but we were seated around 9:40.
From the Grand Hyatt where we were billeted, we took the J Train from Grand Central Station.   We alighted at Driggs Boulevard and walked the two blocks to the restaurant.   I must tell you that walking through the area was quite an experience.  It was dark, deserted and full of warehouses and shops with heavy iron gates that were closed.   After hearing all the horror stories about New York, we never walked so fast in our lives.   All our fears vanished though as soon as we entered the restaurant.   It was packed, smoky and had a look of an old German Pub with wood paneling all around.  While we waited for our table, we had a drink by the bar and looked at the various awards and citations that the restaurant had garnered through the years.
When we finally sat down, I looked inquiringly at the waiter, waiting for him to give me a menu. While handing it over, he looked me straight in the eye and said: "You are having the Steak." And, of course, steak was what we had. The menu is quite simple. Steak For One (US$29.50); Steak For Two (US$59); Steak For Three (US$88) and Steak For Four (US$118). Aside from Steak, there were Grilled Lamb Chops and The Catch of the Day, normally Salmon. We ordered two Steaks For One, as I like my steak rare and my wife likes hers medium well. (Note from the present. C has since learned to eat her steak rare as it should be eaten) As accompaniments, we ordered some Creamed Spinach (US$6) and Slices of Beefsteak Tomatoes (US$8!). The Tomatoes were the biggest and juiciest that I have ever seen. Once slice covers practically the whole saucer it was served in. We ate the tomatoes with Peter Luger's Special Steak Sauce, which is actually a combination salad dressing and steak sauce. My daughter had to settle for an order of German Fried Potatoes, as this was the only thing she could eat.
When the steaks finally arrived, the waiter sliced them for us and spooned some of the drippings between slices. My steak was absolute perfection. Slightly charred on the outside, pink on the inside and completely raw in the center. As a rule I never put sauce on my steak. And this time was no exception. As I bit into a piece, the juices came bursting out and overwhelmed my senses. I t was truly a great experience. My wife on the other hand, was disappointed. Her steak tasted quite ordinary. It was good but not great. Which brings us to piece of advice. When you are having a great piece of meat, try and have it as rare as you can bear, since overcooking causes its juices to evaporate, resulting in a lack of flavor. In fact, at Peter Luger, they normally do not ask you how you like your steak to be done. They just assume that you're having it rare, unless you specify otherwise.
For dessert, we had an excellent Apple Strudel with "Schlag" or German heavy cream.   I stood up completely satisfied thinking that I would be just fine if I never saw another piece of meat for the rest of my life.  Although, you can be sure that my thoughts were completely different come lunchtime the next day.  Our Tab for the evening was US$120 including a 15% gratuity.
The first question that I always ask myself when thinking about featuring a restaurant is: After eating here, will I make the effort to return.  In the case of Peter Luger, given that I am back in New York, will I make an advance reservation; endure the long wait, the brusque service and the out-of-the-way location?  I think I will because of two reasons:  The excellent steak and more importantly, I have to take my daughter back when she is older, since I don't believe that she will be too happy when she realizes that I took her to one of the best steakhouses in the world and all she had were fries.
Peter Luger Steak House
178 Broadway (corner of Driggs)
Brooklyn, NYC.
Tel (718) 3877400
LABELS: peter luger, Sanju, throwback