By Kitchyart on 14 October, 2014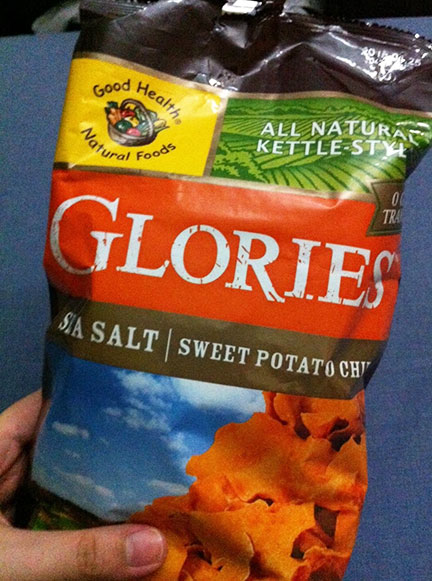 It's already the 5th week of my Whole Life Challenge with just a few more weeks to go! There have been some benefits since I started last month— better skin, smaller gut and deep sleep. My siblings have lost a great amount of weight. But I opted to track my weight loss in inches and I plan to wait for the results at the end of the challenge in November.
I thought I'd be stuck at home eating boiled sweet potato all the time (I've done it a few times, goes well with pats of butter) but I haven't let this challenge stop me from going out to see friends. It's best to plan ahead. If friends invite out, check the menu of the restaurant if they have options suitable to eat. If not, I usually have a meal at home or carry some snacks and a bottle of water.
Here are some of the staples that keep me sane: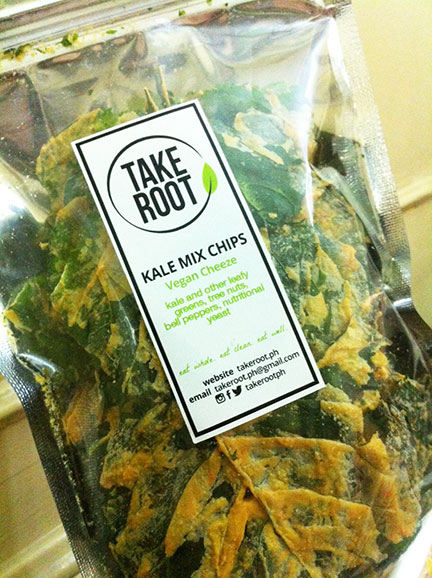 Kale Chips by Take Root
I try to find different ways to get some greens into my system and Take Root makes these kale chips that are pretty addicting. It comes in two flavors: Vegan Cheeze and Sour Kream and Chive. A friend joked that it's glorified Kangkong chips because they're crunchy and very tasty, I can finish a whole bag in one sitting. It's like eating a whole salad, in a fun way. Take Root has a stall in Salcedo market every Saturday.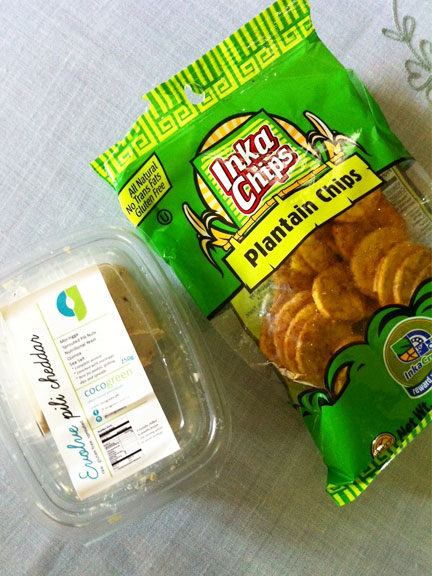 Pili Nut Cheddar by Coco Green
I'm a big cheese fan, so it's been tough that I haven't had dairy in weeks. I found Coco Green in Legazpi Sunday Market and they have Vegan versions of cheese made from Pili Nuts. It resembles the texture of crumbly cheese and tastes tangy. I was at the market again and tried the Spinach Rolette, a vegetarian dish that look silk lasagna using their Pili cheddar and parmesan. It was very creamy, exactly what I was craving for. It lacked a bit of the saltiness from real cheese, but I'd have this again. Coco Green is open weekdays at 2/F Picasso Hotel, Leviste Street, Salcedo Village Makati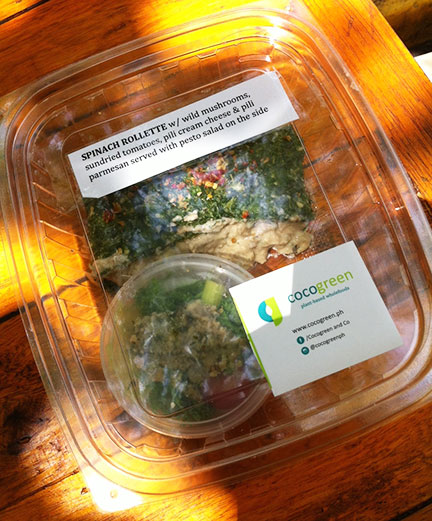 Inka Chips Plantain Chips and Glories Sweet Potato Chips
Plantain and sweet potato chips are very neutral in flavor, I substitute them for crackers to pair with my vegan cheese. I'm sure it's cheaper to make these at home, but I have to admit that I won't have the patience to prepare chips when I get hungry. You can get these at Healthy Options (various locations in different malls).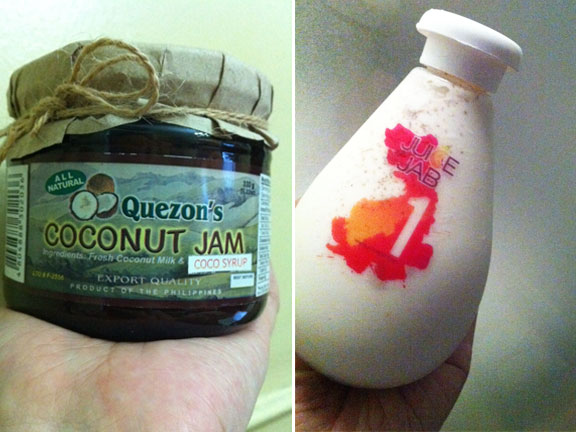 Pearl Drive by Juice Jab
I grew up drinking milk as a child, so there are times that I miss the taste of it. I discovered this drink when I ordered a 2 Day Jolt (drinks to have with meals) from Juice Jab to help me recover from a nasty cold. Pearl Drive is cashew milk with some cinnamon. I'm so tempted to hoard bottles and just drink them with just about anything. I wonder if this would go well with coffee… Juice Jab delivers, order here http://www.juicejab.com/
Quezon's Coconut Jam with Coco Sugar
I just stumbled upon this in the organic veggie stall at the Greenhills Sunday market last week and I thought this would be good to have in case I get the occasional craving for something sweet. It goes well with the plantain chips but I'm sure this would go really well with bread but I'll have to wait 'til I can have bread again.
LABELS: Kitchyart, Whole Life Challenge