By Guest on 31 October, 2014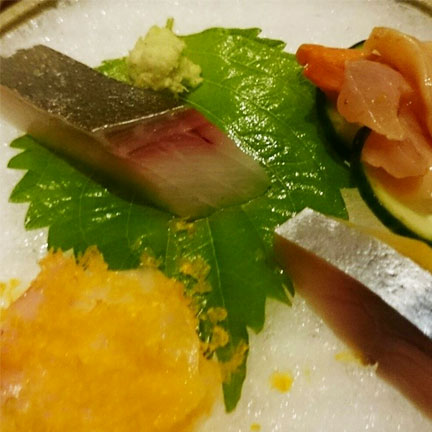 Ladies and gents, we have our friend Morx on board as a guest writer for Table for Three, Please and pleased to have him share a memorable meal in Hong Kong. 
I'm writing about a meal that I had almost four months ago, but the memory of it is as clear to me, it's as if I had it only last night. I went to Hong Kong last July to experience for myself what the fuss surrounding Matt Abergel's restaurants was all about, and I'm happy to report that it is all well-deserved. Yardbird charmed my pants off in the effortless way cool people and things always do. It is a simple concept, executed to a high level of perfection. Ronin is its more sophisticated sibling, with a tasting menu that is the stuff of dreams.
The only thing that's a little disheartening about Ronin is actually finding the place. I stayed at a hotel ten minutes away by foot, but I spent almost an hour walking in circles until I saw the creepy alley that led up to the restaurant. (It's been just there all this while!) Good thing, too, that I remembered its frontage from Google Maps street view. Its gray door is unmarked and easily missable. Finding Ronin felt like a small victory.
Once inside, though, everything was smooth sailing; from the exquisite food to the unassailable cocktails and the extraordinary staff. (A note on the staff of both Ronin and Yardbird: they're friendly, knowledgeable, good-looking, extremely efficient. There's no better waitstaff in all of Hong Kong.)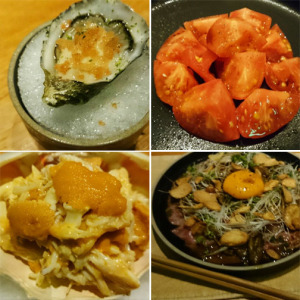 The welcome bite of cherry tomato, bamboo shoot, and dashi set the tone for the meal: simple, elegant, super delicious. Each of the succeeding dishes shared the same qualities:
Oyster, ume granita
Sashimi: shima aji, akagai, tai sea bream, saba
Tomatoes, Japanese vinaigrette
Flower crab, uni
Scallops, nori, yuzu butter
Hitachino beer-battered kawahagi
KFC: Korean fried crablets
Oyster slider
Kagoshima beef, maitake mushrooms, garlic chips, egg yolk
Breaded fried quail
Unagi chirashi
It's a constellation of stellar dishes, but I'd like to dwell on just three stars. The Kagoshima beef carpaccio, served on a hot plate that cooked it just a bit, with the mushrooms, the garlic, and the egg (the egg!) was an all-out umami bomb.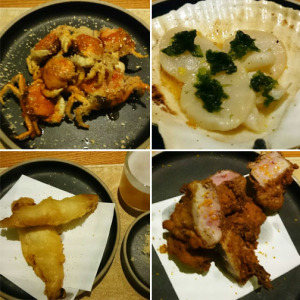 My note on the oyster slider: "I want to live a life where I can have this on a regular basis." Seriously. The breading's crunch gave way to the oyster's creaminess. The smell of the sea. Between bread. It's the ultimate luxury snack.
And lastly, those tomatoes. I haven't had better tomatoes in my life. In a meal full of the good stuff, the humble tomato shone so startlingly bright: they were the sweetest of tomatoes, dressed lightly, and melted on contact with the mouth. Astonishing. It was a revelation like no other that night. —Morx
Ronin
8 On Wo Lane
Central, Hong Kong
Tel (+852)254.75263
seats@roninhk.com
LABELS: Hong Kong, Morx, Ronin, Table Guest