By sanju on 1 October, 2014
A few days ago a few of us decided to try the tasting menu (P3500) at Chef Bruce Ricketts' and The Moment Group's newest baby, Mecha Uma. Tasting menu seating is by the kitchen counter and is available from Friday to Monday. There are two seatings per day: 6:30 PM and 8:30 PM. We of course picked the latter simply because we didn't want to be rushed by hungry diners breathing down our backs.
There is no menu. Chef Bruce has the freedom to serve whatever tickles his fancy based of course on what is freshly available. There are ten courses, many of which are seafood and shellfish dishes, although Chef Bruce is always kind enough to accommodate those with allergies or restrictions.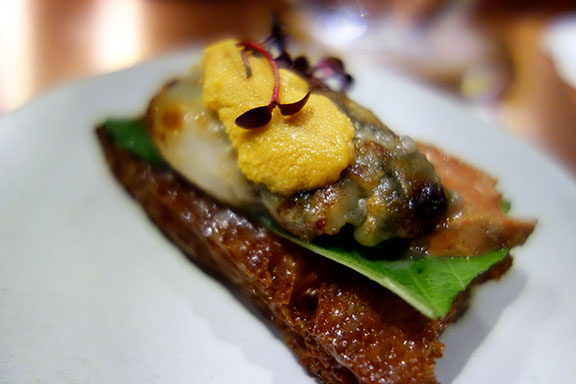 Our group was quite familiar with Chef Bruce and his cooking, as we have been fans of his since he started his other restaurant, Sensei Sushi. This fact did not deter us from being blown away by this meal. Each course was spot on: The ingredients were fresh, the fine interplay of textures were evident, and of course the creativity, oh the creativity that crosses the border towards genius.
There were three meat courses offered. They were all very, very good. However, special mention must be made of the Wagyu beef course. I personally felt that was one of the best that I have had. It was so good; I had to force myself from channeling my inner Oliver Twist.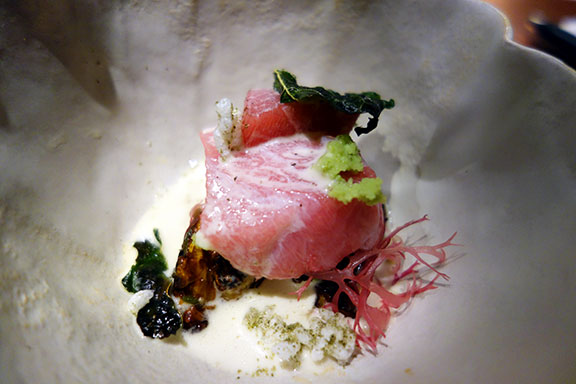 My only quibble if you could call it that, was the dessert course. Although the rest of the group disagreed with me on this, I felt that it was too light and lacked substance. However, I have never been a fan of light and airy desserts so to speak. I like my desserts with a little meat on the bone, just like how I prefer, err… women.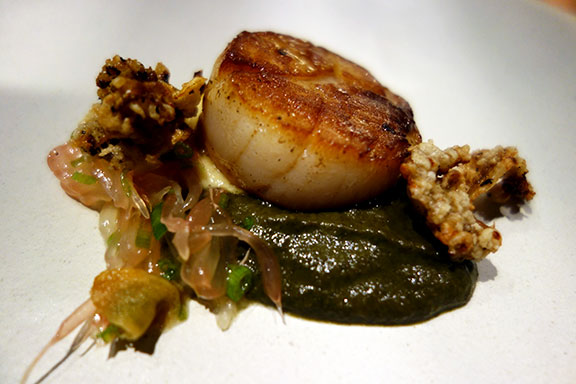 That being said, I will leave you with the photos of our meal. I urge you now to go to Mecha Uma if you have the chance, to taste what world class cooking is all about. (Take note that aside from the Tasting Menu, A la Carte is served daily as well.)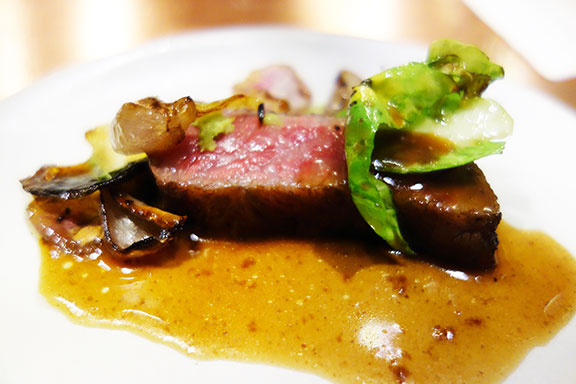 1- Potato Bread/Monkfish Liver/Hokkaido Uni/ Benidate (Purple Water Pepper)
2- Toro Sashimi/Mirugai(Geoduck)/Burnt Brussel Sprout Hearts/Clam Juice and Fish Bone Sauce)
3- Fresh Peeled Crab/Buttermilk Panna cotta/Orange Jelly/Watermelon Gazpacho
4- Seared Scallop/Pomelo/Scallop Karaage Bites/Cauliflower Puree/Taro and Coconut Milk Sauce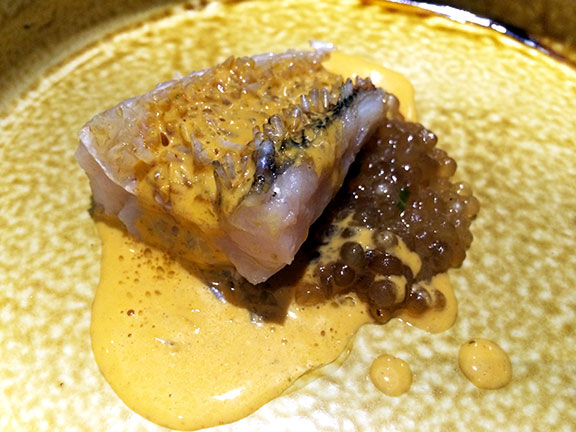 *photo credit: Cyrene de la Rosa
5- Amadai (Tile Fish)/Stewed Sago/Caramelized Yoghurt/Vermouth-Uni-Fishbone Sauce
6- Cochinillo/Pears in Beet Vinegar/Nut Risotto/Burnt Eggplant Puree/Pork juice-Squid Ink-Pork Blood Sauce
7- Aged French Pigeon/Grits with Liver/Garlic Curd/Madeira-Juniper-Earl Grey Sauce
8- Intermezzo; Sweet Potato Ice Cream/Milk Custard/Foie Gras/Guava-Tamarind-Ginger-Cardamom Sauce.
9- Matsusaka Wagyu Ribroast/Wasabi Saute/Cabrales/Onion Juice Sauce
10- Strawberry/Beets/Silken White Chocolate/Black Sesame Semifreddo/ Shortbread/lemon Balm/Fresh Dill.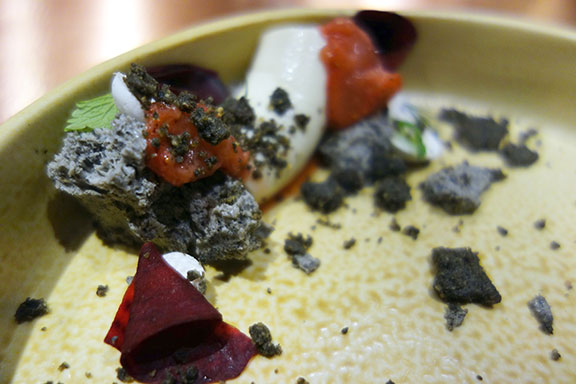 Mecha Uma
G/F RCBC Savings Bank Corporate Tower
25th Street. BGC Taguig
Tel: (+632) 801.2770
Closed Tuesdays
LABELS: Bruce Ricketts, Mecha Uma, Sanju