By Anonymous Paul on 10 September, 2014
This is quite the unique meat shop. In that the only kind of beef they sell is A5 Wagyu (currently from Saga Prefecture). The Japanese beef grading system is composed of 15 different levels of quality and is quite stringent. Fat marbling, colour, texture and quality of fat are among the determining factors. Let's just say not a lot of Japanese beef is graded the top mark of A5. And yes, as you might have assumed, price-wise, it is not meant for everyday consumption either.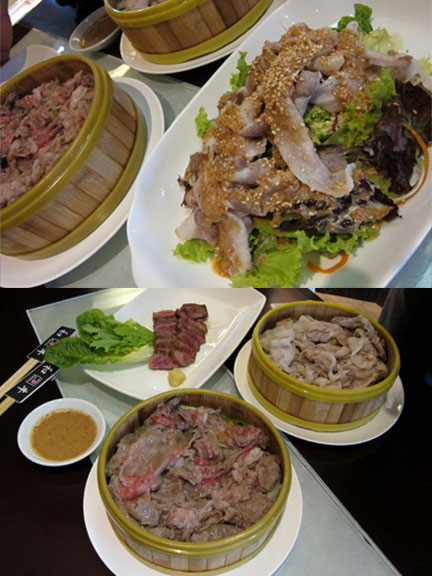 Which is why Wagyu Japanese Beef, primarily a meat shop, extends the extra service of preparing small tasting portions of the different cuts of beef; so that customers unfamiliar with the product, or intimidated, will get an idea of how to prepare the meat at home. It is no frills eating, though. There is just a standing bar (no chairs) on the first floor, similar to tachigui ("stand and eat") stalls in Japan catering to businessmen who don't even have time to sit. But of course that will not really do for the more leisure oriented Pinoys so limited seating is provided in an upstairs section.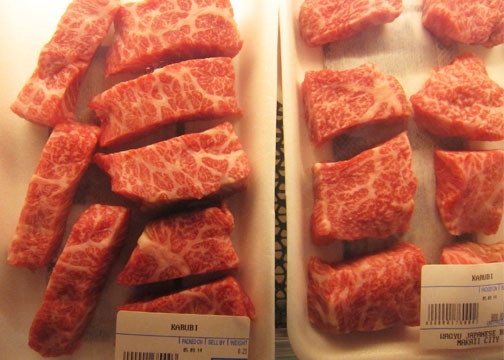 One afternoon I had gotten to try a tataki steak, quickly seared on the edges and dunked in cold water to halt the cooking process. Insides remain rare. Also an amazing super simple dish of steamed paper thin slices of marbled sirloin. Also on the rare side and served with a sesame and ponzu dipping sauce. Unbelievably tender; the meat would give in with a simple prod of the chopsticks.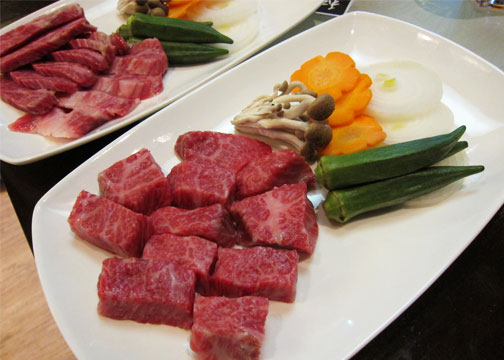 They also carry locally grown organic Japanese pork. In which I got to try a steamed version and a salad topped with cold slivers of fatty pork belly. And a ham they cure themselves. Generally quite clean and mild in flavor compared to local pork. But I prefer the beef really.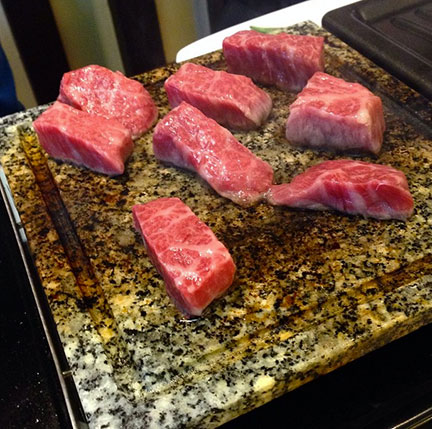 Owner Taka Hayano then breaks out a stone grill and cooks some short ribs tabletop. Beautifully seared and crusted on the outsides and pink on the insides. I simply dab on some yuzu salt and it is perfection. Sweet, fatty, decadent beef.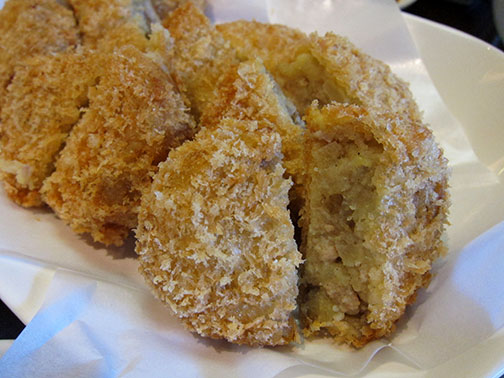 Surprisingly they also serve some fried items in the form of croquettes. Panko crusted potato patties; some with wagyu morsels and some with pork bits. And some smaller potato balls filled with molten cheese. It's served with a house made tonkatsu sauce that is also quite good.
They have a Japanese butcher/chef onboard manning the operations and running a tight ship. And however simple the place, you can feel the pride in what they do and the products they carry. Who knew you could get this quality of eating at a meat shop?
Wagyu Japanese Beef
G-20 Sunvar Plaza
Amorsolo St. cor Arnaiz Ave.
Makati
Tel: (+632) 808.9508
LABELS: Anonymous Paul, Wagyu