By sanju on 15 September, 2014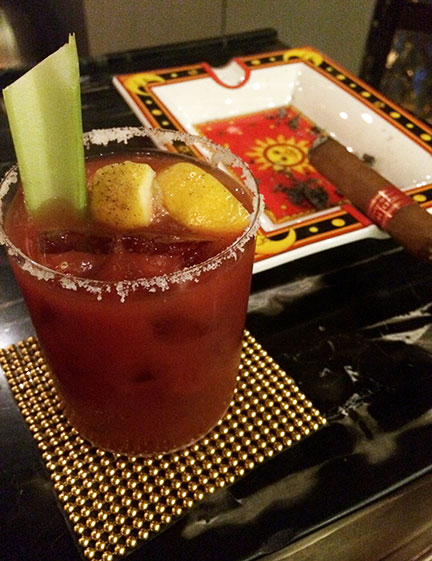 As I mentioned in an earlier post, I have enjoyed the Riedel Room's version of the Bloody Mary. I enjoyed it so much, that I asked owner, Elbert Cuenca to share the recipe with us. And here it is:
Our Bloody Mary is actually a Bloody Caesar because we use a mixture of tomato juice and Clamato.
It's similar to this.
But instead of celery salt, we like to use Sicilian sea salt.
The recipe calls for:
– glass rimmed with Sicilian Sea Salt half filled with ice
– high-quality and clean-tasting vodka (we use Russian Standard)
– equal parts of tomato and clamato juice
– half a lemon, squeezed
– dash Lea & Perrins Worcestershire sauce
– Tabasco sauce (dash or pour, depending on whether the preference is mild or spicy)
– freshly cracked pepper
– celery stick garnish
As an aside to Elbert's recipe here are some additional comments. First, pick a brand of tomato juice that has the right consistency. If the juice is too thick or too watery then your overall drinking experience will not be as excellent.
Also, I cannot accentuate enough the use of a clean-tasting vodka as Elbert says. Aside from Russian Standard, I also like Stoli Triple Distilled Vodka or Ketel One.
LABELS: Bloody Mary, Elbert's Steak Room, recipes, riedel room, Sanju, Table Recipes