By Anonymous Paul on 13 August, 2014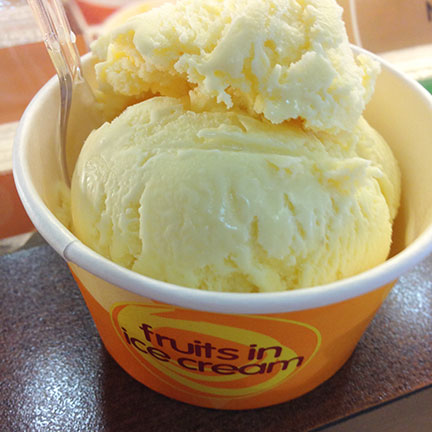 I happen to like durian. I don't loooove it that much that I have to have it all the time. But I'm not averse to the smell at all. And I love when I chance upon a fine specimen with it's creamy, custardy, silky, musky flesh. Very sensual, no? I've tried several kinds within Southeast Asia but the one I like most is this Arancillo variety a friend made me have when I was in Davao. Its original seed coming from Thailand but, through many seasons and differences in terroir, developed it's own unique characteristics. Good fresh durian is quite hard to find in Manila though. Or expensive.
So when I get a durian craving I go to Fruits in Ice Cream (FIC). FIC carries this durian flavored ice cream that incredibly captures the fresh pungency of the king of fruits. The aroma is quite powerful and it amazingly tastes like the real thing. Again, I don't have it all the time, just when I'm in a mall and happen to pass by an FIC stand. Which I tell you is a rare occurrence. So on one of those rare occurrences, years ago, at the Powerplant in Rockwell, I get a scoop. My friends already giving me strange looks from my frozen dairy choice (but I presume more from the odor). They didn't say anything, though. But I suppose from their cringing and gagging mid sentence through our conversations I judge they weren't too fond of it. Such nice people. Anyway, while walking, I bump into a high school friend, his fiancee, and both his parents whom I haven't seen in ages. Of course I had to besos and chit chat with said mom and fiancee… with durian ice cream on one hand (and probably in my breath). Parting ways I wondered if they noticed at all what I was eating. Or could they have been thinking "what the &$%@ was that smell?!!!"
On another note, when in Davao it's quite customary to have durian with a glass of ice cold Coke. For whatever real reason I still have no idea. But this ice cream sort of opens up the possibility of doing a Durian Float. The idea of which slightly makes me retch but it's not something I would back down to. For the love of food. Let's see.
For FIC locations click here.
LABELS: Anonymous Paul, Durian, FIC, ice cream