By Anonymous Paul on 7 July, 2014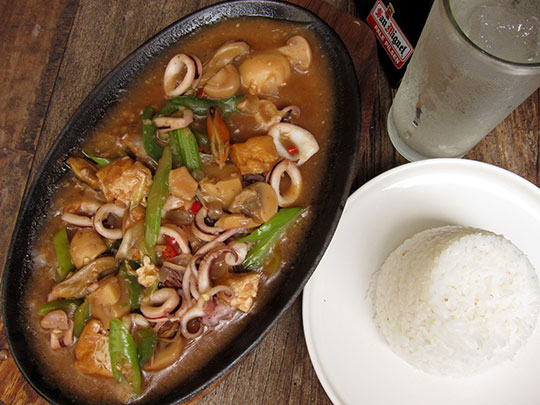 Correct me if I'm wrong, but to my recollection, maybe around 10 years ago gising-gising started appearring on Filipino restaurant menus. In places like Recipes by Cafe Metro and Abe among others, the dish usually consisted of coconut milk, pork, chilies and finely chopped green vegetables. Either kangkong, long/string beans or sometimes even wing beans. I'm assuming this has Bicolano roots and, if you think about it, it does resemble Bicol Express as well.
I remember being a little confused as gising-gising, to my mind and what my psyche was exposed to prior, was a seafood based dish. And can be prepared as simply as sautéing with onion, garlic and tomatoes; what we call guisado. Chili and whatever vegetables available can also be thrown in. The name implies it to be spicy as one is supposed to be awakened (gising) by the heat. It's easy enough to do at home.
Probably the only place I know that serves this seafood version in Manila is a place called Tomato Kick. Currently with two branches: one along Malingap Street in Teacher's Village (which has a divey beer house feel), and another one in the Tomas Morato area (which looks more youthful and artsy; hip live bands play weekdays).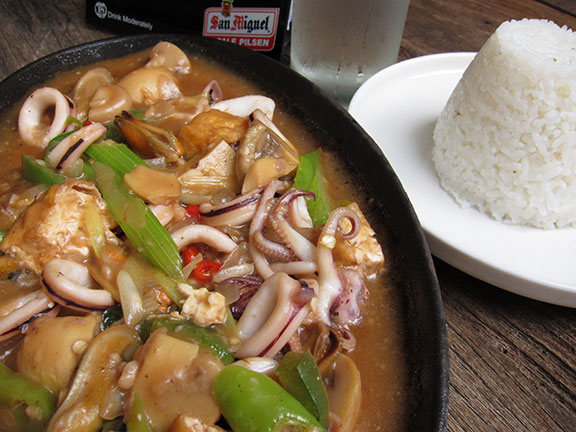 Their version consists of generous handfuls of shelled mussels and sliced squid. Fresh and market-bought everyday. Tossed with tofu, green and bird's eye chilies, celery and bell peppers. It's then spread on a sizzling plate and covered with a buttery, peppery gravy. The gravy part and hot plate is their tweak on a family based recipe. But it works.
The seafood is cooked perfectly; soft and sweet. You can pick up the flavors of the peppers and a fresh lift is given by the celery. There is some heat from the chili but the spice from black peppercorns is more apparent. Quite a popular dish there. Either as a pulutan (tapas) or a viand eaten with rice.
There's actually nothing wrong with the pork/coconut milk version. But the one they serve at Tomato Kick packs a heavier punch.
Tomato Kick
19 Malingap St, Teacher's Village, Quezon City
3F Po's Bldg. Tomas Morato Cor. Scout Madrinan, Quezon City
LABELS: Anonymous Paul, Gising Gising, Seafood, Tomato Kick