By sanju on 17 July, 2014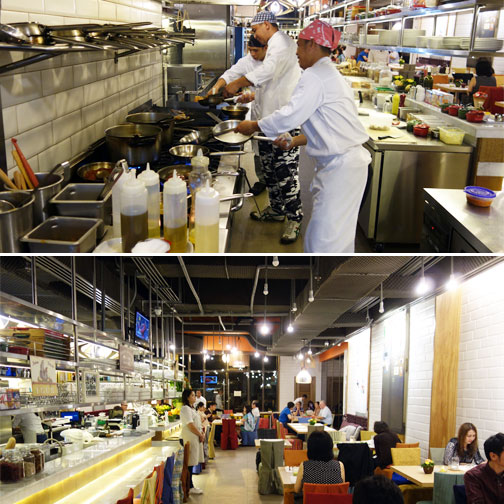 Kitchen 1B, an ode to organic and healthy eating, is the latest venture of Chef Patron Marivic Diaz Lim. The Menu features fresh organic meats and produce cooked in a home-style fashion that Chef Lim is quite known for. All set in a beautiful open kitchen space that has become all the rage at the moment.
I have visited the restaurant a few times since it has opened and I have to say that I have enjoyed my visits for the most part. The rest of the family including the kids have also given their approval, with S enjoying their Grass Fed Sirloin Burger (P590) and N liking the Buttermilk Waffles with Blueberry Maple Syrup (P340).
On our most recent visit with friends, C and I shared a few dishes. We started with an order of Vegetable and Shrimp Spring Rolls (P290). They were crisp and well seasoned with nary a hint of oiliness. This old favorite has never failed to disappoint as long as it is done right. This version had the shrimp and extremely fresh veggies complementing each other while the accompanying Apricot and Ginger dipping sauce adds another dimension in terms of flavor.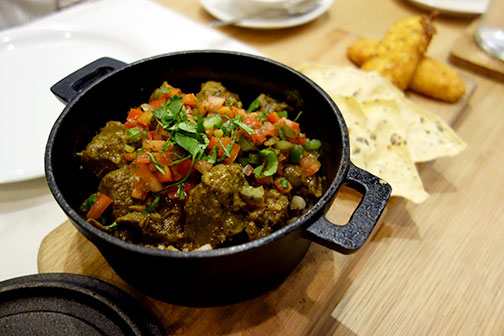 For our mains we shared the Lamb Curry with Brown Rice (no basmati rice available) Papadums, Plantains and a Tomato Salsa (P680). The lamb was excellent. It was tender and the curry sauce had the right spiciness and consistency. I believe that consistency aside from flavor is a large contributing component to a successful curry. No one wants to eat a curry that is goopy or watered down. Thankfully, we did not have this issue. Here is a quick tip; ask for the Pineapple and Mango Chutney that is originally served with the pork chop when you order the Lamb Curry. It goes really well with it.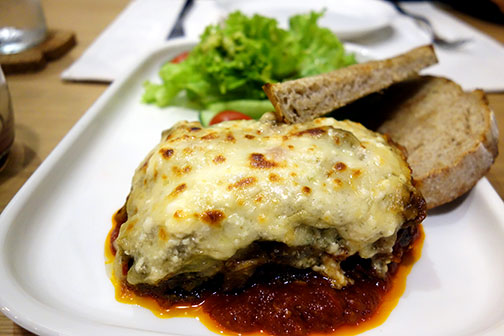 We also tried the Wild Mushroom and Eggplant Lasagna. (P540) This dish had whole Wheat Spinach pasta, Fontina, Feta and Gruyere Cheeses. C and I enjoyed this as well. I particularly liked the fact that it wasn't too starchy. The eggplant, mushrooms and the pasta all shared equal billing, with the cheeses adding the requisite oomph making it a rich and satisfying main.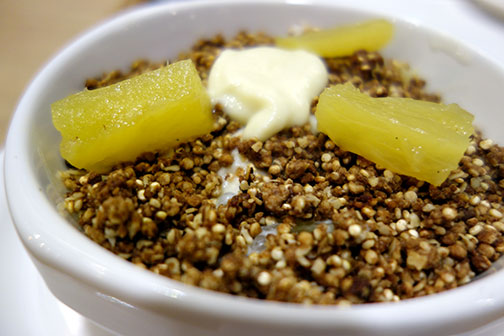 For dessert we had Pineapple Crumble (P210). I thought that the restaurant pushed the boundaries on this one. Instead of sticking to the usual "healthy" granola or oats, which is quite common, they used toasted Quinoa instead. Quinoa is more unforgiving as an ingredient and is more difficult to master. I know first hand as we have been trying to use it more at home. Aside from Quinoa, there were fresh Pineapple chunks, tapioca balls for textural foil and it is sweetened using Agave Syrup. Of course one's expectations should be tempered when eating this, as it cannot be compared to eating a richer dessert.
Kitchen 1B is giving us the opportunity to have an experience with organic ingredients. It is one of the few places today that offers this. Prices of course are on the higher side as expected for obvious reasons. My thinking on this is, as long as they deliver on the total experience, they should do just fine.
Kitchen 1B
G/F KL Tower, Gamboa St
Salcedo Village, Makati
Tel: (+632) 403.5405
LABELS: Kitchen 1B, Restaurants, Sanju