By Anonymous Paul on 10 June, 2014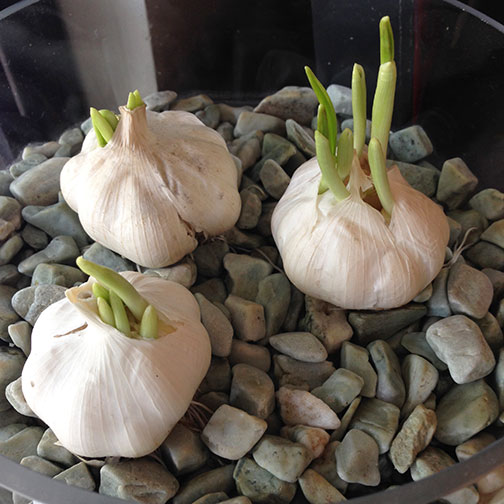 I can't say I have a green thumb. But I like planting. Or more aptly, attempting to, as seen in this previous post.
As an update to what's living and what didn't survive: my kaffir tree sort of drowned in the past rainy season. Tomato didn't survive. I've since planted a Haas avocado seed and thankfully it has grown to a lanky, but tall, tree (still no fruit). My Thai lime tree has started to bear fruit, albeit tiny, after four years of waiting. (I'm guessing the next cycle of fruit would be better). Lemongrass and oregano still there. Plus a bird's eye chilli plant I tried out planting in a pot. Aesthetically, some aren't the best looking specimens. But at the very least they're alive. If you think about it it's quite some time spent over the years; with results quite random/unpredictable. In my mind I regularly say "why do I even keep watering these?"
But, hey, plants provide good chi. And I guess that's why I keep trying. Then I came upon an article about regrowing vegetables that one normally throws away and of course I immediately try it. Starting off with garlic bulbs.
All one basically needs is a shallow plate and water. Then place the garlic bulbs in there. But I had a glass bowl sitting around and I put a layer of pebbles before putting the garlic bulbs on top. This would prevent the bottom parts of the garlic from rotting as it won't be submerged in water the whole time. And the visible results come fast. In just several days the sprouts began peeking out of the bulbs. After several more days I snip several inches off the garlic tops to trim. It just keeps growing as long as you remember to water it. It even looks kind of cool and works great as a sort of ornamental.
The best part is that the trimmings, or sprouts, are totally edible and can be used in many ways. Sprinkled on baked potatoes, topped on salads and pastas. Rolled in that Dear Darla. I've even used it for fried rice and would accompany pad thai perfectly as seen here. The flavor of the sprout is sweeter and milder. Not as harsh as the cloves. Very aromatic as well but with a more green quality.
A lot more stuff (celery, pineapple, scallions, etc…) can be regrown from scrap as seen in these links: here and here.
It won't really save you a million bucks and feed your family for the rest of your lives. But it's a great way to teach kids/disconnected city folks that food doesn't just come from the grocery or plated perfectly in restaurants. People plant, grow and harvest; and it takes time and effort to produce in actual soil. With the difference being all this can be done indoors and confined to a very small space: a glass bowl by the window. Just have fun with it; it's great for the soul.
LABELS: Anonymous Paul, gardening, regrowing