By sanju on 5 May, 2014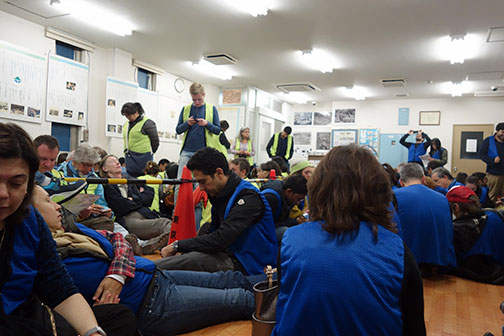 C and I spent a few days in Tokyo recently. One afternoon we met up with fellow traveler M for lunch, and we decided to check out the Tuna Auction at Tsukiji Market the next day.  Not knowing the actual logistics involved, we decided to stay in touch later in the evening, after consulting one's best friend in Tokyo, the concierge.  After speaking to him, it seemed like it was a bit more complex of a proposition then we anticipated.   However, in the spirit of the "we are here na" axiom, we decided to go ahead with our excursion.
Was it worth it?   I would say for me yes, as I have always been curious about the auction.  But like everything else, opinions on this matter can be subjective.  So here is what one has to go through to catch the auction.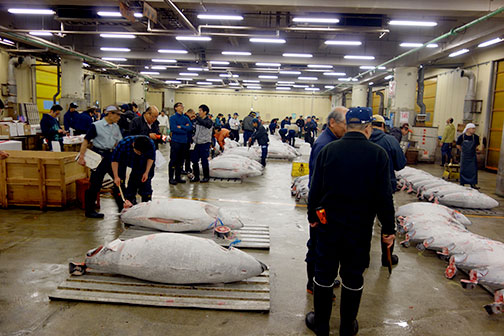 The Tsukiji Market administration only allows 110 visitors per day on a first come first served basis.  The first batch of 55 enters the auction area at 5:15 AM while the second batch enters at 5:45 AM.  Knowing this, one has to get to the Market between 3:30 and 4:00 AM to have a chance for a slot.  The Tokyo subway does not run from 1 AM to 5 AM.  This means that you will have to take a taxi from your hotel to get to the market.  Taxi fares are on the high side so be prepared.
C and I took a taxi from the Hyatt in Shinjuku to the market at around 3:30 AM.  We arrived at the market fifteen minutes later. Just to give you an idea, our taxi fare was Y4000 (P1750).  We were herded in to this holding room that was divided in the middle by a piece of nylon.  The room had no chairs so one has to sit on the concrete floor.  At that time, we were already part of the second group as there were already more than 60 visitors inside.  M arrived a couple of minutes later to our relief. By 4 AM, the room was full and those who arrived after were turned away.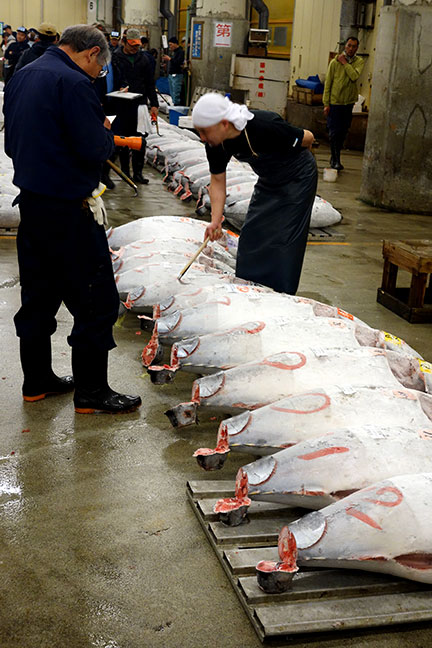 We hunkered down chatting and sipping tea from a vending machine until the appointed time.  When it was finally time to go, we were brought to a small cordoned off area on one side of the auction hall.   On the floor were numerous blast-frozen whole Tuna all marked and ready for inspection.  Shortly thereafter, the auction began.  In true Japanese fashion, there is a lot of ceremony and bowing involved before the bidding.  Then a series of intricate calls and signals come from the auctioneer and the interested buyers.  From what I gather from the lady who was translating beside me that most were sold from between P300,000 to P2,100,000 depending on the quality.  Less than fifteen minutes later, our time was up and we were asked to vacate the premises.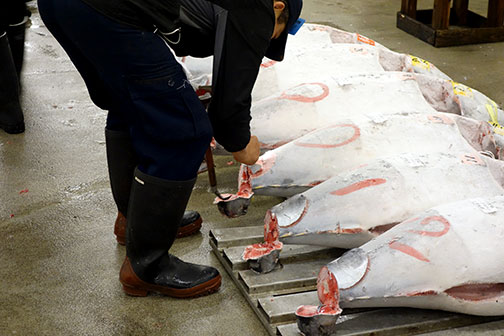 The best part of the morning came right after, when the three of us visited one of the sushi restaurants in the market complex called Sushi Bun for breakfast.   There are other more popular restaurants in the area like Sushi Dai where the wait can be as long as three hours.  Not willing to wait, I already researched on alternatives and Sushi Bun came up as a good one.  We only waited less than 30 minutes and were feted with an eleven-piece Omakase Sushi Set for Y3850 (yes cheaper than our taxi ride).  The place was cramped, seating only 10 at a time, and photography was not allowed. But the fish was fresh, the rice warm and sticky and the complimentary tea, earthy.  I was particularly happy because I was served my favorite Hotaru Ika or Japanese Firefly Squid, plus I was able to convert M who was not too fond of raw food to a sushi lover.
After saying our goodbyes to M, C and I took the subway back to the Hyatt (Y210 per person) and were back in our room before 8 AM. On the whole, it was quite an interesting experience, But in my opinion, one that need not be repeated.
Tsukiji Market
5-2-1 Tsukiji-Chuo
Tokyo, Japan
www.tsukiji.or.jp
Sushi Bun
Bldg 8
Chuo Shijo Bldg
Tsukiji Market
Tel +(813) 3541.3860
Open 6 AM – 2 PM
LABELS: Japan, Sanju, tokyo, tsukiji market