By Anonymous Paul on 14 May, 2014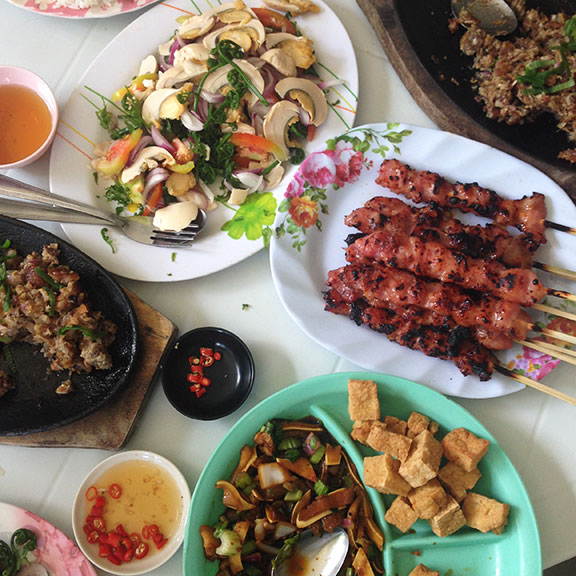 It was a day built around eating. The plan was to explore certain parts of Bulacan but as soon as we, the three plus significant others, hit NLEX, we all got the hankering for sisig and quickly decided to change course to Pampanga.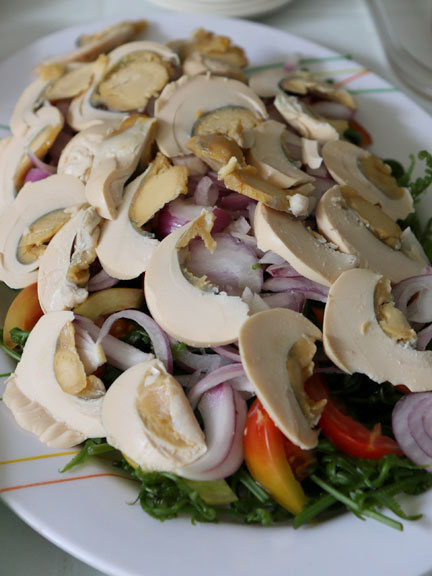 So we ended up at casual eatery Mila's Tokwa't Baboy in Angeles; and we ordered quite a bit. The tokwa't baboy, pako salad (para healthy®) and two hotplates of sisig.
The fiddlehead fern (pako) used was extremely fresh and topped with generous portions of salted duck eggs, onions and tomatoes.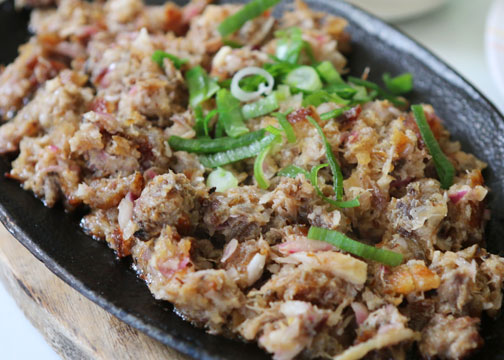 The tokwa't baboy I found so-so. Like a chopped boiled pig ear salad with fried tofu cubes on the side. But the acidity of it's dressing paired quite well with the sisig.
There are many versions of sisig and Mila's has its own. It's texture is that of pulled meat with bits of crispy crackling. It actually tasted clean and not too fatty; like a shredded lechon kawali. Good, I must say. But I quite favor the Mely's version which is like a flavorful porky mash (no sizzling plate), or the rough chopped smoky "riles" version like Aling Lucing's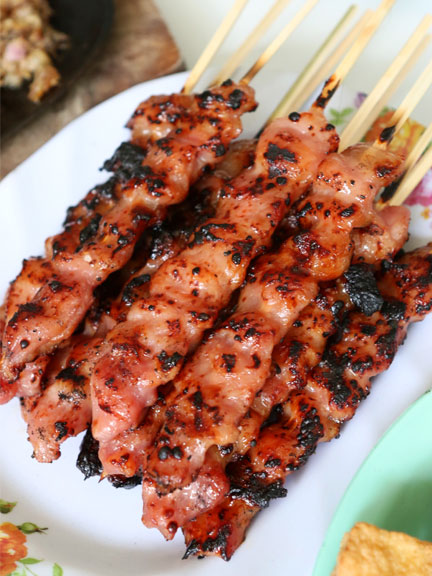 The sleeper hit at this meal, I have to say, was the tocino barbecue that Sanju ordered. And it is simply what it's called. This was very lean cured pork slices, skewered, and carefully grilled over charcoal. Sweet, but not cloying, and very tender. Delicious. You have this with some spicy vinegar and tons of rice.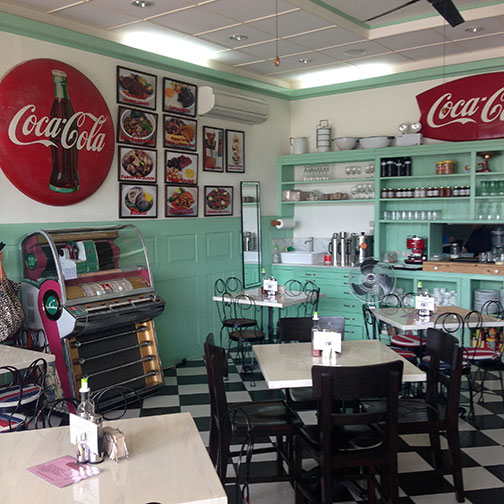 Since we were in the area already, we decided to drop by Claude and Mary Anne Tayag's Downtown Cafe. A 50's diner inspired establishment that serves comfort Filipino food. The duck dishes on the menu seemed to call out but we were too stuffed for anything else but dessert. So we passed time with some sock-filtered coffee, fruit salad popsicles, a white fruit salad, and a buko pandan salad.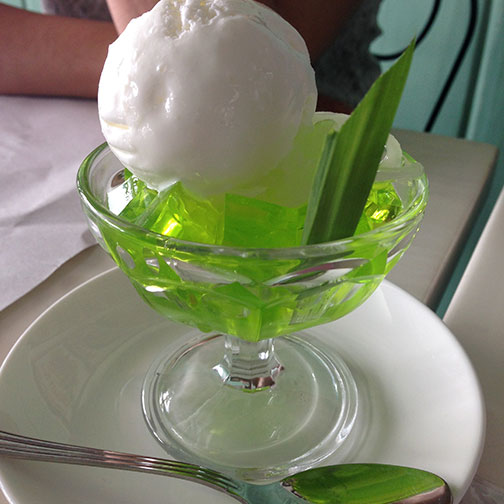 On the way back to Manila we decided to do some food shopping. Along MacArthur Highway in San Fernando there is this wonderful spot where a Susie's Cuisine and LA Bakeshop sit beside each other. Susie's is where you can get all these exquisite kakanin (rice cakes) and sweets. I like the empanadas and the ube halaya. But their tibok-tibok is a favorite. Like a maja blanca made with carabao milk. It's so rich it tastes like pastillas; with a panna cotta like texture. And there's that lovely hit of dayap (lime) to balance everything out.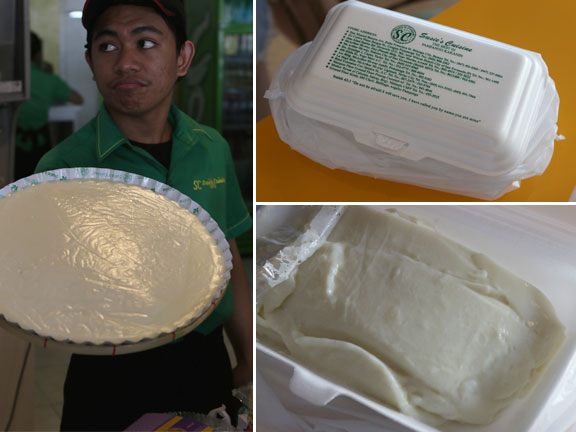 Susie's Tibok-Tibok
LA Bakeshop specializes in these crazy good cheese breads and was pointed out to us by Poch Jorolan, of Everybody's Cafe, on a previous trip. We've been hooked since. Like small dinner rolls swimming in, I suppose, margarine and topped with cheese. It sounds simple but every one of these is baked to order. And it's not unlikely that one person orders 5 or 6 dozen at a time. But if you taste one fresh off the oven, you'll probably do the same. After hoarding a few, we went Manila bound on NLEX.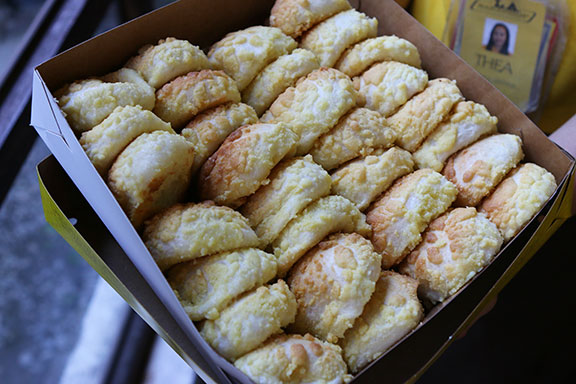 LA Bakeshop's Cheese Bread. Hot off the oven.
So we thought that was the end of the afternoon, but the group had decided to take heed of Margaux Salcedo's suggestion of hitting the kakanin row just off the Marilao (Bulacan) Exit. Some of us got some bibingka and sapin-sapin and other sundry. Then we followed the road down to Sta. Maria to check out the chicharon row.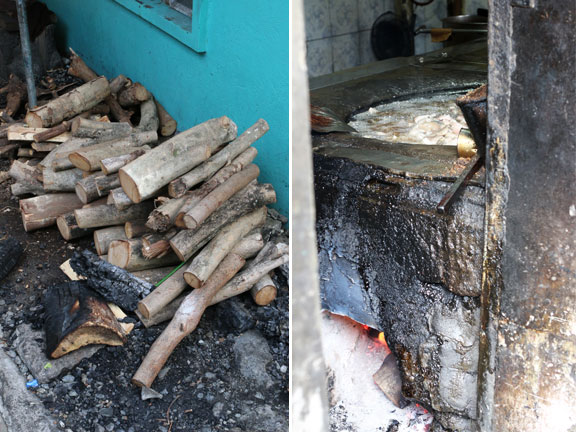 Narrow streets were dotted with several backyard producers. Interesting to see huge cauldrons of simmering lard and all; it's obviously backbreaking work. We had decided to go to Obet's Special Chicharon as it's probably the best known among the others.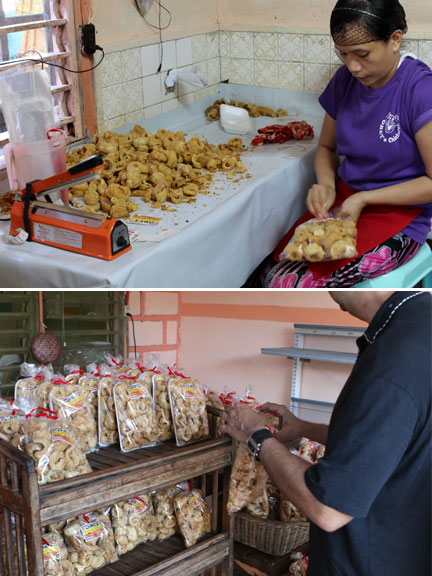 They make these dense, super crunchy pork rinds. Salty with a thick layer of back fat, or laman in the vernacular. It'll make you a little dizzy.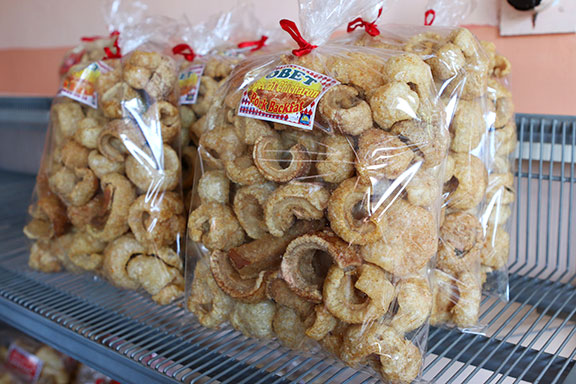 So we finally did decide to go back to Manila after that. Though, shamelessly, we ended up in Maginhawa for a churros break before heading out to Gilmore for dinner at Mien San. Which probably merits a separate post of it's own. A lot of eating went down that day. But that's what usually happens when we get together.
LABELS: Anonymous Paul, Bulacan, chicharon, Pampanga, sisig