By sanju on 20 May, 2014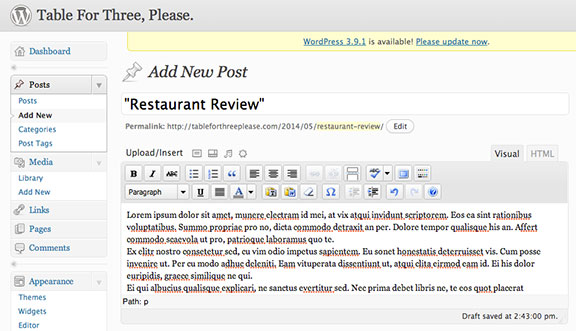 Over the weekend, one of my friends JM mentioned to me that he had heard other people comment to him that our blog should post more negative reviews of restaurants. This is not the first time that I have heard this comment.  It has been repeated to me frequently through the years. I cannot say that I have not been tempted.  There were many times where I have actually walked out of places utterly disgusted by either how I was treated or by what I was served. A conversation I had with one of my favorite writers many years ago always prevents me from doing the worst.
When I was in college, I was one of the few selected to attend a workshop that would be facilitated by a different writer once a week.  We were only a group of six at that time and we were asked to write something every week and the guest would critique our submissions.  For our first assignment, we were told to write a short story.   Unfortunately, my story was picked first and our esteemed guest, a famous writer, decided to shred my story line for line for the next two hours.  Although we used pseudonyms, it was a devastating and humiliating experience that left me with more questions than answers.  The following week, we had the late Doreen Fernandez as our guest.  Again, she picked my work first out of the pile to my dismay. However, she began to say such nice things about my piece.  She did practically the same thing with the other submissions and encouraged everyone to keep reading and writing.
After class, I was tasked to walk her back to where her driver was parked, and I had a chance to chat with her.  I told her about my experience the week before and how much of a morale boost her approach was. I also told her that I was a fan of her writing and then I asked her whether she wrote anything negative.  She looked at me and here is what she said: "There are so many good things that one can write about so why delve in the bad?"  Sage advice don't you think?  I have never forgotten what she said to me and I have tried my best to always take this to heart.
My friend Chinkee, who is an amazing writer, always says that a restaurant is someone's meal ticket and writing a bad or negative review is akin to destroying someone's livelihood.  I believe that there is a lot of truth to this statement.  A bad meal may be a result of varying factors that the restaurant is going through on that particular day.  If there is one thing that I have learned recently is that running a restaurant is a VERY difficult endeavor.  I believe that it is just fair to give the place the benefit of the doubt.  I would rather communicate privately with those concerned via email or in person if I encounter any issues. Either that, or If I feel that things are quite dismal, I just will not go back. Our dining scene is experiencing an evolution, the offshoot of which is the fact that one is spoilt for choice. Writing positively just makes my choices known.
Our blog is just what it is, a blog. We sustain it simply because we love to eat and drink. Ultimately, we would rather focus on what we enjoy rather than what we do not since doing otherwise would be anathema to the point of it all:  Having fun with it.
LABELS: being positive, Sanju