By Anonymous Paul on 26 May, 2014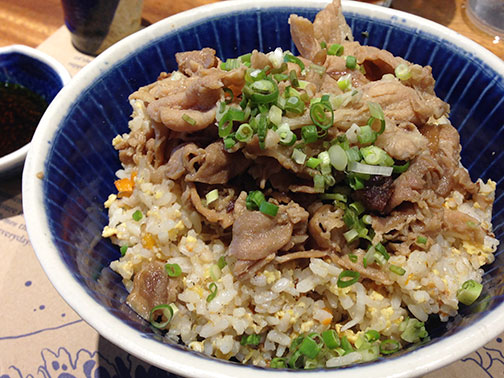 To tell you the truth, I've been quite ramen'd out. Not a single bowl for the past several months already. (If I do get a craving I pretty much have some default places to get a bowl, depending on a particular style.) I don't know if anyone doesn't notice but it's been unbearably hot these past weeks; just thinking of slurping hot soup and warm tea makes me sweat. Ramen isn't quite the ideal summer food.
Not to say the ramen found at Osaka-based chain Hanamaruken isn't tasty. But over some several visits all I've ordered were the non-ramen items; particularly the rice bowls. And I've been generally happy. So in ascending order; from not-bad to great:
The most basic is the Salary Man Chahan; thin pork slices atop Japanese style fried rice. They do a good job with pork here; even though it's a pretty simple bowl the lean pork slices were nicely seasoned and tender. The chahan smoky and eggy. A complete meal. Though bordering on the utilitarian.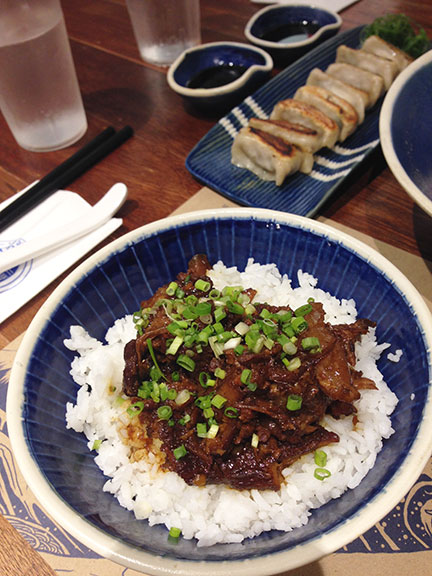 Next up would be the Happiness Rice Bowl; using shreds of their signature long-braised pork ribs atop steaming white rice. Very deep caramelized flavors from the meat; savoury with a touch of sweetness.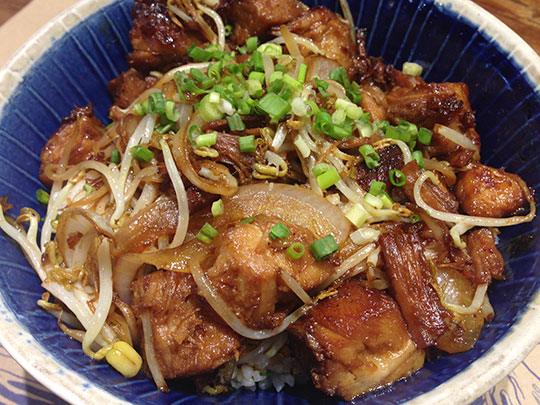 The Pork Belly Rice Bowl I don't mind having everyday. Soy braised pork belly (buta no kakuni) cubes are tossed and stir fried with onions and bean sprouts then topped over steamed rice. Again, the pork cooked till very soft and and the streaks of fat just melts in the mouth.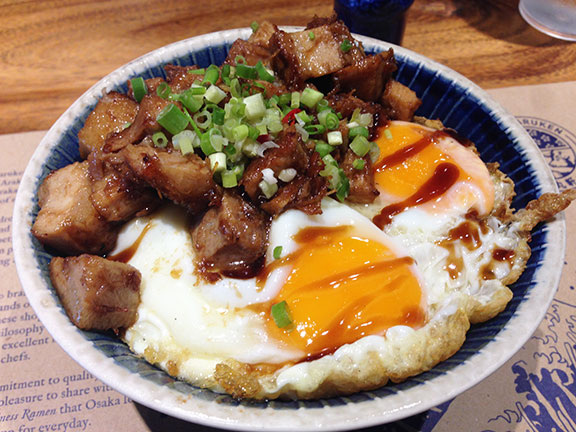 A level-up would be the Drunken Man Rice Bowl. The same braised pork belly served with two runny sunny side ups then drizzled with a sweet brown glaze and sprinkled with sliced bird's eye chilies. Yes, I do imagine eating this after a night of drinking; it's fatty and rich and deeply satisfying. They tend to be cautious with the chilli, however asking for extra is easy enough.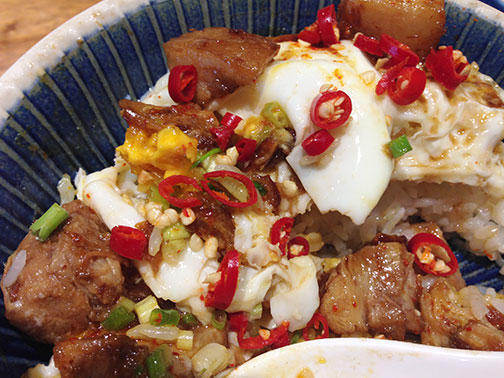 If there was something they could do better with these bowls though it's by probably using Japanese rice (or at least a more glutinous kind). They use a fluffy type of rice that's quite impossible to eat with chopsticks; they disperse and separate (quite the buzzkill). And the plump, sticky grains of the Japanese variety would just bind the juices and meat perfectly.
Don't feel like ramen? No problem! Have rice.
Hanamaruken Ramen
2/F TriNoma,
North Ave cor Mindanao Ave
Quezon City
Tel. (+632) 720.9283
LABELS: Anonymous Paul, hanamaruken ramen, rice bowls