By Kitchyart on 29 April, 2014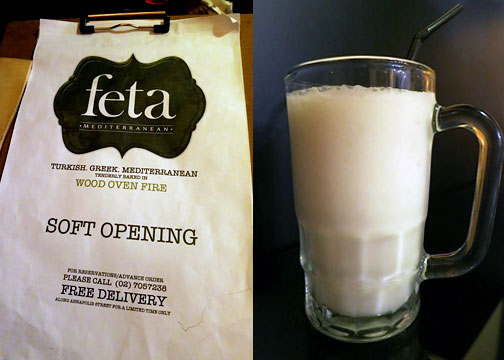 I had seen Feta a couple of times in my neighborhood; and Anonymous Paul told me that he'd heard a few good things about this place. It's refreshing to see a Mediterranean restaurant open up in the Greenhills area, most establishments we have in the area are commercialized and situated in a mall. There's nothing bad about them, but once in a while it's nice to have something different.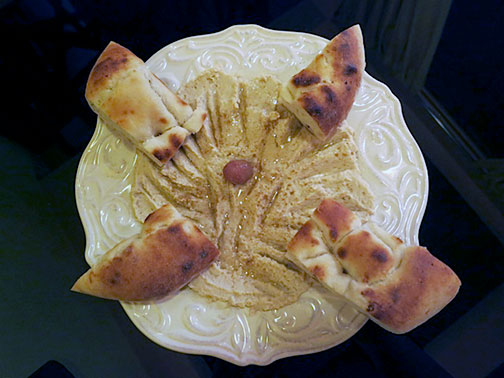 Saturdays are usually family dinner nights, and by default my dad usually gets to pick his all time favorite Japanese restaurant in Little Tokyo.  We all voted to try a new place and so we made our way to Feta.
We had 2 not so little hungry kids with us and they were prepared to eat anything so ordering was easy. It's a kid friendly restaurant, apart from fresh baked Turkish breads, they offer pizzas and pastas as well prepared in the wood fire oven.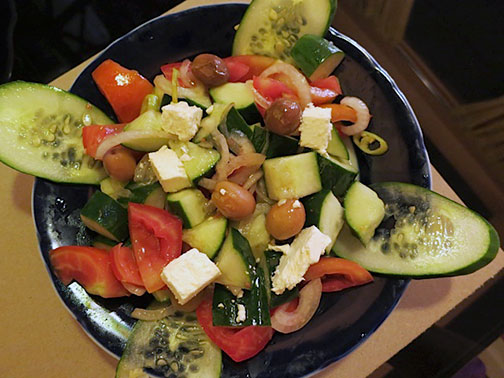 To start, we had an order of Hummus with pita and a Shepherd's Salad. The hummus was thick, although I personally prefer Beni's for its' creamier texture, we all enjoyed it. The great thing about Mediterranean salads is that everything is fresh and tossed with a very light pomegranate dressing – perfect for our warm weather.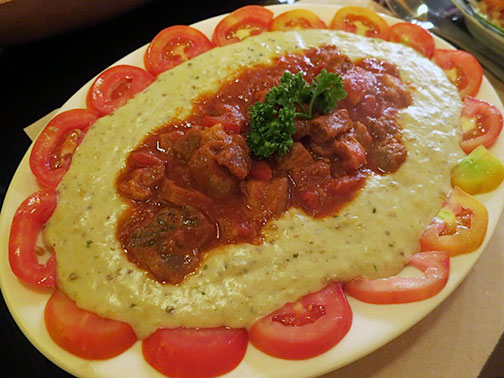 For mains, we ordered the Hunkar Begendi (Sultan's Delight), a beef stew served over a creamy bed of eggplant puree with pesto. The beef was cooked well, very tender cubes of beef and the creamy eggplant/pesto that accompanied this dish would go very well with some bread since eating this dish alone would be too rich.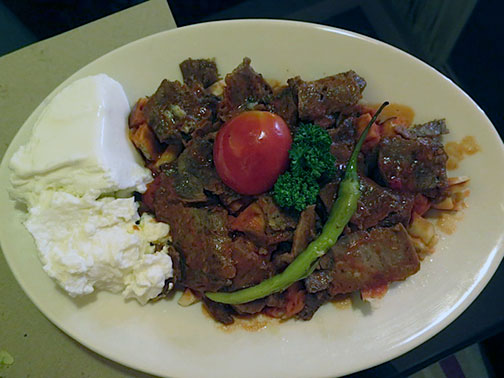 I originally wanted to get the chicken version of the Iskendar, but they were out of chicken for this dish. This dish comes with long and thick cuts of doner or shawarma meat cooked in a hot tomato sauce and served over some Turkish bread slathered with sheep's butter and with a very generous side of yogurt. I got this for myself and enjoyed this a lot. It would be nice if it were spicy, I noticed that Feta did not have the usual garlic sauce we're so used to seeing in other Middle Eastern or Mediterranean establishments.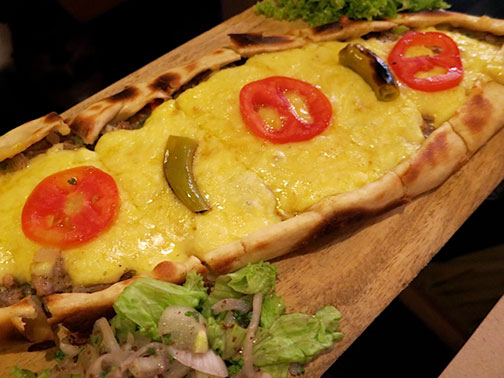 Lastly, we got Pide, it looks like a Turkish pizza (although they have another dish that is a Turkish pizza that customers can fold up and eat). It's a thin crust pie that had ground beef with Turkish spices but we added cheese and egg since the kids wanted the extra toppings. It appeared that the end result was a little underbaked and the cheese sort of canceled out the spices.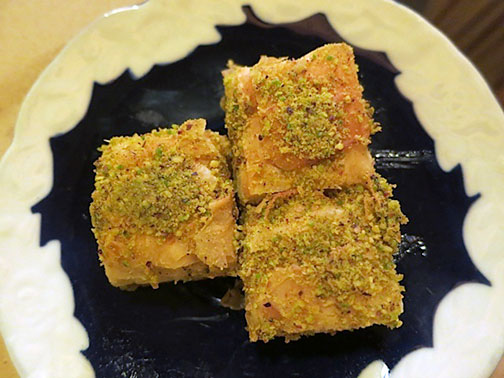 Of course this hefty dinner won't be complete without dessert. I am always on the look out for some good Baklava and I am happy that they make the pistachio version, which I prefer over the other variants. I also ordered the sweet yogurt drink which my niece gulped down very quickly.
It was nice to see some familiar faces in Feta; a couple of people on their second visit and already suggesting to try their favorites at such an early stage. Service was good and our orders came out very quickly. We're very keen to return to Feta to try out their platters for larger groups and their chicken dishes. I'm surprised though that they appear to only have one lamb dish on the menu. Still, I'll be back for more.
Feta Mediterranean
Intrawest Building
33 Annapolis Street
San Juan, Metro Manila
Tel. (+632) 705.7238