By Anonymous Paul on 21 April, 2014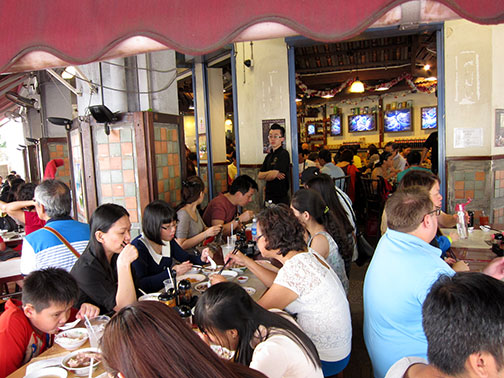 When in another place sometimes it's best to consult the locals. Over a recent trip to Singapore we had scheduled to meet with some old friends for lunch. I trust their taste so it's usually just deciding between going somewhere a little more current or local. And we usually agree to do the latter. So for that afternoon, lunch at Song Fa was the agenda. One of those places with humble beginnings and have expanded to become a successful enterprise, in this particular case, specializing in bak kut teh.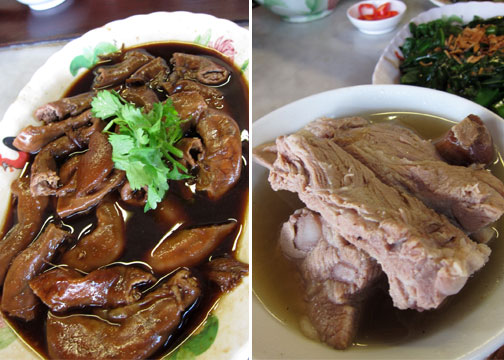 We had ordered a slew of hearty "appetizers". That being the braised pork trotters, braised pork intestines and braised groundnuts. All cooked for a long time with love. The trotter so tender you could pull apart the meat in shreds with a chopstick. It was also thoughtfully deboned. Though some people might like gnawing at the bones. The intestines were surprisingly tender as well. And very clean tasting. The groundnuts were huge and plump and meaty. Of course you had to spoon the sweetish anise-y gravy over hot steamed rice. Or dab and dunk with youtiao (fried crullers).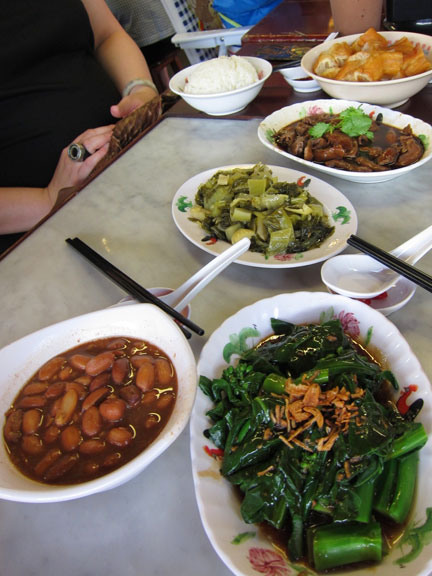 Side orders of stir fried kailan and pickled mustard greens were also placed. Pretty standard with the kailan noticeably fresh and crisp.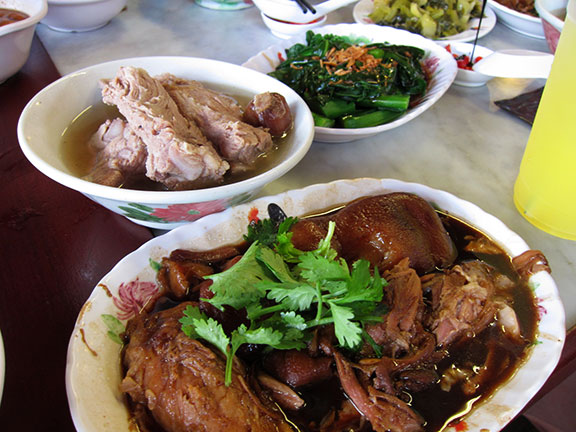 There were two variants of bak kut teh; the original using pork ribs and a more premium one using pork loin ribs. I suppose the difference would be in the texture of the meat. I personally couldn't remember which was which, being all that I put in my mouth at that time was quite good. Bak kut teh literally means "meat bone tea". And many I've tried do have that medicinal quality to the broth. Here at Song Fa what I noticed is that the stock is so balanced. It is nuanced with herbs rather than being aggressive and the sweetness from the garlic and pork really come through. The rib meat was also tender though tended to get firm as it cooled. So eat quick!
This was a good meal. Excellent food that won't break the bank (in the world's most expensive city). You walk out happy. Here's to friends in food and their valuable info.
Song Fa Bak Kut Teh
11 New Bridge Road
#01-01Singapore 059383
Tel: +65 6533 6128
Song Fa Website
LABELS: bak kut teh, Singapore, Song Fa